What leads to the downfall of Madame Loisel in the short story The Necklace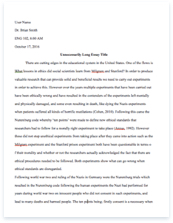 The whole doc is available only for registered users
A limited time offer! Get a custom sample essay written according to your requirements urgent 3h delivery guaranteed
Order Now
In this assignment I will be looking at the downfall of the character Madame Loisel in the short story "The Necklace" by Guy de Maupassant. Maupassant was born in France in the 19th century in the Chateu de Miromesniall. He wrote about women in the lower-middle class because he had in interest in them. He might have written about them because of his own experiences he had with them. Madame Loisel was a woman of the lower-middle class but she firmly wasn't pleased about it.
She lived a simple life but made herself miserable with dreams of riches and luxury. The poet shows this when he says "Dressed plainly, having no money to spend on herself" This suggests she dreams of a big and wealthy life. She has high expectations but is also a little greedy. The writer shows this when he says "She was unhappy as if she had known better days" This suggests that she was a little bit imaginative.
Also there wasn't a great deal of happiness of her marriage and the poet shows this when he says She allowed herself to get married to a junior clerk" This suggests that she wanted to marry someone of a higher class of living and she was beautiful enough to do so. She was depressed with her standards of living and shows this when the poet says "She hated the bareness of the flat" This suggests she wanted the luxuries that a wealthy marriage would bring her. Carrying on into the story Madame Loisel needed a new frock and then later borrowed a diamond necklace from an old friend called Madame Forestier for a party.
Her husband lovingly suggested that she could wear a frock she wore before to a theatre but she responded in discontent. "There's nothing more humiliating than to look poor in a crowd of wealthy women" She ended up buying a new frock costing 400 francs which her husband was saving up for his own needs. This suggests to the reader that she didn't want to go to the party looking poor like the lower-middle class woman she was but to look wealthy and a woman of the higher class. It was selfish demanding by Madame Loisel.
Related Topics