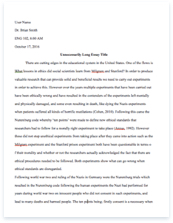 The whole doc is available only for registered users
Pages: 2
Word count: 478
Category: Food
A limited time offer! Get a custom sample essay written according to your requirements urgent 3h delivery guaranteed
Order Now
In this 2 months, I did my training in Cold Kitchen (Fuzion). Which is the busiest kitchen in Fuzion because there's a lot of things to serve. It's an open kitchen and cleanliness is really important there. So, the thoughtful sunway hotel provide the staffs a training program which is about cleanliness & HACCP course for free!
In the kitchen, we trained to wear gloves for touching Ready-To-Eat food. In Cold Kitchen, I've learnt how to cut fruits, the name of salads which have Capsicum, Artichoke, Radicchio, Fizzie, Romaine Lettuce, Ice Berg, etc.
Cold Kitchen serves Arabian food too. Everytime they serves 4 types of them, Stuffed vine leaves, Mutable, Hummus, Labneh,etc as a lot of guests are Arabian.
I also learnt how to do Caesar Salad. There are Tomato, Rosemary Chicken, Deep fried Prawn with filo Pastry, Beef Bacon, croutons, eggs, Anchovy, romaine lettuce, parmesan cheese with Caesar dressing.
For the fruits session, always serves 8 plates of fruits there are watermelon, sun melon, rock melon, orange, dragon fruit, grapefruit, pineapple sometimes will serve rambutan, rose apple, pear, mangosteen, mata kucing if they are available.
For assorted fruits compote, we did learnt how to make it too. First cut the fruits into cubes, boiled water with sugar, cinnamon, red and green chili, star anise, pandan leave. After the water boiled pour the fruits and wait until it boils once again then it's ready to serve. Antipasti is an Italian word means before the meal which is Italian's appetizer. In antipasti, we use zucchinis, tomato, onions, asparagus, carrots,etc. Before we grill them, we need to marinate them with oil, salt & pepper, rosemary, thyme. Next is canapés, we have a weekly menu for canapés so we do it accordingly. Canapés is usually important at it's outlook, colors, and is a one bite food.
For Cold cuts, we serve in every meal. We've beef salami, turkey ham, turkey slices, smoked salmon as our cold cuts.
For cheeses, we've a variety of them which are boursin cheese it's pepper or in garlic taste. Hard cheese, Goat cheese, Blu cheese, babybel cheese, white combi is the cheese most of the guests like.
Last part is the sushi and seafood on ice. Seafood on ice we blanch the seafood. There are prawns, flower crabs, clamps, scallops, crabmeat, lobster, slipper lobster, mussels, etc. Sushi, Salmon, Tuna are also serve on the same location as seafood. Few condiments for sushi, salmon and tuna. There are Soy sauce, pickles, ginger and wasabi.
I'm happy working in cold kitchen as all the staffs are very nice. They provided their time and generous to teach me. And thank them for not giving up on me although I was a little bit slow understands their instructions. I've learnt a lot about cutting and cooking skills from them.
Related Topics