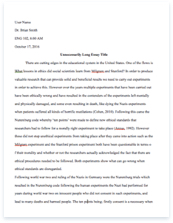 The whole doc is available only for registered users
OPEN DOC
Pages: 2
Word count: 346
Category: Juvenile
A limited time offer! Get a custom sample essay written according to your requirements urgent 3h delivery guaranteed
Order Now
            I have in mind the case of the two 10-year old boys who in February of1993 took away from his mother a 3 year old boy while they were on a shopping at Liverpool shopping center.  The 3 year old boy was led by the two older boys out of the mall and walked him for over 2 and a half miles.  The two 10 year old boys tortured the little boy who was crying constantly calling for his mother.  The older boys were not even satisfied with what they have already done and when they reached a railway track they kicked and throw stones to the little boy, rubbed paint in his hands, and put batteries up his anus, cut his fingers,  and left the poor child to the railway to be ran over by a train.  The poor 3 year old could not even be recognized when the mother found him dead.
            Should the incident happen in my own neighborhood, the two 10-year old boys will be really have to undergo different programs to rehabilitate them for what they have done.  The two boys murdered an innocent and helpless child but because these two boys were minors too they cannot be put a life penalty or life imprisonment.  I understand that North Carolina provides a swift and certain sanction for every offender of the law.  For grave juvenile criminals such these children the community has established the following graduated sanction in every district. These children will surely be placed in care programs as they have done the most violent offense.  They will be placed in "training schools, camps, ranches, or in a secure community-based facility and after care programs that provide high level of social control, treatment services and family involvement.
            North Carolina makes it certain that the system works effectively.  The juveniles, remain part of the community and are assessed and classified to determine their sentences accordingly.
References:
Government of North Carolina.  (2008) .Juvenile violence and delinquency prevention.  Retrieved October 3, 2008 from http://www.gcc.state.nc.us/pubs/annrpt/part1.htm#1
Related Topics