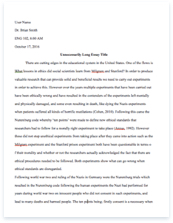 The whole doc is available only for registered users
A limited time offer! Get a custom sample essay written according to your requirements urgent 3h delivery guaranteed
Order Now
Jetblu's was thriving young airline with a strong reputatation for outstanding service . But it was previously considered bankrupt by some incidents. But then Jetblu's h as determined its course and it has grown to be strong, Jetblue found out some information about customer needs, wants and demands . Human needs are state of felts deprivation with Jetblu the customer needs is food ,to sit and security .
The next, Wants are the form human needs take as they are shaped by culture and individual personanity , Jetblu determines it is coffee juices and snacks such as comfortable sit , entertainment, variety of channels ,nice and comfortable terminal with more security lances and free Wi-fi . For example one customer describes snacking on JetBlue as an ''open bar for snack. They are constantly walking around offering it. I never feel thirsty. I never feel hungry. It's not Here have a little sip '' and '' Good-bye,that's all you get''.
Demand is mentioned such as Legroom and flatter recline position. Jetblu has Dunkin Donut coffee, leather sits LCD entertaiment system, latest movies and favorite TV show for just $6 dollars , and a terminal with excellent restaurants and stores , or children's play zone ,work place . Jet Blue has demonstrated that they are very focus in every costumers needs, wants and demands. Every customer experience lives up to the company slogan'' Happy Jetting ''. Jet Blue focus on customer and customer well-being is in grained in the culture.
It helps JetBlue become happy so they have got faithful costumers that even with the Valentine's Day 2007 nightmare which JetBlue's effort to clean up the mess following the six-day cost over $30 million dollar in overtime, flight refunds, vouchers for future travel ,and other expenses. But after all they still there. Loyalty is the most precious thing they have received from customers, their focus on customer satisfaction is a wise thing. It is constantly praised by people with admiration and surprise.
In ten short years, JetBlue has demonstrame that an airline can deliverlow fares, excellent service, and steady profits. JetBlue has focused on every costumers needs, wants and demands. JetBlu is a very special airline that does things that other people do not. From the beginning,JetBlue set outto provide features that would delight customer . For example, most air travelers expect to be squashed when flying coach but JetBlue has configured its seat with three more inches of legroo than the average air-line seat.
They provide a variety of snacks and drinks for free. Or Due to the inevitability of flight delays, JetBue has designed LCD entertainment system where customers can watch any of 36 channels on Direct or listen to 100+ channels on Sirius XM Radio, free of charge however we can used to wifi free. Or there are amusement parks, high security areas. Everything is perfect and quick to help the people's plane feel happy and safe in every flight. And just as the airline's slogan of company is "Happy Jetting". The marketing concept is clearly defined.
The marketing concept holds that achieving organizational goals depends on knowing the needs and wants of target markets and delivering the desired satisfaction better than competitor do. Under the marketing concept, customer focus and value are the paths to sales and profits. JetBlu has provided the most satisfactory service for customers, not only through its slogan " JetBlue delighting customers thought happy jetting " but also its status and excellent customer feedback. Since loyal customers use their services and it is a great thing to keep here the company.
Related Topics