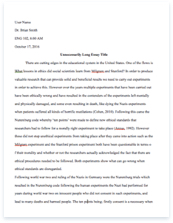 The whole doc is available only for registered users
A limited time offer! Get a custom sample essay written according to your requirements urgent 3h delivery guaranteed
Order Now
The feminist movement is also called the women's liberation movement. The Wikipedia Encyclopedia defines feminism as being "a diverse, competing and often opposing collection of social theories, political movements, and moral philosophies, largely motivated by or concerning the experiences of women" . Feminism is erroneously assumed as being Eurocentric for two reasons. Firstly because many people tend to reach the history of feminism with the works of French and Anglo-Saxon feminists. Secondly, American feminists and some women in previously colonized countries tend to replicate the Eurocentric feminist ideologies. However, nowadays with the emergence of Post-colonial feminism, religious feminism and women in Diasporas negotiating their identity, the monolithic trend of Eurocentric feminism are being broken. These new waves of feminisms are using elements of technology as weapons to negotiate their femaleness.
* FRENCH FEMINISM
French Feminism refers to the theories laid upon by a group of feminists in France from the 1970s. However, it should be noted that Feminism in France dates earlier from the 1970s and this can be seen in the journal Partisans with an article entitled "Liberation de la Femme, Annee Zero" The French feminists' wave of the 1970s was born with the students and workers revolt in France in May 1968. During this rebel, women realized that it was the males who were taking decisions while they were expected to make coffees. Consequently, they organized a women's rights movement called "Movement de Liberation des Femmes." These women refused to be relegated to the background in society. French feminism has often been described us being philosophical and literary.
"Ecriture feminine" and a critique phollogocentricism mark the struggle of French Feminists . She argues that the masculine/feminine dichotomy in language creates a hierarchized discourse that place women in a weak position. "father/mother", "logos/pathos, "head/heart" and "activity/passivity" are examples of hierachized language that cixous lists in sorties . She opposes the fact that society operates in a dialectical system that reduces the status of women. According to Cixous, women will not be in a low position in society if she writes about herself, thus deconstructing the hierarchized language. In The Laugh of The medusa, she states :
"Women must write about herself; must write women and bring women to writing… Women must put herself into text-as into the world and into history-by her own movement."
French Feminists look upon writing as a form of protest and liberation. Even Chantal Chawaf was part of the 'Ecriture Feminine Movement'. In Cercoeur and Maternite, she uses words related to the female unconscious, thus giving voice to a female inner experience . Julia Kriteva opposes the fact that the mother is excluded in the identity formation of a child. She disputes that cultures are patriarchal since the maternal and the feminine are undermined . In Speculum of the Other Women and This Sex which is not One, Luce Irigaray creates a feminine answer system to provide a positive sexual identity for women. She is for the recognition of two sexes and not one . In "Introduction" to The Second Sex, Simone de Beauvoir opposes the fact that woman is not defined in relation to herself but as a relative to males. She exposes that for males women is the "absolute sex" . She shows how woman is defined as the "Other" . Simone de Beauvoir argues that gender is not biological but social since one is not born a woman but rather becomes a woman . Monique Wittig is one of the members of "Movement de la Liberation des Femmes" and called herself a "radical lesbian" . For Wittig, the type 'women' exists only through their relation to 'men' :
"…and it would be incorrect to say that lesbians associate, make love, live with women, for 'woman' has meaning only in heterosexual system of thought and heterosexuality economic systems. Lesbians are not women."
The French Feminists' concern is the social, political and economic inequalities that exist between men and women. They investigated how through language and social structure women were relegated to the background. Their struggles were to improve women's plight both in domestic and social sphere.
* ANGLO-SAXON FEMINISM
Feminist history in the Anglo-Saxon world coverts part of the feminism movement in UK from 1800 to the present day according to the Wikipedia Encyclopedia . Just like the French Feminists, the British Feminists ask for "Social reorganization" since they find that women were reduced to the stereotype of the Victorian tender lady . Even the British women view writing as a means to form their identity. Writing was regarded as a male tradition in Victorian time. Women writers like the Brontes, Elizabeth Gaskell and George Eliot challenge the Bourgeois values by entering the male bastion through writing . Their attempt were ambivalent since their aim was to challenge Male Bourgeois expectations on women but they find themselves "metaphorically paralyzed" through the language that they use.
The form of Marxist Feminism emerged with women writing social commentaries that translated their own pain to that of the laboring class, slaves and prostitutes. Women railing against injustice in Britain dates back since 1972 with Mary Wollstonecraft's A Vindication of the Rights of Women were she wrote in defense of female equality in society through education and equal opportunity for both males and females in the working field. Emeline Pankhurst is one of the founders of the British Suffragette Movement. She founded the "Women's Social and Political Union" to fight for voting rights for women . In The Importance of Vote, she gave arguments in favor of women entering the Political arena .
* AMBIVALENT NATURE OF AMERICAN FEMINISM
Feminist movements are not confined to the European geography. Even in Unites States there are feminist movements. However, feminism in United States become problematic since in their arguments they tend to replicate the ideologies put forward by European feminists. For instance, the American Feminist Betty Friedan reproduce the arguments brought forward by Mary Wollestonecraft in A Vindication of the Rights of Women. In The Feminine Mystique she challenges that women exist only to please men and proposes that women must receive the opportunities as men in education, work and politics . Since America was under the British colonial yoke centuries ago, American Feminists look upon Britain as their ideal and they think that by abiding to the colonizers' culture, American women will be able to move up the social ladder. Elaine Showalter coins the term "gynocritics" to describe Literary Criticism based on a woman's perspective . A Literature of their Own is an extension of the 'Eurocentric Ecriture Feminine Movement'.
Yet, it is revolutionary in the sense that the arguments are not wholly Eurocentric since she criticizes both the French and the British forms of imitation and protest in writing. Her book Inventing Herself indeed brought the essence of American Feminism as she has liberated from the shackles of Eurocentric feminist that previous Americans were abiding. Even Judith Butler breaks up the Eurocentric values instilled by the French and the British feminist theories. In Gender Trouble and Bodies that matter, Butler challenges the Eurocentric feminist theories arguing that these theories homogenizes women and trouble women with their monolithic movements that they have created, thus doubly suppresses women by instilling "performativity" in them by dictating the way that they should write, talk and behave in society . She opposes the homogenized kind of Eurocentric feminism and is more in favor of Post-Structuralist feminists .
* WOMEN IN POST-COLONIAL COUNTRIES REPRODUCING THE EUROCENTRIC CONCEPT OF FEMINISM
Edward Said's Orientalism explains how in order to justify colonization; the Europeans divided the world into binary oppositions; the East and the West and the Civilized and the Savage . Consequently, creating an inferiority complex in them and colonize their mind by making them believe that whatever is local is inferior and that British or French culture is superior. The colonization of the mind of previously colonized countries is dominant in women's struggle for their rights. These women abide by the prescribed European Feminist ideologies. For example, the contemporary Morrocan feminist Fatima Mernissi re-examines the 'Sharia' (Islamic Law) using the European judicial system as framework.
In The Veil and the Male Elite: A Feminist Interpretation of Islam, she studies the role of the wives of Prophet Muhammad and thus viewing Islam as a religion that denigrates women since she prioritizes the native culture of France and Britain during her research. She has failed the honorable position that Islam gives to the wives of the Prophet Europeans view housewives and polygamy as 'barbarous'. Moreover, she replicates colonization in Morocco by taking the 'French Ecriture Movement' as model by stating in Beyond the Veils that women must write about their own experiences in order to escape their subjugated role in the African Arab society . Even the Egyptian feminist Nawal El Saawawi views writing as a means to liberate women from oppression. In Memoirs from the Women's Prison :
"The novel is tormenting me. I've freed myself completely to write it, letting everything else go for its sake. It's intractable, like unattainable love. It want's me, my entire being, mind and body, and if it can't have that it will not give itself to me at all. It wants all or nothing – it's exactly like me. To the extent that I give to it, it gives to me. It wants no competition for my heart and mind – not that of a husband, nor a son or daughter, nor preoccupation with of any sort, not even on behalf of the women's cause."
Like the European Feminists, she views Islam as an obstruction in allowing females moving up the social ladder and this is well illustrated in her short story She has no Place in Paradise . In addition, many women in previously colonized countries tend to reject the symbolic phallic power of the penis just like the European women and this is well illustrated in The Rape of Sita by Linsey Collen. The hatred of the Mauritian women against the males is seen when they say "kup so grenn" which means "cut his ball off" . These Mauritian women are Moreover, with the European Feminist concepts that a woman has the right over her own body and that abortion is a women's right; in Africa, India, China and Pakistan, there have been many feminist movements that are lobbying for abortion and birth control.
These women are integrating the culture of the native European women's way of life into their indigenous culture by using contraceptive pills so that they do not have many children to take care of. In addition, women from previously colonized countries are organizing movements that follow the same structure than that of the French and English feminists. In their feminist seminars they look upon European feminist as their 'stars' by bringing these 'idols' as Chief guess to their conferences. Though they are living in the Third World Countries, in their mind these European feminists act as a psychological space for their Eurocentric way of life.
* POST-COLONIAL FEMINISM SUBVERTING THE EUROCENTRIC FEMINIST THEORIES
Post-Colonial Feminists accuse the European Feminist movements of looking at the experiences of women of formerly colonized countries as homogenous, based on their point of views and not reflecting their real status within their society. These Post-Colonial Feminists have newly emerged and are bringing a new wave in the Feminist approach since they are breaking the prejudices that the colonizers have on them and the way that they have been portrayed in the literature of these White women. Flora Nwapa and Buchi Emecheta are examples of Post-Colonial Feminists. In an interview in 1995 with Marie Umeh Nwapa asserts :
"When I do write about women in Nigeria, in Africa, I try to paint a positive picture about women because there are many women who are very, very positive in their thinking, who are very, very independent, and very, very industrious."
Flora Nwapa through her character Efuru who is a married woman shows how the African society enables female empowerment economically. Married women are not diminished in that society. The Western Feminists claim that women in colonized societies must adopt the Western culture in order to enjoy a high position in society but Post-Colonial readers can see how through the plot of Efuru Nwapa destabilizes that concept by making her heroine a woman who enjoys a prestigious position in society :
"Efuru was her name. She was a remarkable woman…She was distinguished herself"
Marxist Feminists who are British and French ascribe the oppression of married woman to their economically capitalist husband. They view the wife economic dependence on the husband as a form of subordination which totally effaces her female identity. However, many African Writers like Nwapa and Buchi Emechata undermine this belief that African women are economically dependent on their father. in their novels they show the economic liberation of married Arfican women within the Tribal society. Western Feminists argue that through marriage the tribal women's identity is reduced to the bride price thus reducing women economically. However in Efuru Nwapa brings a reform in readers mind by arguing that the bride price gives a high status to women and shows their ability to look after themselves through her female protagonist. Efuru says :
"My husband is not rich. In fact he is poor. But the dowry must be paid. I must see that this is done"
She shows the high position of African wife by working to fulfill the needs of her "lazy" husband who "slept while others went to work". Although Post-Colonial feminists use writing like the colonizers, here writing does not have the same function. Writing for women in Post-Colonial countries means resistance; it is a form of resistance against the Eurocentric Feminist theories since they are appropriating the Eurocentric writing form to promote the culture of their country. Merle Hodge and Jamaica Kincaid are examples of prolific Caribbean writers that have succeed in using the tools of the colonizers which is writing and then using it back against them by criticizing the negative impact that colonization had on female psyche in their countries. The subversion of the Eurocentric feminism is emerging in a new wave by Post-Colonial feminists in India. India feminists are indeed very revolutionary since they are using the Hindi serials as a tool of their feminist propaganda. Promoting Indianness among Indian women and rejecting the theories laid upon by European feminists is the main aim of their movements through these Indian soap Operas.
Ekta Kapoor's Kyunki Saas Bhi Kabhi Bahu Thi is an example of such feminist movement. Owing respect to the motherland through its diverse beautiful rites and rituals and having a sense of responsibility for the family ties is depicted through female characters like Baa, Tulsi, Ganga and Daamini in the serial. These women are ranged from the old to the middle age to the youngsters. The embodiment of Indianness by these characters is a feminist strategy that encourages females from all age range in India to abide by the Indian culture, hence defeating the colonizers. In Women-Nation-State by Nira Yuval-Davis and Floya Anthias argues that women are metaphorically linked to the states since as mothers they are reproducers of their ethnic motherland and they participate in struggle to liberate their countries . Here readers can see that by abiding to the local culture, these women are emblematic of women struggling against the colonial yoke. Moreover, since the women are metaphorically representatives of the nation, valorizing their countries' culture is a feminist tactic that defeat the colonizers that make portrays them as being unsuccessful in colonizing their lands.
* WOMEN IN DIASPORAS NEGOTIATING THEIR 'FEMALENESS'
According to Aparna Rayaprol, identities and cultures may get delocalized but they cannot be separated from the memories . Another type of feminist wave that has come out is migrant women's role as transmitters of the tradition of their homeland and rejecting the Eurocentric norms in all ways. Aparna Rayaprol studies how through the Sri Ventateswara Temple in Pittsburg Indian women are developing an innovative form of feminism by acting as custodians of the Indian Culture . It is usually the mothers rather than the fathers that bring their daughters to learn Classical dance in the temple and watch them practice. Unlike the Eurocentric feminists, this is not viewed as a subjugation but rather a responsibly and considering them as apt transmitters of the culture of their homeland. Though these women are in a Western land, these women subvert the colonizers concept of feminism by not abiding to Christianity and the Bourgeois values by constantly doing things that were being done by their mothers in their motherland and instilling in their daughters to do the same through they are in a Western society.
This is well depicted in Amy Tan's The Joy Luck Club where readers are presented to for Chinese women creating their own type of Feminism through their migrancy experience. They use nostalgia for China as a means of going back metaphorically to their homeland. Through the club and the Mahjongg game these women create a form of feminism that was present in China. These women would indeed be viewed as 'passive' by Eurocentric feminists but they challenge the Eurocentric feminists by showing that they are 'active' women who are recreating their homeland. All women navigating their femaleness in Diasporas use elements of the homeland in shaping their feminity. The fact that they stick to elements from their native homeland to create defamiliarization ('Ostranenie') among the European feminists marks them as successful 'immigrant feminist' and not 'puppets' whose strings are in the hands of the 'European Feminist'.
* RELIGIOUS FEMINISM
Religious feminism is another type of feminism that shares opposing views from that of the Eurocentric feminists. This type of feminism can be seen in all religions with women abiding by their religious dogmas instead of that of the colonizers. For instance, many Hindu women inculcate Hinduism in their children right from their very small age by encouraging them to read books on Hinduism and watch videos of mythological dramas. Rajini said that when she had to read bedtime stories for her daughter, she consciously selected tales from the Mahabharata instead of Little Red Riding Hood . This form of Hindu feminism brought about by Rajini is indeed anti-Eurocentric. Moreover, many Indian women form their identity by trying to become the Goddess Durga figure who is the personification of the totality of powers of the Hindu Gods.
Hindu women develop a new form of feminism by dressing in red which symbolizes the power and strength of Durga over the 'demons' which here are the 'European feminists'. As a result they become the reincarnation of the Godess Kali by being victorious against the Eurocentric society. Moreover, many Eurocentric feminist tend to look upon Islam as a religion that degrades women through the hijaab (Islamic Scarves). However, a new trend of Islamic feminism has emerged with women using the Quran (Divine Book of Muslim) and the traditions of the Prophet as discourse. In the Home Page of the weblog Wajiib Niqabi, the following is written :
"We gather together only for the sake of Allah, swt, to support one another in truth and council in patience…The Muslimah's Jihad (The Muslim woman's struggle)…The context of the hijab is the modest covering of a Muslim woman. It is also a head covering that should be drawn to cover the hair, neck, and bossom. A Muslim woman who wears the hijab is making a statement about her identity. The hijab wearing woman is ESPECIALLY filled with respect, dignity, and self esteem. It makes a woman conscious about her behavior, conduct, and character. The hijab covers a woman's sexuality while allowing her femininity to be heightened, RESPECTED AND PROTECTED. Contrary to most misconceptions of the Muslim woman being abused and oppressed. Hijab brings liberation and FREEDOM! In this land called America we must throw off all of these misconceptions and continue to hold true to our deen (religion) and wear hijab. This is the MUSLIMAH'S JIHAD!!!!!!!"
Given that "The Muslimah's Jihad" appears twice on the home page of Wajib Niqabi, keeping the Islamic identity through the Hijaab is a crucial resistance to Eurocentric assimilation for the Islamic Feminists. They want to be judged by what is in their head and not by what is on their head. Using the technology as a weapon, these Islamic Feminists are promoting the sisterhood values among Muslim women by crossing national barrier and thus psychologically supporting all Muslim women who are being persecuted across the globe just because they are wearing hijaab. Remaining loyal to the Islamic Law is the basis of the Islamic Feminist movement on the web.
* CONCLUSION
Although there is a tendency to homogenize Feminism as Eurocentric by some American feminists and some feminists in women in previously colonized countries, feminism is not a monolithic entity. Feminism is not something claustrophobic since it is not limited to the 'Eurocentric Feminism' but there are 'Multiple Feminisms' with different groups of women articulating their female identity differently. No feminist group is superior to the other.
BIBLIOGRAPHY:
1) [Feminism from Wikipedia, the free Encyclopedia]
From Google- http://en.wikipedia.org.wiki/Feminism (Thursday 20 April 2006 19:38)
2) [French Feminism from Wikipedia, the free Encyclopedia]
From Google- http://en.wikipedia.org/wiki/French_feminism (Thursday 20 April 2006 19:52)
3) [Women's Studies Resources. Compiled and Edited by Clara Tonella, University of Lowa]
From Google- http://bailiwick.lib.uiowa.edu/wstudies/frenchfem.html (Sunday 23 April 2006 09:28)
4) [Cultural Institution Blesok no.23, October-November, 2001. "Politics and Poetics of Helene Cixous" by Snezaba Zabic]
From Google- http://www.blesok.com.mk/tekst.asp?lang=eng&tekst=335 (Sunday 23 April 2006 08:42)
5) [Kriteva and Feminism by Kelly Oliver]
From Google- http://www.cddc.vt.edu/feminism/Kristeva.html (Sunday 23 April 2006 09:41)
6) [Feminism in France since 1970]
From Google- http://www.well.ac.uk/cfol/feminism.asp (Sunday 23 April 2006 19:37)
7) [Chantal Chawaf from Wikipedia, the free Encyclopedia]
From Google- http://en.wikipedia.org/wiki/Chantal_Chawaf (Thursday 20 April 2006 20:07)
Related Topics