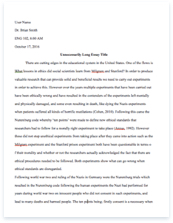 The whole doc is available only for registered users
Pages: 3
Word count: 663
Category: Iphone
A limited time offer! Get a custom sample essay written according to your requirements urgent 3h delivery guaranteed
Order Now
During the time since the iphone was release back in June 2007, there have been many legal issues that have presented themselves. Most of these legal issues started when people started noticing that the iphone was able to be jail broken. This means that they can download free software and use it to unlock and phone that he or she wishes to. Many problems started occurring because this caused a birch of contract with the service provider AT&T. With all that being said AT&T has decided to interfere in the iphone unlocking trend that has come to a rather large proportion over the last period. Uniquephones has been one of the first websites that has offered people the option of jail breaking a phone and AT&T wasn't so happy about that. They were informed that they would be receiving a call my AT&T's lawyers. The law firm stated that the company was about to qualify for copyright infringement and illegal software dissemination actions. Uniquephones has decided to listen to some legal advice before they actually go through with their intention on providing the iphone software for unlocking the phones. The Copyright Act protects Iphone firmware, as it is the case with any coded devices.
Still, an exception to the Digital Millennium Copyright Act (DMCA) states that handset users can unlock their phones in order to connect to a wireless telephone communication network. The main reason that unlocking these phones is such a big issue is to gain a profit from selling the unlocked version of the specific devices. To put it clearer, users can unlock their personal handsets, but are not allowed to do this at a large scale, for commercial purposes. If people do decided that they want to unlock their phone there are a lot of draw backs by doing so. They won't be fully covered; this means that the warranty on your phone would be void. This also means that Apple would stop supporting the phone, the quality of the phone won't be the same and they would no longer have a contract with AT&T.
With all these new applications that are able to be downloaded no one ever thinks where they come form or who makes them. This is where another legal issues come in for the iphone. The app store has been open for many years now and while many of the apps provide utility's most of them are also for fun. Game development for the iphone is a rapid growing industry. Many developers may want to create iphone versions of their favorite PC, Console, or handheld games. However the creation of an iphone app based on someone else's work may be considered a derivative work or reproduction of the original game under copyright law. Therefore recreation of the original game or even an app loosely based off an original game, no matter how novel in execution, would almost certainly expose the developer to infringement liability. Even ignoring the copyright issue there are legal claims under trademark and unfair competition that would create major problems for our would-be developer. Now all developers are required to comply with "all the application and data collection laws. This also includes state and federal laws. Meaning that these laws prevent the dissemination of user data and information to third parties.
Apple changing the pure meaning of what a Smartphone should be by introducing the iphone was bond to create legal issues. These issues took much time and have defiantly changed the way to look at technology and the effects it has one everyone. Unlocking phones has caused apple to lose money in more ways that other just the legal bills and also because all of these phone are being unlocked they weren't making any money off the applications because with an unlocked phone those applications were free. But as long as these an iphone there will always be issues that have to be dealt with in court.
Related Topics