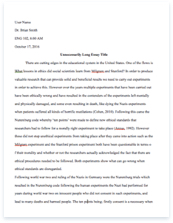 The whole doc is available only for registered users
A limited time offer! Get a custom sample essay written according to your requirements urgent 3h delivery guaranteed
Order Now
1. What is the key goal that guides the decisions of financial managers? What challenges do financial managers face when they try to find the best sources and uses of funds to meet this goal? Historically, the goal for them has been to maximize the value of the firm to its owners. But today's businesses have adopted a broader perspective, believing that they have responsibilities not just to stockholders but also to customers, employees, and other stakeholders. Treating these other stakeholders well often builds value, which benefits stockholders, but other stakeholder groups also sometimes have goals that conflict with those of stockholders.
2. List the four basic types of financial ratios used to measure a company's performance, give an example of each type of ratio and explain its significance. Liquidity ratios- Financial ratios that measure the ability of a firm to obtain the cash it needs to pay its short-term debt obligations as they come due. Asset management ratios- that measure how effectively a firm is using its assets to generate revenues or cash. Leverage ratios- measure the extent to which a firm relies on debt financing in its capital structure. Profitability ratios- measure the rate of return a firm is earning on various measure of investment.
3. What are the key questions financial planning must answer? What role does the budgeted income statement and budgeted balance sheet play in finding answers to these questions? What specific assets must the firm obtain to achieve its goals? How much additional financing will the firm need to acquire these assets? How much financing will the firm be able to generate internally (through additional earnings), and how much must it obtain from external sources? When will the firm need to acquire external financing? What is the best way to raise these funds?
4. What is the purpose of a cash budget? How can this tool help firms with rapidly increasing sales? The purpose is for the financial managers to get a clear and better understanding of the timing of the cash flows with in the planning period. It can help they by determine when the firm is likely to need additional funds to meet the short-term cash shortages.
5. Name and describe 4 commonly used sources of short-term financing. Trade Credit- spontaneous financing granted by sellers when they deliver goods and services to customers without requiring immediate payment.
Related Topics