Internship Experience Narrative Report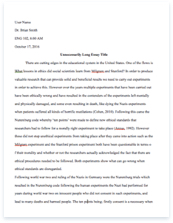 The whole doc is available only for registered users
Pages: 4
Word count: 821
Category: Violence
A limited time offer! Get a custom sample essay written according to your requirements urgent 3h delivery guaranteed
Order Now
I have had the pleasure of experiencing two different unique counseling internships. The practicum experience I received in both placements has been rewarding, educational, and challenging. Though both experiences differed greatly in environment they both possessed the same qualities which assisted me in the process of becoming a counselor.
RESPOND Inc. is New England's first Domestic Violence agency and the only the second one in the nation to be established in 1974. Needless to stay I was intimidated by this organization that had stood the test of time for 35 years providing services for women. I had to go through three interviews before I was selected as their intern for the 2008/2009 year. I was proud to be part of this devoted staff to help heal victims of violence. In order to be part of the staff I was asked to complete a 35 hour training spread out through four weeks. It was intense training in approaches to trauma related situations. In the training I was meeting with other Boston area Domestic Violence agencies. Together we worked as a community to help survivors of violence.
Once the training was complete I could start doing intakes with victims of domestic violence on my own and facilitating support groups. Once I completed an intake I would assess the client's needs and suggest the services we offered. The services we offered generally fell within three categories: Advocacy, Individual counseling, and Group Counseling. Each client would have details on what the next steps would be in regards to the services they would receive. My contact with the client usually would involve them coming into the office for either group or individual sessions, however sometimes contact involved going to the court house for advocacy services. There were also times when I would accompany clients to meetings, and meet up with them at their job sites. The issue of safety meant that the traditional forms of counseling needed to take a backseat in order to accommodate the specialized needs of the client.
My time at RESPOND exposed me to very traumatic situations with my clients. Having those experiences with my clients were challenging but ultimately gave me a very rewarding experience that I will never forget. The limitation of the internship was that I only worked with women; however these women came from different backgrounds. I worked with women from different races, socio-economic statuses, cultures, and ages. I am thankful for the exposure to this population.
For my next internship I knew I would be working in a school and I was torn with what population I wanted to work with. In the end I chose an internship with Newton North High School. I choose this school for a lot of reasons but mostly I thought about the experience I had at RESPOND and the lack of resources that community had. I thought about how different the experience would be at a community like Newton where resources were plentiful. Though I knew the transition would be difficult I took the internship that I thought would give me a well rounded overall practicum.
At Newton I joined with four other interns and we were each assigned to a counselor as our supervisor. At Newton there are ten Guidance Counselors divided among the grades. Each counselor takes on two grades. My supervisor has grades 10 and 12. Working with sophomores and seniors has been engaging to my overall counseling experience. Before coming into a school setting I had never worked with adolescence in this capacity. However I was excited for the opportunity.
My transition from working with women who were coming from abusive traumatic situations to working with adolescence in a high school was very challenging for me. I was unprepared for the amount of transition time I needed. After some time I came to really love the work I did with the students, and working with adolescence. Connecting with them was something that came with ease. Some of the challenges I faced however were to know where each student fell developmentally. Understanding the developmental stages for each grade helped.
While at North I co facilitated a junior girls of color group sponsored through the Medco program. Additionally I was a co-leader of a sophomore parents group and a senior parents group. In addition to seeing my own students individually, I would fill in the day to day activities of my supervisor's role. From running IEP meetings, to sitting in on expulsion hearings, I received the all around experience that one would face as a High School counselor.
Understanding the population and the communities that I interned with were vital to my learning experience. Getting to the overall understanding was sometimes frustrating, but through guidance from my supervisors I was able to get to the place I needed to be in order to become the counselor I am today.
Related Topics