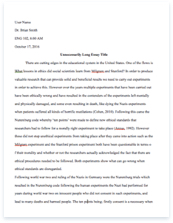 The whole doc is available only for registered users
A limited time offer! Get a custom sample essay written according to your requirements urgent 3h delivery guaranteed
Order Now
The Internet has changed the way the modern world lives its lives in innumerable ways. While changing the way that everyday people communicate and gather information, the Internet has also made its impact in the world of business. From giving birth to a new industry to changing the way firms gain access to their markets, the fact the Internet has changed business is undeniable. In this paper, I try to look at 5 businesses and the different ways they fit the Internet into their strategies.
Google Inc. – The Internet as a Service
The ultimate dot-com company, Google exists only within the confines of the World Wide Web. You can say that if the Internet ceased to exist tomorrow then so will Google making it the perfect example of a dot-com company. In the case of Google, their entire strategy is based on operating and making money off a business living in the Internet.
While we may all know Google as the search engine, the bulk of Google's income comes from its AdWords service wherein paid advertisements are delivered besides search results. AdWords may also be embedded on other third party websites with Google and the website owner earning a commission every time a customer takes action through AdWords. The value of Google's AdWords compared to other advertisement delivery services is its context sensitivity. Only AdWords that are relevant to the customer's current interests are displayed. For example, a customer who is searching for Telescopes using Google will see advertisements from Telescope manufacturers with his or her search results. Similarly a website about Astronomy that has Google AdWords will display advertisements for telescopes too.
With this in mind, the critical metric for Google's strategy would be the effectiveness of its technology. Because Google's customers are actually the ad purchasers and not the search engine users, Google should be able to provide exceptional value both to the ad buyers and to the users of its search engines. After all, a critically targeted ad would be useless if there are no search engine users to see it. We can sum up Google's strategy as Delivering Relevant Advertisements to Users of our Search Engine. Therefore for the strategy to work, Google must provide both effective Ad Targeting and Search Engine, the two services provided by Google. The Internet serves as a way to deliver these services to its search engine users. In this case, the Internet becomes the services' channel of delivery.
Google is also trying to expand the reach of AdWords by creating new services for consumers by which AdWords could reach them. Google Mail, an email service, and Youtube, the infamous video sharing website, are examples of two Google forays away from the search market. Both services are free, being subsidized by AdWords buyers. To Google then the Internet serves as a way to reach advertising targets. Google provides a free service to users which it then supports subsidizes and profits from using advertising.  Another aspect to Google's strategy is to gather as many users of its products so that they could improve the value proposition to its AdWords buyers and consequently demand higher fees from the advertisers.
Mouser Electronics – The Internet as a Feature
While Google exists entirely on the Internet, we now look at a traditional brick and mortar company that has changed considerably thanks to the Internet. Mouser Electronics was created in 1964, decades before the Internet broke into the mainstream. Mouser (a Berkshire-Hathaway company) is best described as a department store for electronics components like transistors, switches and chips. It serves as a distributor for products from many semiconductor and electronic component manufacturers. Its customers vary from university students to both small and large electronics firms.
The Mouser of today is a typical e-commerce company, with a website for customers from all around the world to place orders for the company's products. In Mouser's case, this would be electronic components. What is special about Mouser is that it simply does not use its web presence as a virtual storefront akin to a website peddling consumer products. Mouser has effectively used the Internet to become more than a store, effectively using the Internet to enhance the user experience by creating improvements that are vastly relevant in its niche environment. In mouser's case, the Internet serves as a feature which increases the firm's value proposition.
To understand how the Internet has enabled mouser to give more value to its operations,we must first the challenges faced by Mouser in its business. First is the simple bulk of its catalog. Mouser carries more than 17,000 kinds of wires alone. Its passive component catalog contains more than 370,000 unique kinds of resistors, capacitors and inductor components. Traditionally, component distributors like Mouser had to ship or sell multiple volume book bound catalogs to its customers simply due to the sheer expanse of their product range. There is also the issue of product obsolescence with parts being dropped or added to the product list. This meant that new catalogs had to be shipped every year. Even then, odds are the current catalog held by the customer is not an accurate representation of Mouser's product list. This facilitated the need for extensive customer support operations which customers could call and verify their needed products before committing to an order.
With the Internet, mouser has done away completely with the need for a static paper catalog. This lowers the cost for Mouser and is also a welcome development for their engineer customers. Through Mouser's website, engineers can simple use a search bar to  filter through the hundreds of thousands of Mouser products. Another way that Mouser has improved on the user experience is by implementing an order upload feature. Electronic products contain hundreds of individual components which are tedious to order individually. With Mouser, engineers can simply upload a Microsoft Excel file of their needed components and Mouser immediately analyzes the order from the contents of the excel file.
Mouser has used the Internet to solve long standing issues in their niche business by eliminating pains that arise from the retail process. Mouser is still the same company that was founded in 1964 but through the Internet they have completely changed the way their business is conducted. The Internet fits their strategy as an enabling structure that their business-customer framework is built on.
RyanAir  – Using the Internet to Lower Cost
RyanAir is a low cost airline from Ireland. Being a low-cost airline, the primary selling point of RyanAir is cost. Thus for RyanAir, its primary goal is to provide the lowest airfare in the industry. Like other low cost carriers, RyanAir has done this by extreme cost cutting measures starting with cutting down on the service, using efficient aircraft deployment by having rapid turnaround times, flying to lower cost secondary airports and by flying only a limited number of models to cut down on aircraft maintenance costs.
Another key strategy for RyanAir is its ability to pass its costs directly to the customer. Here is where the Internet enters. By using web based booking on the RyanAir website, RyanAir is able to lower its distribution costs. Additionally, it allows RyanAir to offer extremely flexible fares to its customers with rates changing daily depending on the season and other factors. Thus we see that online booking has allowed RyanAir to trim operational fat and also allowed them to achieve passing the varying costs of travel to the customer. For the customer, booking on a website is cheaper because they no longer have to pay for the services of middlemen like travel and ticket agencies. The Internet booking service of RyanAir has proven so effective that nearly a 100% of tickets are sold over its website. Thus online ticketing forms a part of RyanAir's strategy of being ultra price competitive.
RyanAir has also transformed its web presence from simply being an online ticketing agency into a complete travel agency. From the RyanAir website, a customer can hire a car at his destination, book hotel rooms, avail of travel insurance and so on. We have seen how RyanAir has tried to use the Internet in cutting out the middleman in order to deliver better value to its customers. We are now also seeing how RyanAir is also trying to become the middleman, absorbing the middleman's value proposition and delivering it back to the customer at a lower combined cost.
PHE – Obfuscating Customer Relations
While many companies have used the Internet as a facade to build and enhance customer relations, we now look at a company whose Internet presence is built entirely around transacting business from as far away as possible. That company is PHE Inc. and their website is sextoys.adameve.com.
Like Mouser, PHE has predated the Internet by decades having been founded in 1970.    They claim to be America's largest and oldest sex products company, valued at around $90 million. These products vary from the usual sexual act enhancers to home pole dancing kits to adult films and videos. Clearly, the nature of their products and society's predisposition towards their use necessitate the need for the perceived distance between the buyer and seller. Before the Internet, firms such as PHE could not directly reach the customer, the customer having to sneak in and out of an adult book store with his merchandise wrapped in a discreet paper bag.
With the Internet, the customer could now directly reach PHE in the anonymous comfort of the Internet. The customer can now place his order without embarrassment or being seen. PHE has also put in place measures to guarantee customer anonymity such as red herrings on the credit card billing and the usual shipping in a discreet brown paper bag. The Internet gives PHE and the customer the needed cover to do the transaction, a stark contrast to other traditional companies who may be using the Internet to connect with its user community. Be that as it may, the Internet serves as a way for PHE to connect with its customer base, even if they take steps to disavow the connection.
Skype – The Internet as Infrastructure
Imagine the cost of setting up another telephone company like AT&T from scratch. You might consider the costs of putting up all the intercontinental cable, the switch facilities, and the thousands of miles worth of copper wire that you need to string up over your region (as well as the regulatory costs associated with such and endeavor). Or you might choose to instead build thousands of cellular sites to create the backbone for your cellular network.
Skype was able to create a new method of voice communication without having to spend hundreds of millions of dollars on hard infrastructure. It did this by building its infrastructure on top of the Internet's infrastructure. Voice Over Internet Protocol (VOIP) is Skype's bread and butter in which voice is transmitted over the Internet as opposed to wires and cables. We could see now how Skype was able to effectively piggyback its infrastructure over the infrastructure of the AT&Ts and BellSouth's of the world.
Like RyanAir, the primary selling point of Skype is its cost compared to traditional telecommunications companies. The Internet together with Skype's own technology has allowed them to do just that by eliminating the cost of creating and maintaining a hard network infrastructure. Because of this, Skype is similar to Google in the way that its existence is owed entirely to the existence of the Internet. The Internet is more than just a factor in these companies' strategies: it is crucial to their existence. In their cases, the Internet is essential to their strategy and is the arena for the companies to establish their competitive advantages. As Skype and Google have managed to become the pioneers and leaders in their respective fields (VOIP and Search/Ad Delivery), we could say that they have been successful in using the Internet. Their success boils down to the effectiveness and the features of their offered technology.
In the case of companies like RyanAir, their overall strategy does not revolve around the Internet. The Internet serves only as an aspect of their strategy. In RyanAir's case – it serves only as a step in an overarching strategy to reduce cost. The extensive adoption of Internet booking also leads me to consider RyanAir's Internet strategy as successful and effective. One could say that in the case of RyanAir, their use of the Internet is a "game-changing" move as nearly all low-cost airlines today implement some form of online ticketing and travel service.
Brick and Mortar firms like Mouser and PHE's Internet strategy could also be considered effective because they were able to use the Internet to enhance the user experience of their customers. Mouser made ordering hundreds of parts easier while PHE reduced the visibility of adult merchandise purchase. We see that Mouser and PHE did not simply create a straight to web implementation of their storefronts. Doing that adds no value to the customer. By realizing that they can offer so much more to the customer by operating in Cyberspace as opposed to the "real world", they have successfully implemented their Internet strategy to the point that it has become the primary channel for their products.
Another important point in considering if a company was effective in their strategy is to see whether they have implemented the infrastructure to support their Internet strategy. Using the Internet to interface with consumers automatically makes any business a global business, opening up new markets to the firm. Mouser and PHE have been able to scale up their operations to support orders coming in from all over the world, being able to ship to a majority of countries in the globe.
The question of sustainable competitive advantage on the Internet is a trickier issue. The rapidly changing nature of the Internet demands flexibility and a quick pace of adaptation for companies operating in cyberspace. Mouser one-upped their competition by offering an enhanced user experience online, however nothing is stopping their competitors to do the same. As we can see in RyanAir, their game changing web move quickly became de facto in the low cost airline industry.
What we could learn from Google is that to keep yourself on top of the Internet space, you need to keep updating your offerings. Because any web business is a global business, you reach global customers but also reach global competition. Google was able to stay on top of its game by showing that it can do more than just search, rolling out email services and navigation aids (Google Earth). Advantages built by simply being on the Internet are quickly eroded. Being first to the Internet is not an adequate measure of success as Google has shown. Traditional measures of how you sustain an advantage also apply to advantages made over the Internet. Google was not the first search engine being predated by "giants" like Yahoo, AltaVista and others. These older search engines were eventually defeated by Google simply because Google's technology was better than theirs. Being the best is even more critical in the Internet as it is very easy for Internet customers to migrate to another firm's offerings.
Bibliography
Google Corporate Website: http://www.google.com/intl/en/corporate/index.html
Skype : http://about.skype.com/
About Adam and Eve PHE: http://sextoys.adameve.com/t-Company_Info.aspx
Mouser Electronics: http://www.mouser.com/index.cfm?handler=contact
RyanAir History :http://www.ryanair.com/site/EN/about.php?page=About&pos=HEAD
Related Topics