International Business Persuasive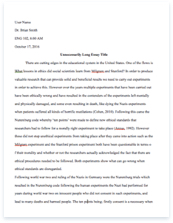 The whole doc is available only for registered users
A limited time offer! Get a custom sample essay written according to your requirements urgent 3h delivery guaranteed
Order Now
1. The culture of which of the following countries has a close conversational distance?
Brazil
United States
Russia
Sweden
10 points
QUESTION 2
1. Titania is a country characterized by a high-context culture. This implies that ________.
personal relations and goodwill are valued in Titania
business is primarily deal-oriented in Titania
the people of Titania tend to conduct negotiations as efficiently as possible
the people of Titania tend to use legalistic contracts to conclude agreements 10 points
QUESTION 3
1. Phone Center (Scenario)
The Technix Computer Corporation recently finished construction of a customer service phone center in New Delhi, India. Phone center agents will be responsible for answering technical questions from customers around the globe. Technix has hired 55 local computer experts as phone agents, and a training session is underway. Technical specialists and call center specialists from the United States have flown to India to train the new Indian employees. Hank Patelli, a senior manager of a Technix phone center in Michigan, will oversee the New Delhi phone center for six months until a local manager is hired and trained to replace him.
Ashok, one of the Indian employees, asks Hank if the weekend training session could be rescheduled because it is a Hindu festival day. What will be the most likely outcome if Hank agrees to Ashok's request?
Hank will develop a relationship of trust and understanding with the Indian employees.
Ashok will replace Hank as manager after six months when Hank returns to the United States.
Instances of absenteeism will become more pervasive among Indian employees.
Hank's decision will create divisiveness between the American and Indian employees leading to irreparable damages. 10 points
QUESTION 4
1. Which of the following situations is an example of the effect of globalization on culture?
English tends to dominate cross-cultural commerce.
Burqas and hijabs are commonly worn by women in Islamic societies.
Pizzas sold in the U.S. are often piled high with meat.
Hinduism is a major religion in India.
10 points
QUESTION 5
1. Which of the following countries exhibit a high-context culture?
Japan
Switzerland
The United States of America
Germany
10 points
QUESTION 6
1. Which of the following countries is an example of a strongly collectivist society?
Canada
China
Ireland
Australia
10 points
QUESTION 7
1. Business dealings in low-context cultures are characterized by ________.
complex rituals
efficient negotiations
a high degree of sensitivity to the context
a high degree of mutual respect
10 points
QUESTION 8
1. Which of the following types of assumptions is the cause of most problems between business managers and foreign employees?
religious assumptions
ethnocentric assumptions
polycentric assumptions
geocentric assumptions
10 points
QUESTION 9
1. Firms with high power distance are most likely to be characterized by ________.
minimal gap between the powerful and the weak
a highly flexible work environment
an equal distribution of power among executives, managers, and lower-level employees
concentrated power among executives and little autonomy for subordinates 10 points
QUESTION 10
1. Which of the following is true with regard to culture?
It is inherited.
It is absolute.
It captures how the members of the society live.
It does not define the collective behavior of each society.
Related Topics