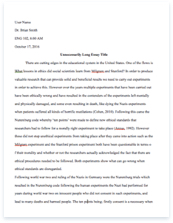 The whole doc is available only for registered users
A limited time offer! Get a custom sample essay written according to your requirements urgent 3h delivery guaranteed
Order Now
Question 1. Discuss how Intel changed ingredient-marketing history. What did it do so well in those initial marketing campaigns? In 1980s, Intel faced a problem to distinguish itself from the competitors and tried to convince consumers to pay more for its high performance products. By creating the ingredient-branding campaign, Intel mended the matter and made history in 1991. To become distinctive, it chose a name for its latest microprocessor introduction that could be trademarked, Pentium. The "Intel Inside" campaign was the answer for the brand awareness problem. This campaign helped move the Intel brand name outside the PC and into the minds of customers when the Intel gave significant rebates to computer manufacturers to include Intel logo in their PC ads or add the "Intel Inside" sticker on the outside of theirs PCs and laptops. It succeeded in distinction and then raising customer's brand awareness in its very first step of marketing campaign.
The later achievements came from several effective and identifiable marketing campaigns in the late 1990s to become a recognizable and well-liked ingredient brand name. Special advertisements coming out with "Bunny People" series had made strong impression in the audience's mind. Famous Blue Man Group was also used in its commercials for Pentium III and Pentium IV. Intel effectively utilized the basic factors of advertising like creativity and used celebrities' influence with the public to draw most attention of consumers. In 2000s, Intel promoted its development by doing more marketing efforts. New products were developed to extend its target market.
In 2003, a multimillion-dollar media effort was made around the new platform called "Unwired" which based on the core product Centrino, a unique integration of a new microprocessor, an extended battery, and wireless capabilities. Although the PC industry slowed in the mid-2000s, Intel continued to lead the market by seeking opportunities in new growth areas such as home entertainment and mobile devices with Viiv and Centrino Duo. A remarkable reposition campaign was carried out to change Intel from a brainy microprocessor company to a "warm and fuzzy company". A replacement in logo and slogan from familiar "Intel Inside" to "Leap Ahead" happened, too.
New improved products has been continuing to be regularly launched to consolidate Intel's position and expand its new market. Classmate PC for children in remote regions of the world in Learning Series in 2007, Atom processor for mobile Internet devices, netbooks, and nettops in 2008, the Intel Core i7 in the same year brought in turn a big revenue for the company. Intel's most recent ad campaign named "Sponsors of Tomorrow" was the effort to improve the Intel's brand awareness in customer's mind. In conclusion, Intel did a series of marketing campaigns to help it become the top brands in the world. Focusing on creating trademark, positioning its brands, making a series of attractive ads and finding new opportunities accompanies with upgrading continuously its powerful products, Intel made it to be one of the most valuable brands in the world.
Question 2. Evaluate Intel's more recent marketing efforts. Did they lose something by dropping the "Intel Inside" tagline or not? In mid-2000s, the PC industry got into slow development and it influenced all the related companies, not excluding Intel. This urged Intel to change and if they want to grow more, they have to make an innovation. They took action by creating a new $2 billion global marketing campaign: changing their familiar "Intel Inside" tagline, creating new logo and repositioning the company. Things stuck into customers' mind whenever they think about Intel are all changed. There will be no more "Intel Inside", it's "Reap Ahead" instead. This new clearly outstanding slogan showed us new company's direction will reflect in their future products and culture.
The question is whether Intel lost something by dropping the "Intel Inside" tagline or not. In my opinion, they lost their "traditional value" that is the familiar "Intel Inside" tagline but this change is necessary to adapt to the development of economy and the change of market. Change is inevitable and a market leader must be willing to embrace change to maintain the leadership position rather than resist it. Some people who identify themselves with the old tagline will find it difficult to get used to the new slogan. But customers who trusted in the Intel's quality will no doubt their new products with new slogan and logo. Because the good reputation of Intel which helped them become a giant in microprocessor producing industry, has been deeply established in consumer's mind.
They can't simply be replaced or rejected. The new slogan of Intel "Leap Ahead" indicated their ambition to lead the market, continue to creating new things that meet the needs of people from all walks of life. And in fact, they took the initiative in market expansion. There are many examples for that: Viiv aimed at home entertainment enthusiasts, Centrino Duo mobile, Classmate PC for children in remote regions of the world, Atom processor, and especially is Intel Core i7 for video, 3-D gaming and advanced computer activities. The positive effects eventually came in their new product's consumption showed that the board of managers of Intel took the right action. They lost some old value by dropping the "Intel Inside" tagline but what they gained is more enormous. The recent ads campaign aimed to improve the company's brand awareness entitled "Sponsors of Tomorrow" emphasized their new slogan and highlighted their role in changing the future of technology.
Related Topics