Innovation Strengths in Leadership Skills in an Organization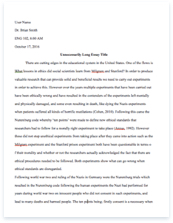 The whole doc is available only for registered users
A limited time offer! Get a custom sample essay written according to your requirements urgent 3h delivery guaranteed
Order Now
In order to know your own strengths when it comes to innovation in an organization, first one must know and understand what innovation is. Innovation in my opinion is when a change or update is made to something that already exists but it dramatically improves its efficiency, productivity, or outcome. Innovation is about reframing challenges as opportunities. You don't necessarily need to make something new to be innovative. Innovation is building a totally new solution to a problem. By definition, innovation is really hard because it is so much easier to make small changes to what already exists.
You have to think about the problem in a totally different way than everyone else has before. The only way to sustain a culture of innovation is by empowering the members of a group to be problem solvers. When it comes to innovation and having leadership skills in an organization there are many that comes to mind. As a learner and an innovator, you're naturally a person who's curious to discover new things, and you exemplify the personality characteristics that embody learning. As a leader, it's not your job to be the most creative person in the organization, nor to be the most innovative person in the organization.
Your job is to structure and organize the entire process, to support, guide, manage, and coach others, and to assure that rigorous discipline is being followed throughout the innovation process, and to measure the results and correct the system such that all this widespread effort leads to the desired sort of innovation results, which in turn leads to success and sustainability for the organization (Gumusluoglu, 2015). In order to support innovation in any organization, innovators have to be passionate and always in pursuit of endless opportunities and take the rest only when they have achieved the inevitable.
So this will determine if we are leaders or followers. In any organizations, employees as well as leaders should support innovations and more so organizations should understand that lasting and stable innovations are created through group activities which fosters innovation and creativity. According to Soken & Barnes (2014), Business leaders need, first of all, to recognize that their organizations are not machines but rather are comprised of human beings with all their assets and liabilities. The human environment of an organization can be friendly or hostile to innovation and creativity.
Successful innovation requires true leadership, not just good management. According to Glauser's (2016) article, "Are You an Innovator or Executor? Take the Quiz to Find Out", the important point is you need both innovation and execution skills in your organization. If you are strong on both of these skills you are in great shape to grow your company. If you are strong on one or the other, you may need a partner who has the skill set that you lack. This quiz was to help to see if a person is an innovator, executor, or both. After taking the Glauser's innovator and executor assessment, I see myself as an executor.
I am always about setting and achieving any goals I put in place. I always like to produce things and put something into effect. I am very task oriented and I am crazy about having structure that is in place. My top priority every day in life in my profession is to execute the best practices that makes my department as well as the organization run smoothly. Being an innovator and an executor is a plus. Being able to accomplish a goal and execute it is a positive note. I want to be able to have the passion for anything that is thrown my way.
Passion fuels the innovative fire, but it's not enough to simply love what I do; I must learn to have a burning desire to share that passion. Leadership Practices That Support Innovation in an Organization Established leadership practices support innovation in organizations by creating an innovation culture in the organizations. They bring employees together with a common purpose and guide them to explore new innovative ways of serving customers. They constantly make their employees understand that they are important for the organization and their inputs are vital so innovate and give your inputs.
They support diversity in organization's population as diversity is very positive for innovation and creativity in any organization. There are no best-practice solutions to seed and cultivate innovation ( The initial understanding of how a leader's skills and practices shape culture in an organization, first starts with knowing what elements of leadership are needed and what are some practices that can assist. According to Leslie, (2009) for organizations to build leadership strength, they first need to know what elements of leadership are needed and valued in the organization and for what roles.
Innovation and having leadership is hand in hand together in building, controlling and enhancing an organization. Two leadership practices that support innovation in an organization are:
1. Be On-Purpose- Take the time to clarify your motivating values and compelling purpose, individually and collectively. Purpose fuels energy and drive to go beyond what is and to persevere until something extraordinary has been created. Purpose is the value-creating, energy-multiplying life force of innovation. Is purpose driving performance, or has performance become your purpose?
2. Be Authentic- The innovation potential of teams or organizations will be directly proportional to your innovation embodiment.Make sure your own behaviors are not unintentionally limiting an innovation around you. Ask, "How could I encourage even more innovation here? " Be the collaborative innovator you wish to see in your organization (Lee, 2014). Both innovation and having leadership practices in an organization are important in building a healthy organization. Barkdoll (2006) assumed that all leaders attempt to change the culture of the organization to fit their preferences.
Thus, with leadership practices they can predict the successfulness of a company when they possess a strong leader that have a visionary to make the organization performs better. Whatever the leadership style or the situation or the targeted goal, an organization, and a leader should always act ethically in building strategies because ethics always comes first, and if an organization loses ethics this may lead off losing the trust of followers. Exemplar Leader of Innovation To be a leader of innovation, one has to have extraordinary knowledge and expertise in my opinion.
These leaders are highly skilled at thinking and being able to fostering new thinking and collaboration that produces new business opportunities. Leaders must learn how to create an organizational climate where others apply innovative thinking to solve problems and develop new products and services. It is about growing a culture of innovation, not just hiring a few creative outliers. How can you help others to think differently and work in new ways to face challenges? What can be done to innovate when all resources are stressed and constrained? How can you stay alive and stay ahead of the competition (Lee, 2014).
Exemplar leaders use a variety of skills and practices to create and support innovations in organizations. They will always be on the purpose. Exemplar leaders if they are clear in their minds they will dare to do experimentations and take risks. On a constant basis these leaders take time out for themselves and try to establish sanctity in any given situation of chaos. They are always authentic in the sense that they do not let their inhibitions to limit innovations. An example of a leader who was successful at shaping innovative culture is Reed Hastings the CEO for Netflix.
In 2013 Netflix progressed exceptionally well under the leadership of CEO Reed Hastings, who co-founded the company as a mail order movie rental business in 1998. Over the years, Netflix has, of course, evolved into an on-demand internet streaming company. By 2005, Netflix had 4. 5 million subscribers and counting, beating out any online efforts made by Blockbuster. In 2013 the firm saw its stock triple, and in September the same year it counted a whopping 40. 4 million subscribers. Some industry experts have noted that people are turning their backs on cable since they can get their favorite shows on Netflix and elsewhere on the web.
"Hastings could be the successor to [Steve] Jobs as the model in Silicon Valley for how to innovate," said Paul Carroll of consulting company The Devil's Advocate Group. Today, Hastings's net worth is $1. 54 billion according to Forbes, most of which is tied to Netflix stock (business-management. net). Netflix landed nine Emmy awards in 2016. Similarly, while Hastings set the vision for the company's global expansion, lower-ranking executives take the lead on deciding which markets to enter when.
Conclusion Organizations must invest in their leaders to ensure they develop their own innovative thinking capabilities and have the capability to develop their employees' and teams' innovative-thinking skills. Organizations also need to design their culture and organizational practices to make innovation possible. As well, organizations require a well-developed, organization-wide innovation plan to ensure a focused approach to organizational innovation. An organization-wide innovation plan enables local teams to focus their innovative thinking activities and align their innovations with the organization's overall requirements for innovation.
When innovation occurs in organizations, it becomes embedded. It also becomes an invisible competitive advantage, consistently creating new value for the organization. It is reflected in how individuals and teams think innovatively as they redefine complex issues, generate new ideas, discover solutions, and mitigate risks. The end result will be that organizations will close their innovation gaps, become able to achieve sustainable customer value and employee engagement, and remain vital into the future.
Reference
Barkdoll, G. L. (2006). Individual Personality and organizational culture or "let's change this place so I feel more comfortable. Public Administration & Management: Interactive Journal. Retrieved from: http://www. pamij. com/barkdoll. html. Gumusluoglu, L. , & Ilsev, A. (2015). Transformational leadership, creativity, and organizational innovation. Journal of business research, 62(4), 461-473. Glauser, M. (2016). Are you an innovator or executor?
That this quiz to find out. Retrieved from https://www. entrepreneur. com/article/276754 Lee, J. (2014), Effects of leadership and leader-member exchange on innovativeness. Journal of Managerial Psychology, 23, (6), 670 – 6873 Leslie, J. B. (2009). The leadership gap: What you need, and don't have, when it comes to leadership talent. Retrieved from http://www. ccl. org/leadership/pdf/research/leadershipGap. pdf Barkdoll, G. L. (2006). Individual Personality and organizational culture or "let's change this place so I feel more comfortable. Public Administration & Management: Interactive Journal. Retrieved from: http://www. pamij. com/barkdoll. html.
Related Topics