Information Technology Project Management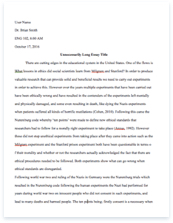 The whole doc is available only for registered users
A limited time offer! Get a custom sample essay written according to your requirements urgent 3h delivery guaranteed
Order Now
Part 1: Search the internet for the term "IT outsourcing". Find at least two articles that discuss outsourcing, whether beneficial or controversial. Summarize the articles and answer the following questions in a two to three page paper: Outsourcing is the lifeblood of IT. The prevailing theory is that outsourcing saves companies money and enables them to engage a broader pool of IT skills and talent than they could in-house. http://www.itoutsourcinghq.com/
Summary: The above article talks about how IT outsourcing is the most cost-effective way for companies to hire qualified individuals for specific jobs without having to commit to the significant cost or maintaining a year round in house team. IT outsourcing is also good for companies which are in the midst of a launching campaign, product, or new merger and need a large about of technical help in a small period of time. http://www.corpcomputerservices.com/articles/outsourcing-reasons This article (above) outlines the risks and benefits of outsourcing IT functions. Among the risks are the facts that some IT functions aren't outsourceable, control may be lost by the actual business, and employee morale may be affected. The benefits listed in this article include freeing up working capital for core business functions, saving time and money, and reducing risk. Overall, the article favors IT outsourcing, as the benefits outweigh the risks.
●What are the main types of goods and services being outsourced? ○The two main types of goods and services being outsourced are Technology Services, which includes electronics/e-commerce and information technologies and Business Processing Outsourcing, which deal with finance and accounting, procurement and supply, customer service/contact, and human resources. Why are the organizations in the articles choosing to outsource? ○Organizations especially small and medium businesses simply don't have the budget to hire IT staff capable of managing any and all IT projects. Some projects require specific skills, and outsourcing is a solution that allows an organization to hire the best talent available only for as long as it's actually needed. ○Another reason, organizations and businesses are choosing to outsource because it allows them to continue with more important activities within their organization without being hampered by other business functions that they can outsource, which allows them to save time and accomplish more tasks every work day. It is also important to note that outsourcing non-essential business functions save businesses time and money. By outsourcing non-essential business functions, companies also can free up capital that can be spent on core business functions.
●Have the organizations in your articles benefited from outsourcing? Why or why not? ○Yes, the companies in our articles benefited from outsourcing. As stated above, by outsourcing certain business functions it allows them more time and capital to focus on more important activities and also allows them to accomplish more tasks daily. Outsourcing IT needs reduces risk for non-IT companies by allowing IT professionals with experience and a need to keep up with the industry's best practices handle the business' IT functions. Part 2: Suppose your company is trying to decide whether it should buy special equipment to prepare some high quality publications itself or lease the equipment from another company. Suppose leasing the equipment costs $240 per day. If you decide to purchase the equipment, the initial investment is $6,800, and operations will cost $70 per day. After how many days will the lease cost be the same as the purchase cost for the equipment? Assume your company would only use this equipment for 30 days. Should your company buy the equipment or lease it? For Leasing:
Equipment cost/day = $240
Duration of lease = 30 days
so, total cost for leasing equipment = $240 * 30 days
= $7,200 for leasing
For Purchase:
Initial Investment = $6,800
Operations cost per day = $70
so, total cost for the purchase = $6,800 + $70 *$30
= $8,900 for purchasing
Results:
240d = 6800 + 70d
170d = 6800
d = 40
The lease cost will equal the purchase cost in 40 days. Given the information and the results from above, the company should lease the equipment for 30 days of use. This will be the cheaper method for the company. In 30 days it would cost $7,200 to lease and $8,900 to buy. Part 3: Draft the source selection criteria that you might use for evaluating proposals for providing laptops for all students, faculty, and staff at your college or university or all business professionals in your organization. Use figure 12-5 as a guide. Include at least five criteria, and make the total weights add up to 100. Write a two to three page paper explaining and justifying the criteria you chose and their weights. Laptop computers are fast becoming the computer of choice for people around the world mainly because of its portability. Evaluating which laptop to purchase depends on a variety of factors, like size and weight, processor speeds, the size of the hard drive and how much RAM it has.
Some other important considerations to consider include the type of operating system it uses, the projected battery life, and the resolution of the screen. Price is always a determining factor. It is recommended that buyers develop a short list of the best three to five proposals that the project team might use to help create a list of the best three to five proposals. Below is my project team's proposal evaluation sheet that created using Microsoft's EXCEL that has three proposals on it. We used this proposal worksheet to assist us in determining the best laptop to use for our organization. We have learned that this evaluation worksheet is similar to the weighted scoring model we were introduced to in Chapter 4. Interesting enough when faced with decisions, experts in source selection highly recommend that buyers use formal proposals evaluation sheets during source selection of many products. (Schwalbe 2010).
The book's author recommended that a good decision maker would take criteria attributes like:
– Technical approach
– Management approach
– Past performance
– Price
Our team added two more criteria that we felt was important, warranty of the product and deliveries (shipping) of the product were added to the decision matrix. We decided to use three of the top selling laptops from HP, Dell and Panasonic. We created a column on the left side of the spreadsheet in which we entered all the criteria attributes we wanted to include in our decision process. After defining the weights of each of the criteria attributes, hopefully with the input of many if not all stakeholders within the organization, each vendor is rated against them and a total score is calculated. We then added two more columns to it and we assigned to each factor a value from 1 to 3. The value of 3 being the highest and 1 being the lowest. We then multiplied the rated score by the weighted value of each criteria attribute to determine the total score. The author does mention that many organizations have suffered the consequences of paying too much attention to the technical aspects of the proposals. With that said, we felt the technical aspect should have the highest weight in this evaluation worksheet because the technical aspects criterion is the most important part in making the correct decision on purchasing the laptops. Naturally the supplier with the highest score should be the one chosen. In real life however, more often than not seems that the "price" is the deciding factor which often leaves the decision makers regretting their choice at the end.
As a conclusion I have to say that a weighted decision matrix, if done honestly, is probably the best tool in any project manager's toolbox. It can be used in any business setting just as well as in personal life. This approach leaves emotions out of the equation and prevents one from buying that "cool two-seater sports car" which can't fit your luggage or your family in it.
Related Topics