Implementing Yoga Sessions Within a School Setting For Children With Emotional and Behavioral Disorders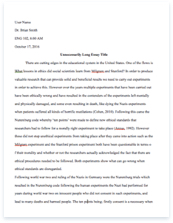 The whole doc is available only for registered users
A limited time offer! Get a custom sample essay written according to your requirements urgent 3h delivery guaranteed
Order Now
The study conducted by Steiner, Sidhu, Pop, Frenette, and Perrin (2013) consists of two primary purposes. The article examines the contingency and further potential surrounding the positive effects possible by implementing yoga sessions within a school setting for children with Emotional and Behavioral Disorders (EBD) at an urban elementary school. Secondly, the outcome of this study may promote low stress levels and enhance the performance of both students and teachers.
This study explores the popular belief that mind-body techniques, such as yoga or meditation, assist children in learning to improve their attention skills, resulting in an overall improvement in their performance at school. Improvement in coping skills is also to be expected from activities of this nature, helping children cope and combat with feelings of stress and discomfort in and out of school situations. Up to this point, the study of relaxation in regards to children has been conducted in isolation, but this study explores the impacts of relaxation in small groups and in the presence of peers. The data determined throughout the entirety of this experiment suggests that yoga administered within a small group setting in an urban elementary school is an influential option for school administrators to consider in order to assist children with emotional and behavioral disorders.
By implementing these programs in schools, there is a feasible chance the symptoms these children endure will be reduced or eliminated. Sample Within a study conducted with a group of nineteen children diagnosed with ADHD, one half of the children participated in yoga, while the other half engaged in conventional motor skill exercises. Within the group that participated in yoga therapy, the change in their ADHD symptoms proved to be a larger change than those who simply participated in the conventional motor exercises. Another study was conducted involving a three week yoga intervention for a group of children ages first through third grade experiencing difficulties paying attention. The results of this study proved that, after the intervention, these students could remain focused at the same rate as their peers.
Methods and Procedures Participants (Steiner et al., 2013) Participants included children in the fourth and fifth grade, ages eight through eleven, at an urban elementary school. The children used in conducting this experiment were identified by the special education director and a few members of the primary teaching staff as having behavioral and/or emotional disorders "including anxiety, depression, aggression, conduct disorder, hyperactivity and attention difficulties (Steiner et al., 2013)." In total, these two grades alone make up 160 children of the school's overall population. Seventy four of these children, 46 percent, were identified as having one or more of these emotional and behavioral disorders. After being identified by either the school's special education director or by a teacher, student's consideration of participation was then based on a variety of factors. The inclusion and exclusion criteria determined the student's ability to interact with the program.
Exclusive traits include the inability to comprehend english to the extent that it may prohibit the child from being able to complete written assessments following the yoga sessions and intervention (Steiner et al., 2013). Other factors, such as whether the individual was currently receiving psychological treatment outside of the school environment, such as counseling or receiving prescriptive psychopharmacologic medications, did not prohibit children from participating. All families eligible for the extensive program were encouraged to continue participation in outside treatment with pediatricians and other clinicians. Following the identification of the seventy-four qualifying children, their parents received informational flyers in the mail in regards to the program. Parents of children who were not pre-aware of their children's difficulties were influenced to then complete required paperwork needed for enrollment. Parents of all participants were then required to sign informed consent documents, and students themselves must provide consent to participate.
The protocol was approved by Tufts Medical Center's Institutional Review Board (Steiner et al., 2013). After completed all exclusion/inclusion procedures and sending home parental consent forms, a total of 41 students were enrolled in the program. Procedure Students enrolled in the program participated in two yoga sessions per week over a span of three months. Which yoga session each child was placed in was determined based on their classroom schedule. The sessions included small groups of seven to ten children and took place at either 9:15 a.m., 10:15 a.m., or 11:15 a.m., in order to avoid missing important academic instruction. Each yoga session was instructed by a certified yoga instructor who held previous experience in assisting children with yoga. Prior to gaining this position, the instructors must have completed at least two hundred hours of a yoga teacher training program ran by formal yoga studios in order to even be considered for the position, as required by the United States (Steiner et al., 2013). Throughout each session, the yoga instructors were accompanied by one research support staff member.
Yoga instructors were required to follow the "Yoga Ed Protocol, a leading yoga curriculum for children (Steiner et al., 2013)." This particular curriculum was initially developed to assist and foster a social-emotional well-being through trainings, protocols, and materials for teachers, parents, and children. The particular yoga techniques used within this curriculum have been proven to provoke self-control and emotion regulation. The one-hour session performed within this urban elementary school included the four steps of a basic childrens' yoga session, all of which are focusing on creating a social, kid friendly, and effective experience. 25% of these sessions were spent on relaxation, 50% focused on yoga exercises and group activities, and the final 25% involved the remaining amount of session time being used on closing visualization and meditation time.
Results and Discussion The results of the Steiner et al. (2013) were identifiable based on the results of questionnaires completed and turned in from parents, students, and teachers. Pre and Post intervention assessments were given to teachers, called the Behavioral Assessment Scale for children. These assessments consisted of 139 questions with subscales including anxiety, aggression, attention problems, hyperactivity, conduct problems, depression, withdrawal and social skills (Steiner et al., 2013). The parents of the children involved in the intervention also received pre and post examinations. Pre-intervention assessments were completed two weeks prior to the interventions, and included two primary questionnaires: Behavior Assessment Scale for Children, Second Edition Parent Rating Scale and The Background Information Questionnaire. After completing the sessions, parents were then given the Satisfaction with Intervention Questionnaire. The results of these questionnaires are then cross examined to determine the overall change in the child's adaptivity and problematic behaviors in community and home setting.
Results Throughout the course of the interventions, the students from the urban disadvantaged school were motivated to engage in learning a new skill, and the average attendance from these students was up to 90% after only two sessions. After the experiment was completed, the real question from parents and administration was whether the program would be continued at the school. "Satisfaction response rates were 100 % for teachers, 62 % for parents, and 100 % for students. Only one participant out of the 41 did not want to continue the sessions and requested to drop out. (Steiner et al., 2013)." Out of these groups, a majority of teachers and parents claimed the program should be continued due to the positive effects it has had on their students. The main negative feedback received from teachers was the time in which it was scheduled, claiming it took away from class time. According to parents, being included in this experiment led to increased calm and relaxation, increased positivity, and a boost of energy within their child's overall attitude. Critique Steiner et al. (2013) addressed the things within their research that proved to be inefficient and needed to be improved in future studies.
The first issue with the setup of the trial was, despite the age group being validated prior to the experiment, the process of the experiment proved to be too developmentally complex for this age group. The questionnaires proved to be inadequate for this particular age group as well due to their challenges in reading and comprehending the questions being asked. Steiner et al., (2013) discussed the primary changes they will be making in future works. The sample given in the article does not represent the correct population in regards to the age group in question. Lastly, the researchers in the future need to implement a more randomized selection of students, rather than them all being from the same elementary school.
Social Application of Findings and Personal Reflection The results of this study hold heavy implications to my person career path in elementary education, as well as in my day to day life. With the information gathered in regards to how stress relief can impact students' learning environment. As an elementary school teacher, I hope to have the freedom and ability to implement a stress-relieving activity such as meditation, yoga, or dance into my students' daily criteria. Another way this information may impact my life is when I have children of my own. The well-being emotionally and behaviorally of those around me, especially in my own children, is extremely important. Knowing I can improve these aspects of someone simply through taking part in stress-relieving practices is a piece of knowledge that will come in handy in many situations.
Related Topics