Identify and evaluate marketing opportunities Argumentative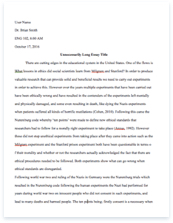 The whole doc is available only for registered users
Pages: 3
Word count: 576
Category: Water
A limited time offer! Get a custom sample essay written according to your requirements urgent 3h delivery guaranteed
Order Now
Since 1990, Stefani Australasia has been one of Australia's leading manufacturers and distributors for quality products. Stefani Australasia's products are used in the domestic, industrial and manufacturing sectors and are available worldwide in leading department stores and hardware stores. Stefani Australasia has made a core commitment to provide excellent service and quality products at all times and are at the leading edge of technology in order to meet the changing needs of its customer base. To meet its objective of supplying products which are of an assured level of quality, Stefani Australasia's management has committed to both a Quality Assurance Program and an ongoing staff-training program
Stefani Australasia is a well-established manufacturing and distribution company based in Western Australia. We enjoy an excellent reputation within the industry and we have built an international worldwide network of businesses to which we supply quality goods. Stefani Water Purifiers turn ordinary tap water into pure, safe, healthy drinking water. We have a great range of home water filter solutions, including Counter Top Water Purifiers, Ceramic Water Purifiers, Terracotta Water Purifiers and Stainless Steel Water Purifiers. Stefani Water Purifiers are the safe, economical way of turning ordinary tap water into fresh water that tastes great and is healthy for drinking and cooking. Pure, fresh tasting water always on tap!
Market Analysis
Market background
Mainly Stefani product selling for hardware stroes.
Market Size
In Australia have some hardware stores. One of the big company is Bunnings. Bunnings have Warehouses 194 ,Smaller format stores 59 , trade centres 36. They have number of team members was 31,370.
Market Growth
Every year bunnings company was growing. It means market size also growing. Bunnings coustomer was interesting for houseware.  mostly people interest for health care.  Stefani product was good houseware and help to health care.
Key Competitors
Bunnings was big selling place. So my competitors stay at there. It was Aquaport, Polarclear, and Brita
Brita was main key competitors.
For almost 40 years BRITA has been among the leading experts in the field of water optimization. The family business, founded in 1966, has become two global companies which manufactures water filtration products for household and professional applications.
Environmental Factors
Stefani 8litre ceramic water purifier have some environmental factors. First Stefani water purifiers make ceramic. It is very important strengths point than other competitors. Because only Stefani selling ceramic water purifiers in Bunnings Second Stefani water purifies was very simple structure. Just 4parts. Ceramic base, tap, bracket, water filter. it was very simple install. It means anyone use Stefani water purifiers.
Finally Stefani product price cheap than other competitor. For example same size water purifiers but Stefani water purifiers was 1/3 price. Identify and evaluate new marketing opportunity
Stefani company test for water purifiers efficiency.
The result was very good. It was good adverting point and it also new markting opportunity. Stefani Water Purifiers are the simplest, most reliable and natural way to have pure drinking water on tap. Inside the unit is a purifying "candle" of advanced design. The filtered water produced by a Stefani Water Purifier was tested by an Australian University. The test results are as follows: Removal:
99.9% of bacteria / 99.9% of amoeba / 98.5% of chlorine / 99.4% of iron / 99.7% of copper / 99.6% of lead / 99.4% of manganese / 99.4% of zinc 94.5% of aluminum / 87.0% of lindane / 92.0% of dieldrin /93.0% of chloroform 95.0% of dichlorobromomethane / 97.0% of bromoform
Related Topics