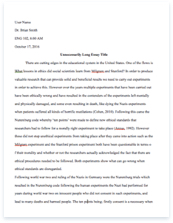 The whole doc is available only for registered users
Pages: 2
Word count: 487
Category: Who Am I
A limited time offer! Get a custom sample essay written according to your requirements urgent 3h delivery guaranteed
Order Now
I have made a conscious effort of being kind to everyone I meet. It's easy to show kindness without saying a single word. Showing kindness to everyone I meet. It is a strong part of who I am. Being kind to everyone I meet will not include me judging others, or me trying to be dishonest. I just want to be a genuine nice person. Being kind to others is so much easier than people make it out to be. Sure, there are people that will try and steal or take my happiness away, but it will not deter me from being kind. Kindness is free and I will show kindness to everyone I meet. It doesn't matter if you're the biggest jerk I will treat you with kindness. In today's society we are so quick to judge others, but if we just take a minute to be kind or show kindness we would have no need to judge others. Sometimes being kind takes a little time. I remember 2015 being a really tough year for my family.
My mom was pregnant with my sister and it was a really emotional year. I will never forget what people would say to us. "Because of the kindness of my mom we were able to make it through a tough year. During this time, we were meet with so much grace and kindness. People are usually kind in little ways. Everyone have has a different story so this is why I try to understand and always keep kindness at the forefront of everything I do. I don't expect everyone to be kind and I've learned that imperfect people are the new normal this is why I am kind to everyone I meet. Everyone's is different and not everyone will be as understanding as you'd like them to be. I am now in my junior year of high school. No matter how old I get I will never change this concept of being nice and being kind. No matter the skin color, the religion, and the accent, nothing will make me change my personality and my thoughts on kindness. I believe in being my true self. So, anyone who encounter's Adaam will always be treated with kindness.
The benefits of being kind to others will never end for me. I've learned that imperfect people are the new normal this is why I believe in being kind to everyone I meet. I will never really know who a person is until I get to know them, in other words "don't judge a book by its cover". Someone may be going through the toughest time in there lives and a smile or a kind gesture will turn there day around. There is no need to sacrifice my individuality for the approval of others. Being content with me, is the only thing that is important. So, this is why I choose kindness above all else.
Related Topics