Human Rights in the Bahamas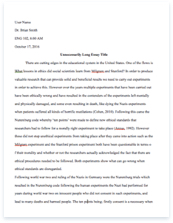 The whole doc is available only for registered users
A limited time offer! Get a custom sample essay written according to your requirements urgent 3h delivery guaranteed
Order Now
"To deny people their human rights, is to challenge their very humanity," Nelson Mandela. Every human being in the world today, was born with equivalent human rights (Human-Rights-Commission Contest Winners). However, as the world evolves, the human rights of human beings diminish, which should not be the case. As human beings, we are entitled to the right to live, education, religion, freedom of expression and movement, equality before the law and so on. If we as human beings get a clear picture as to what our human rights are, it would be easier for us to promote justice, not only for ourselves but also for society.
Moreover, human violation is a worldwide dilemma. Therefore, this is the reason we should look closely at human rights. In the movie Hotel Rwanda, human rights were portrayed as one of little value. Although the Tutsis fought for their rights of survival, because of being the minority they had a hard time doing it. They were locked down in a hotel, had limited freedom of expression and movement, education and religion. The Tutsis were basically derived offed of their human rights by the Hutus which was the largest group in Rwanda, in revenge of their President who was a Hutus being killed in a plane crash. In this essay, I shall claim that every human being has the right to live, freedom, and be equal in their society.
In a global view, the societal viewpoint of human rights is one that is inseparable and withhold many possibilities. There are special benefits, socially, politically, economically, personally, and culturally that is granted by the state for an individual to possess and use. They emphasize the freedom of civilians as much as possible independent self-determination of a person in some spheres of public life. For the most part, there is no interference by the country whereby the state takes control of providing freedom to civilians on social matters. Hence, the independence of freedom on social and political subjects, are expressed in the civilians' abilities and capabilities on making their own choices and acting according to their interests and goals. (BIG essay writer.com, 2018).
According to the United Nations, on the 10th day of December 1948, in Paris the United Nations General Assembly resolution 217 A (III) announced that the declaration of the Universal Declaration of Human Rights is a historical document that is considered a standardized achievement for all nations and peoples. The declaration was drafted by diverse cultural and legal representatives whom were from different regions worldwide. For the first time, the basic necessary rights of humans were universally protected. In 1976, the International Covenant on Economic, Social and Cultural Rights entered into force with 164 states parties. Moreover, there are a variety of human rights that's promoted and protected by the Covenant. They include, the right to be socially protected, the right to a workable justice conditions, the rights to be efficiently financially stable to live within a livable arena, the rights to be sustain with the proper health and research facilities and the rights to education and freedom of cultural benefits.
In addition, The International Covenant on Civil and Political Rights and its First Optional Protocol entered into force in 1976. There were 167 parties within the states by the end of 2010 which belonged to the Covenant. Furthermore, the adoption of the Second Optional Protocol was done in 1989. Rights such as; being equal within the court system, the freedom to move, the rights of justice, the right to express your thoughts and opinions, the rights to religion, the rights to peace and associate freely, the rights to vote freely and be protected, are all dealt with under the Covenant. Individuals being deprived of their life, violated of their privacy, treated unfairly, injustice, tormented, discriminated, propaganda of war and endorsement of hatred racially and religiously were prohibited by the Covenant (UNITED NATIONS).
Additionally, human rights are seen as a global issue. Whether it be the rights of a woman to equivalent justice, child marriage, domestic violence and abuse, and so forth. This issue has become a forefront factor that is affecting the young, middle age, and old. There are some that are treated better than others, others that are discriminated, rejected, and devalued because of their race, gender, nationality, and even color. This act can be seen in our very own country the Bahamas. The rights of the human beings whether it be because of the different culture, nationality, gender, or color is being violated. For example, the illegal immigrants that migrate here from Haiti for years have been treated unfair, and tortured by the vicious Bahamian people because of their illegal transit. Even though illegally they came here, the Bahamians should not treat them in such a way because everyone is entitled to live, be free and equality. They are human beings just as much as the Bahamians are.
Furthermore, in the Bahamas, the entitlement of basic human rights and freedoms belongs to every individual residing here. No matter what their place of origin, political opinions, race, color, sex or creed, is. However, they are subjected to have respect for the rights and freedoms of others, the public interest, and to each and all the following, namely:
the rights to be free, freedom of life, security and protection of the law and people
the rights to freely express their thoughts and associate with others
the rights of the protection of their home and property, and from the violation of their property without being compensated.
Furthermore, according to constitutional laws relating to human rights, there is no individual that will be intentionally deprived of their entire life savings and executed by a court sentence because of a criminal act they have been convicted of. No individual will be deprived of their life because of neglecting this Article. If the individual is killed because of its use, there are certain extents permitted by the law of such force is reasonably justified. They are:
for the defense of any person from violence and of property;
to effect a lawful arrest or to prevent the escape of a person lawfully detained;
to suppressing a riot, insurrection or mutiny;
to prevent the commission by tat person of a criminal offence, or if he dies as a result of a lawful act of war.
Also, torturing, treatment of people like they are not humans, and punishing humans are prohibited. Nothing contained in or done under the authority of any law shall be held to be inconsistent with or in contravention of this Article to the extent that the law in question authorizes the infliction of any description of punishment that was lawful in the Bahamas Islands immediately before 10th July 1973 (Ministry of Finance[BS]).
To conclude, in the Bahamas human rights should be more protected. For future references, there could be more work done by the local and international communities to ensure the better enforcement of human rights in the Bahamas (Braunstein, 2017). The right for human beings to be who they are destined to be belongs to everyone, not just people who are favored or socially acceptable. The humanity is greatly flawed. There needs to be a change within the Bahamas and the world at large towards human rights in their society. Every human being may be different on the outside, but they are all humans. Nothing else should define them. Not race, sex, or sexual orientation.
Related Topics