Human Resource Is the Most Important Asset of an Organisation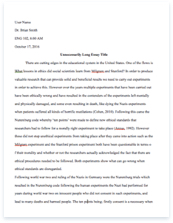 The whole doc is available only for registered users
A limited time offer! Get a custom sample essay written according to your requirements urgent 3h delivery guaranteed
Order Now
"Human Resource is the most important asset of an organisation." Discuss the following statement, using examples and references to support the answer.
In today's context, advanced technology, effective marketing campaigns, competitive prices, excellent products and services are important tools for any organisation to stay competitive. However, these tools are unable to maximise its potential to contribute to the success of a company without the accompaniment of human resource. Human resource was formerly known as personnel. It is defined as the division of a company that is focused on activities relating to employees. These activities normally include recruiting and hiring of new employees, orientation and training of current employees, employee benefits, and retention.
(Cited http://www.businessdictionary.com/definition/human-resources.html#ixzz2BhWDqljm, 8 November 2012)
On the other hand, an asset is a resource with economic value that an organisation or individual owns or controls with the expectation that it will provide future benefits such as increasing the value of a firm or improving the operational efficiency of the company.
(Cited http://www.investopedia.com/terms/a/asset.asp#ixzz2BhYF3SHA, 8 November 2012)
The traditional approach to human resource management is to treat employees as mere "expenditure" or in the accounting approach as mere costs. However, an organisation ceases to exist if it has no human resource or capital to maintain an organisation's existence. Therefore, the idea of human resources, as the most important asset is increasingly staking its claim in the 21st century business landscape. This report shall examine the ways and discuss the extent human resource contributes itself to being the most important asset of an organisation.
Firstly, in the competitive and knowledge-driven environment today, people who are equipped with vast knowledge, creativity and skills are highly sought after by most companies. Such valuable talents are the ultimate source of innovation and growth in every company as they play an important role in shaping the operational performance, flexibility, speed of the organisation. They are the most crucial factor in determining the success or failure of an organisation as the importance of employees has increasingly been emphasized throughout the years. Lately, there was controversy that as technology advances with time, human resources would be totally be replaced
Related Topics