HR System for Riordan Manufacturing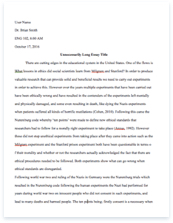 The whole doc is available only for registered users
A limited time offer! Get a custom sample essay written according to your requirements urgent 3h delivery guaranteed
Order Now
Riordan Manufacturing has issued Service Request SR-rm-004 Analyze HR System for all plant locations per Hugh McCauley, COO. This paper is written in response to the service request. The request is to analyze the HR system to integrate the existing variety of tools in use today into a single integrated application. Riordan would like to take advantage of a more sophisticated, state-of-the art, information systems technology in the Human Resources department. The approach that will be used for this project is called the systems development life cycle (SDLC). The SDLC is a project management framework organized into phases and activities (Satzinger, 2004). This paper will cover three phases of the SDLC: planning, design and implementation.
COMPANY BACKGROUND
Riordan Manufacturing, Inc. was founded by Dr. Riordan in 1991 as Riordan Plastics, Inc. The name was changed to Riordan Manufacturing, Inc. a year later. Today the company is "the industry leader in the field of plastic injection molding" (Riordan, 2006). The company has facilities in Albany, Georgia; Pontiac, Michigan; San Jose, California; and Hangzhou, China. The company is "wholly owned by Riordan Industries, a Forturn 1000 enterprise with revenues in excess of $1 billion. Its products include plastic beverage containers produced at its plant in Albany, Georgia; custom carton plastic parts produced at its plant in Pontiac, Michigan; and plastic fan parts produced at its facilities in Hangzhou, China. The company's research and development is done at the corporate headquarters in San Jose. Riordan's major customers are automotive parts manufacturers, aircraft manufacturers, the Department of Defense, beverage makers and bottlers, and appliance manufacturers" (Riordan, 2006). The facility in China is the most recent expansion, which took place in 2000. The company's mission is broken down into four parts: focus, customer relationships, employees, and the future.
ANALYSIS
This section will define Riordan's current HR System. Riordan's HRIS system was installed in 1992 as part of the financial systems package. The system keeps track of the following employee information:
Personal information (such as name, address, marital status, birth date, etc.)
Pay rate and personal exemptions for tax purposes
Hire date and Seniority date (which is sometimes different than the hire date)
Organizational information (department for budget purposes, manager's name, etc.)
Vacation hours
Special forms are used by the employee's manager to make any changes. The changes are then entered into the system by the payroll clerk. The training and development specialist keep their records in an Excel worksheet. To track the status of applicants recruiters maintain information in an Excel spreadsheet and they file resumes in a central storage area. A third-party provider is used to manage workers' compensation. The employee files are kept by individual managers. The managers are also responsible for tracking FMLA absences and any requests for accommodation under the ADA. The compensation manager keeps an Excel spreadsheet with the results of job analyses, salary surveys and individual compensation decisions. Employee relations specialists track information about complaints, grievances, harassment complaints, etc. in locked files in their offices (Riordan, 2006).
INFORMATION-GATHERING TECHNIQUES AND DESIGN METHODS
To gather information user-interviewing and fact-finding techniques will be used. Interviews with employees will be held and observations of the current processes will be conducted. In addition to interviewing, systems analysts use other fact-finding techniques, including document review, observation, questionnaires and surveys, sampling, and research (Shelly, 2010). An onsite review of all reports and procedures will also be conducted. All results of the user-interviewing and fact-finding techniques will be documented. Document review can help to understand how the current system is supposed to work (Shelly, 2010). The documentation will be used to contruct data and object models. A system development methodology using the waterfall method will be used in the process. The picture below shows the waterfall method to be used (Selecting, 2008).
This method is ideal for less experienced project teams and project managers and the progess of the system development is measurable (Selecting, 2008). Microsoft Project will be the tool used to create a model of the project tasks.
SCOPE
The scope of this project is to analyze the HR system to intergrate the existing variety of tools in use today into a single intergrated application.
References
_Riordan Manufacturing_. (2006). Retrieved April 01, 2010, from
https://ecampus.phoenix.edu/secure/aapd/cist/vop/Business/Riordan/Internet/IndexPort.htm
Satzinger, J. W., Jackson, R. B., & Burd, S. D. (2004). _Systems analysis and design in a changing world_. Boston, Mass.: Thomson/Course Technology.
_SELECTING A DEVELOPMENT APPROACH_. (2008, March 27). Retrieved April 1, 2010, from http://www.cms.hhs.gov/SystemLifeCycleFramework/downloads/SelectingDevelopmentApproach.pdf
Shelly, G. B., & Rosenblatt, H. J. (2010). _Systems analysis and design_. Boston, MA: Course Technology.
FEASIBILITY
The project should be completed in approximately six months, so that the new system can be utilized in the second quarter of next year. The new HR system should reduce cost by eliminating multiple departments that do the job that should be done in one HR department. This should result in less overall job training, improved job efficiency and all costs pretaining to them. Having one system will also reduce data redundancy to ensure less data loss and help improve error reduction.
Related Topics