How to Write an Essay with Google Slides Themes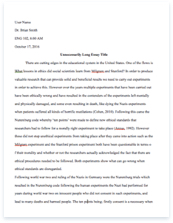 The whole doc is available only for registered users
A limited time offer! Get a custom sample essay written according to your requirements urgent 3h delivery guaranteed
Order Now
Being a student involves dealing with hundreds of various tasks and assignments. Some of them are interesting and exciting, others we oftentimes perceive as a punishment. However, no task should ever feel like a punishment to you. With a couple of smart techniques and helpful guides, you can deal with any assignment like a pro.
Today, we are going to look at the process of writing an essay using Google Slides. Yes, writing an essay is a complicated process on its own, but when you have to present it in the form of slides, the task becomes a bit more challenging. However, we are here to help you accept that challenge with confidence. Let's take a look at all of the steps and figure out how to follow them in the most effective way.
The Process of Writing an Essay
We all know that simply sitting down and writing doesn't work. You first need to spend some time choosing a subject, planning the writing process, and dealing with numerous other details. However, when you proceed with every step one by one, the task becomes a bit easier.
Select a Topic with Keeping Your Essay Type in Mind
Depending on the given essay type (whether it's a narrative, an argumentative, a persuasive one, or any other kind), you ought to really think about the subject you are going to describe. It has to be a reflection of the essay's type. Of course, some professors prefer assigning specific topics to each student (which may oftentimes be boring, let's face it). However, when you have a freedom to choose whatever topic you wish to discuss, you have an endless creative space.
The truth is, there's no ultimate recipe for picking the perfect, the most appropriate subject to peruse in your essay. Still, there are some helpful tricks that may help you be super-efficient when dealing with this stage of the process:
Firstly, you ought to establish the purpose of the essay, which will consequently depend on its type. Ask yourself, what are you trying to do here? Will your essay serve to persuade or to inform? Is it supposed to present and prove an argument? These questions will help you figure out what topic would be more suitable. For instance, if your task is to simply present an informative paper, there's no need to build the topic on an issue, for which you will suggest solutions later.
Once you know what the purpose of your paper is, it is time to settle the topic. There's no right or wrong here, however, it is always better to write about something you are personally interested in or at least familiar with.
Don't be too generic or too specific with your topic. Picking something too broad won't allow you to be clear in your text. However, going with an extremely specific, limited topic won't give you enough space to develop your thought.
Once You've Established the Topic, It's Time to Dive into Research
Yes, the word "research" dreads numerous students. We oftentimes associate it with countless hours of boredom and tiredness, going through hundreds of pages, and searching for something relevant.
However, look at it this way:
Research is your chance to learn something new, to discover other people's opinion on the matter you're writing about, and to compare those opinions with your own ideas.
It is crucial to thoroughly sift through the sources you are planning to use. Blogs, Wiki, and other pages by the not-so-notable authors aren't the safest and the most relevant sources of info. It is best to consider something a bit more serious, like books, news articles, academic journals, etc.
Avoid using someone else's thoughts as the base for your own text. Quote them, if they are strikingly interesting or enlightening, but don't turn them into a part of your text by changing a couple of words and expressing someone else's ideas using your own phrasing. Yes, oftentimes you might think the same way as the author does, but quoting him or her is a much safer option.
Doing research will also help you develop your argument and find ways to support it. Some sources might inspire some new thoughts in your head, others may offer you a way to back your argument up. Therefore, this stage should not be taken lightly.
Once You've Developed Your Major Arguments Along with Sources That May Back Up Your Claims, It Is Time to Write the Essay
Each essay text has specific structure requirements and should be composed in a certain way. These requirements aren't hard to follow. Moreover, they can actually help you organize yourself and your text better, gather your thoughts and ideas according to each text segment, and proceed with writing in a sufficient and orderly way.
Here's what elements your paper should include:
This statement should explain the readers the main point and the key idea of your work.
Introductory paragraph. This is where you might want to grab your readers' attention by using a hook sentence.
This segment typically consists of three body paragraphs that are linked with each other. Each of them should contain an idea and some supporting materials behind it.
Concluding paragraph. Here, you may add a laconic review of the key ideas you described in each paragraph. Plus, you need to restate the thesis and add a thought that would logically conclude the essay.
Creating a Presentation Using Google Slides or Advantages of This Service
The majority of us are more comfortable with the PowerPoint. But the thing is, Google Slides is able to offer the same features with some extras on top. It is connected with other Google services, allows to import and use PowerPoint files, and gives you more creative freedom. Therefore, using it when pursuing the academic success is probably a wise choice.
How to Create a Presentation
The process is extremely simple, so don't worry: you will handle it with ease. Here's what you ought to do:
Open Google Slides through Google Drive.
Create an account or use an existing one to log in.
There's a "New" button on the top left, clicking on which will allow you to start creating your presentation.
There are numerous options to choose from. You can work with your presentation on blank pages or pick a theme from the many available ones.
Each new slide page can be added by using the "+" button. Super easy, isn't it?
Add images from your Google Drive or straight from the computer by using the Insert tab.
The "T" button will allow you to add new text boxes on each slide page. You can adjust the font and its size according to your own preferences, which, again, gives you some free space for creativity.
Once all of the necessary info and graphics are added, click the "Present" button on the top right, and you're good to go.
How to Pick a Slide Template Theme Based on Your Subject
You might think that matching your topic with a certain template style is the acme of perfectionism. You might also think that it's a complete waste of time. However, style matters, even when we're talking about academic works. You see, choosing the appropriate background for your presentation will only enhance the effect of its text and pictures, delivering your message in a clearer and a more harmonic way.
If you are dealing with a business-related topic, it is best to stay professional. Combining the light shades of blue with some white elements will work great with such a subject.
If your paper involves a lot of charts, statistics, graphs, and other numerical data, keeping the background as conservative as possible is a great idea. Light colors would be more suitable than the bright ones. Moreover, you can even stick to the plain white background. It will only accentuate the graphics and the charts you've added to your work.
When dealing with topics related to law, history, modern literary works, or, let's say, philosophy, you might want to remain classy. Dark wine red or the trendy but sophisticated maroon colors will be more than appropriate.
The biology subject will allow you to be a bit more free and creative. You can even add a floral background or an animal print, which will suit your subject nicely.
Classic literature, art, and history topics will also give you some creative space. Employing the backgrounds that involve texts, sketches, or parchment paper will add a stylish note to your work without distracting the readers from the text and its key ideas.
Presenting the Essay in a Form of a Presentation
Once you are done with composing the text and transforming it into a presentation, you can relax. But only for some time. The thing is, you still have to present your work. Don't worry, it is not difficult or scary, especially after you prepare for it.
Structuring the Presentation
You might think that the structure of your presentation should be the same as the structure of your essay. You are partially right. There are still some differences you ought to be aware of.
As usual, you should start with the introductory part. Introducing a quote here or even a funny fact or anecdote is not a bad idea. Once you've grabbed the audience's attention, proceed to the thesis. Here, you may explain why the topic you are describing is important and how you understand it. This will give your audience an idea of what they can expect from the presentation.
The next stage is presenting your key arguments one by one, point by point. This will mimic the structure of the essay (its body paragraphs, to be exact) without the overwhelming amounts of information. Start with the strongest point you have and logically move to the next ones, providing a link between them all. You should be clear and laconic. Spending too much time on just one thought may bore the audience and make you lose the thread of the text. Therefore, plan what exactly you are going to talk about concerning each point and argument in order to divide the time evenly among all of them.
Finally, it is time to conclude your presentation. Try to make this segment memorable. Don't use those boring, overused expressions like "To conclude…" or "So, in closing…" Just proceed with briefly summarizing your key arguments and points that you've mentioned before. You may want to link the ending to that quote or joke that you've used at the very beginning (if you want the concluding segment of your presentation to be neat and interesting).
Five Good Presentation Rules
No matter how good your essay is, the way you present it may either ruin or contribute greatly to your work. Therefore, consider the following rules and don't omit them when actually presenting your paper:
Avoid staring at a piece of paper all the time. Instead, use your handy helper Google Slides as the guide. It will contain the key points you need to discuss, so you may as well peek at the slides. Just remember to add all the necessary details and context instead of merely listing and reciting the bullet points of your work.
When starting to present your paper, try not to proceed to the thesis right away. What you may do instead is appeal to your audience emotionally, especially when you are dealing with the persuasive style of an essay. An interesting statement, a relevant quote, or even a joke at the beginning of your presentation may help you not only attract the audience's attention to your work but also establish a connection with them.
Speaking of establishing a connection, you may want to greet your audience with a smile. As simple as this little trick is, it will show your positive attitude. Of course, this point will depend on the subject you are going to discuss. You see, when presenting an essay that is linked to a very serious topic, smiling may not be the best idea after all. So, think about the theme of your work before implementing this simple technique.
Mind your posture. This may seem like something minor, but the way you appear in front of your audience matters too. So, keep your back straight and your head up. Also, try not to sway back and forth because it may distract the audience.
When trying to emphasize your major points, you may use hand gestures to seem more persuasive and to highlight the most important segments of your speech and paper.
Five Mistakes when Creating a Presentation
The following list of mistakes is based on the things that students most often omit, forget, and don't pay enough attention to. Take a close look at them and try not to repeat them in order to make your essay presentation as successful as possible:
Employing too complicated and even intricate charts, graphs, and other numerical data. This may only puzzle your audience.
Using peculiar, unusual, and funny fonts. Being creative is not a crime or a mistake. However, you don't want to confuse the audience with a weird font and distract them from the presentation itself and its major points.
Adding to much text. Cluttered slide pages may overwhelm the audience. Plus, too much text won't allow you to stay laconic. Moreover, the audience isn't there to read the slides; they are there to listen to you.
Adding animated gifs. Yes, Google Slides allows you to use gifs, but this fact doesn't mean that you absolutely have to do that. After all, this is an academic work you are presenting, so keeping it serious would probably be a wise decision.
Switching back and forth between Google Slides and other external sources. If you absolutely have to refer to some external website, it's better to use the screen capture of its webpage and add it to one of your slides instead of minimizing you presentation window and going to that website while presenting your work.
How to Present Your Work to the Audience
Oftentimes, presentations make us nervous. And that's totally normal. However, having a couple of tricks up your sleeve and a sufficient knowledge may help you stay calmer. Here are some things you can implement in order to present your paper properly:
Figure out the level of knowledge of your audience. For instance, if you are presenting a work to your classmates based on the literary piece that you've previously discussed in the class, there's no need to provide the background info.
Mind the way you speak. Making pauses in the proper places and speaking slowly will allow the audience to understand you better.
Decide what response you are expecting. If you need to persuade and excite the audience about something, use bright colors in your presentation. Or, for instance, if your goal is to introduce some info to your audience, calm and light colors will be more appropriate.
Finally, prepare yourself for the venue. If you are going to present your work in a large auditorium, you need to think about the lighting. Moreover, you will also have to prepare yourself to speak louder in order for everyone to hear you.
Once you familiarize yourself with all these small rules and helpful methods, the writing and presenting processes don't seem that stressful anymore. Good luck!
Related Topics