Hong Kong Trade Development Council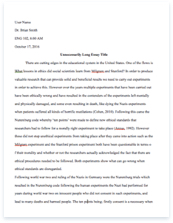 The whole doc is available only for registered users
Pages: 4
Word count: 983
Category: Trade
A limited time offer! Get a custom sample essay written according to your requirements urgent 3h delivery guaranteed
Order Now
HKTDC is an institution that facilitates the growth of Hong Kong companies through promoting trades in good and services. Throughout the whole year, lots of events were organized by HKTDC, such as the Hong Kong International Lighting Fair 2012 and Hong Kong Fashion weeks, in order to sustain the prosperity of Hong Kong. Majoring in marketing, I fully believe that I have possessed marketing senses and thinking to provide positive influence on the existing marketing campaigns. With the correct Segmentation, Targeting and Positioning, HKTDC can deliver more values to companies in Hong Kong.
Apart from the theories, I have accumulated experience in organizing functions in University. I have successfully held Annual Performance and Orientation Camp 2010; the scale of the event accommodated approximately 1,000 participants. Also, I have joined S Square Systems Limited to strengthen my experience in handling real-life marketing campaigns and problems. As a member of dance team for 3 years, I fully recognize the importance and value of a team. I strongly believe these experience and values are useful for me to contribute to HKTDC as an Executive Trainee.
Last but not the least, I am responsible and willing to learn. I know I am still lack of experience in the field and I might get wrongs in the initial stage, I would like to try and learn from the errors in order to avoid repeating the same mistakes. Career aspiration
1. Traditional career success:
People who are motivated and inspired to enhance their professional skills to achieve advancement in the organization's hierarchy level. People who seek a position that has potential to – Establish status, responsibility, higher salary and authority. 2. Security:
People who seek a solid job that represents stability and predictability. Person who prefers to work at workplaces that offer a long term secured position over advancement. 3. Expertise:
People who seek positions that offer technical/professional enhancement and technological interest. They would like to become experts in their professional area. 4. Freedom:
Person who seek individualism.
He wants to gain autonomy for his thoughts and activities. People who are motivated by values such as freedom and independence. My career aspirations are to find a stimulating and challenging position which is relevant to the skills and knowledge I learnt from university life, as well as professional experience. I believe I am an ambitious individual who will proactively seek opportunities to learn and develop under the guidance of senior colleagues. What's more, I would like to contribute excellent customer development ability and communication skills to this position.
To contribute exceptional sales ability and communications skills to a challenging Sales Representative position.
Leadership
1. Assemble a dedicated team.
2. 2. Overcommunicate.
3. Don't assume.
4. Be authentic.
5. Know your obstacles.
6. Create a 'team charter.'
7. Believe in your people.
8. Dole out credit.
9. Keep your team engaged.
10. Stay calm.
1. Vision and inspiration
2. Optimism
2. Decision takers
3. Integrity
4. Responsibility
I believe I possess some critical elements of a leader. First, I am willing to take up responsibility and become a lead in an organization; secondly, I respect my team members. I listen to their voices and opinions before making important decisions and I will delegate the tasks to them. They are motivated to contribute more into the team; next, I possess vision about how things should look like and I dare to question the existing rules; critical and independent thinking skill should contribute to one of the critical quality of a leader.
S:
From my previous experiences in extra-curricular activities and internship, I would describe myself as a creative candidate who can also handle tasks in a detailed way; as a general secretary, I needed to take care of every stuff about the society, including the maintenance of society information directory, replying the enquiries from different parties and handling relationships with other societies; while working as a graphic designer, I had to be creative and bring up some fresh ideas of the image of the apps to differentiate it in the iOS market; Apart from this, I would describe myself as adaptive and willing to learn; as I had been studying in Clifford School, which is located in Guang Zhou, for more than ten years, it was indeed uneasy to adapt to the living culture in Hong Kong. But with a short period of time, I got used to it and established good relationship with my roommates; However, I am not easy to compromise on everything. If I think the solution is not appropriate enough while I am having a better solution on hand, I would speak up and stand for it. I would try every means to demonstrate the values of the idea and convince my colleagues to adopt my solutions. Sometimes that is time-consuming and hinders the whole decision making process;
Two major reasons to support my decision of applying Hopewell's MT Programme; First, Hopewell Holding Limited is Hong Kong based company with significant presence in the property investment and infrastructure projects in the China market as well as the PRD region. Based on the economic forecast, China will become the engine of growth for the next ten years and the property market is expected to boost with sharing the success of economic development. Therefore, the future of Hopewell is very positive and impressive; Second, after attending the recruitment talk held in HKUST, I am deeply attracted by the management trainee program offered by Hopewell. With the introduction of the program and sharing from previous MTs, I strongly believe this 2-year program is a well-organized and well-structured program which caters to the needs of a fresh graduate like me. Through the next two years, if I am successfully recruited as Management trainee, I would experience job rotations along with trainings and projects, which helps enrich my working experiences and knowledge. All in all, I believe Hopewell's MT Programme is a good starting point of my career.
Related Topics