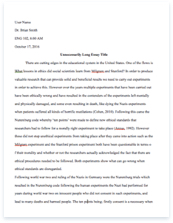 The whole doc is available only for registered users
A limited time offer! Get a custom sample essay written according to your requirements urgent 3h delivery guaranteed
Order Now
The societal problem that I'm studying is Homeless Veterans and how they affect our society. Homeless veterans affect many aspects of society: According to the SLO Homeless web site, the economic impact, operating and maintaining homeless support services programs such as homeless shelters, day centers, homeless medical services and so forth are costly ventures. Is never enough funds to cover every single homeless veteran, this in turn means that many homeless are forced to seek alternate methods of getting their basic needs met. Subsequently, those homeless who cannot find employment will turn to recycling or panhandling as a means of putting money in their pockets. There is also an environmental impact that homeless veterans has on a society, since most communities do not have anywhere near the amount of supportive resources needed for the numbers of homeless in their areas, the homeless will be forced to find alternate places to live and sleep.
In more urbanized areas, this could be in the doorways of businesses after closing hours, behind buildings, public benches, bus shelters, or building hallways. Since every person has a need to heed the call of nature, and because many businesses deny the homeless the use of bathroom facilities, the homeless are forced to use whatever convenient location they may find to tend to those needs. Abstract Background: The purpose of this report is to evaluate the risk of homelessness among veterans as compared to non-veterans, and to ascertain whether the exceptionally high risk of homelessness among post-Vietnam era veterans first observed in 1987 was still evident one decade later. Method: Data from the 1996 National Survey of Homeless Assistance Providers and Clients and the 1996 Current Population Survey were used to examine the risks of homelessness among veteran men as compared to non-veteran men, stratified by age and race.
Results: The present results show that the cohort of veterans aged 20–34 that was most at risk in the 1980 s, although no longer the youngest, still has the highest risk for homelessness. In 1996, the youngest cohort of veterans
is also over-represented, but not to the extent found among young men 10 years before. Veterans over the age of 55 showed no increased risk of homelessness as compared to non-veterans. Conclusions: The observed cohort effect, which demonstrates an especially high risk of homelessness among veterans of the immediate post- Vietnam era, even as they age, may reflect the continuing influence of the early problems in recruiting for the All Volunteer Force (AVF). In contrast to the national draft, which promised a fair representation of the entire population of draft-eligible young men, the AVF also had the potential to attract young men with fewer alternative opportunities.
This article presents evidence that the likelihood of veteran homelessness appears to be related both to youth and to era of service. However, the immediate post-Vietnam era cohort continues to be at greatest risk for homelessness. As the authors of the earlier report suggested, this probably reflects the influence of the All Volunteer Force and the reduction of veterans' benefits for non-wartime service. If this cohort effect continues, then by 2006 the over-representation of veterans among the homeless should be highest in the age group 45–54. The author of this article states that lack of formal and informal supports may also play a role. In terms of formal supports, the increased risk of homelessness that was identified among younger veterans may reflect an unmet need for in-patient care. Thus, homelessness associated with psychiatric disability, substance abuse, or both, might be explained by the closing of mental health in-patient beds in the VA system.
However, this is unlikely to be a factor, as several recent studies have failed to demonstrate adverse effects associated with VA bed closures. An alternative interpretation is that informal supports may be less available to veterans due to the separation from the family of origin during young adulthood that military service entails. Since military service represents a break in family ties, it may be that veterans who become homeless come from disadvantaged backgrounds, and are unable to resume economically dependent positions in their families once their military service is over. This may be especially the case among veterans for whom family ties were already strained, or for those who experienced severe adversity in childhood. Without a family of origin to turn to, veterans have less support in making the transition back from military to civilian life. According to The National Coalition for Homeless published the nation's homeless veterans are mostly males (four percent are females).
The vast majority is single, most come from poor, disadvantaged communities, 45 percent suffer from mental illness, and half have substance abuse problems. America's homeless veterans have served in World War II, Korean War, Cold War, Vietnam War, Grenada, Panama, Lebanon, Operation Enduring Freedom (Afghanistan), Operation Iraqi Freedom, or the military's anti-drug cultivation efforts in South America. 47 per cent of homeless veterans served during the Vietnam Era. More than 67 per cent served our country for at least three years and 33 per cent were stationed in a war zone. Here are some statistics concerning the veterans homeless:
23% of homeless population are veterans
33% of male homeless population are veterans
47% Vietnam Era
17% post-Vietnam
15% pre-Vietnam
67% served three or more years
33% stationed in war zone
25% have used VA Homeless Services
85% completed high school/GED, compared to 56% of non-veterans 89% received Honorable Discharge
79% reside in central cities
16% reside in suburban areas
5% reside in rural areas
76% experience alcohol, drug, or mental health problems
46% white males compared to 34% non-veterans
46% age 45 or older compared to 20% non-veterans
In addition to the complex set of factors influencing all homelessness – extreme shortage of affordable housing, livable income and access to health care – a large number of displaced and at-risk veterans live with lingering effects of post-traumatic stress disorder (PTSD) and substance abuse, which are compounded by a lack of family and social support networks. Additionally, military occupations and training are not always transferable to the civilian workforce, placing some veterans at a disadvantage when competing for employment. Primary causes of homelessness among veterans are:
1.Lack of income due to limited education and lack of transferable skills from military to civilian life (especially true of younger veterans returning from Iraq and Afghanistan)
2.Combat-related physical health issues and disabilities
3.Combat-related mental health issues and disabilities
4.Substance abuse problems that interfere with job retention
5.Weak social networks due to problems adjusting to civilian life
6.Lack of services.
The veterans Administration (VA) have many benefits and services to assist homeless veterans. Disability benefits, education, health care, rehabilitation services, residential care, and compensated work therapy are among the services we offer to eligible veterans. The first approach to address homeless veterans is the HUD-VA Supported Housing (VASH) Program, the military benefit web site states that the HUD-VA is a joint program with the Department of Housing and Urban Development (HUD), provides permanent housing and ongoing treatment to homeless mentally ill veterans and those suffering from substance abuse disorders. HUD's Section 8 voucher program has designated more than 1,750 vouchers worth $44.5 million for chronically mentally ill homeless veterans, and VA personnel at 34 sites provide outreach, clinical care and case management services. This approach significantly reduces homelessness for veterans plagued by serious mental illness and substance abuse disorders. To apply for HUD-VASH, please contact your local VA Homeless Program.
Veterans can contact the HUD-VASH program directly, or obtain a referral from a case manager in another VA program, from a community program, or other referral sources. HUD-VASH was established in 1992. The US department of veterans' affairs did a research where homeless veterans with psychiatric and/or substance abuse disorders or both were randomly assigned into 3 groups: 1. HUD-VASH, with rent subsidies and intensive case management, to case management only, without special access to rent subsidies; and 3 standards VA care. Primary outcomes were days housed and days homeless. Secondary outcome were mental health status, community adjustment, and cost from 4 perspectives. During a 3-year follow-up, HUD-VASH veterans had 16% more days housed than the case management-only group and 25% more days housed than the standard care group.
The HUD-VASH group also experienced 35% and 36% fewer days' homeless than each of the control groups. From the societal perspective, HUD-VASH was $6200 (15%) more costly than standard care. Incremental cost-effectiveness ratios suggest that HUD-VASH cost 445 more than standard care for each additional day housed. The conclusion for this program is that supporting housing for homeless people with mental illness results in superior housing outcomes than intensive case management alone or standard care and modestly increases societal costs. The second approach and also the preferred by me to help with this societal problem is The Readjustment Counseling Service's Vet Centers; according with The Department of veterans' affairs, this is a wide range of psycho social services offered to eligible Veterans and their families in the effort to make a successful transition from military to civilian life. They include: •Individual and group counseling for Veterans and their families •Family counseling for military related issues
•Bereavement counseling for families who experience an active duty death
•Military sexual trauma counseling and referral
•Outreach and education including PDHRA, community events, etc.
•Substance abuse assessment and referral
•Employment assessment & referral
•VBA benefits explanation and referral
•Screening & referral for medical issues including TBI, depression, etc.
According to the Readjustment Counseling Service, VA, during the first 16 years of the program, approximately 1.2 million veterans had about 7.3 million visits with Vet Center counselors. RCS currently operates 205 Vet Centers at an estimated fiscal year 1996 cost of about $64 million. Vet Centers are generally located in community storefront facilities and staffed with counselors who are often veterans themselves. In general, each Vet Center has three to six staff members, including a team leader, counselor(s), and an office manager. Ten of the 205 Vet Centers are also known as Veterans Resource Centers and may be staffed with as many as six counselors. Some Vet Centers contract with private mental health professionals in locations that are distant from the Vet Center or other VA providers. These contractors provide therapeutic services to veterans with psychological problems, such as PTSD.
In my opinion this program is the best because it does not start with homeless veterans, but start with all veterans who are back from military life and now they have to learn how do live in a civilian life and that is the major problem with homeless. Judge Redmond agrees with some of my ideas when he state in his interview that "Better strategies must be implemented to prepare these people for life in the regular world. Better pre-separation training and counseling need to take place and once the person is in the regular world they need to have resources such as long term job placement assistance and regular adaptive counseling for at least 2 years. They should also have transitional housing made available to them if they need it and more information provided for resources that are available to veterans by the community at large."
Veteran's centers are for me prevention centers that keep veterans out of the street teaching them how to cope with their new life and can tremendously prevent veterans from becoming homeless. Furthermore this thought is also agreeing with Judge Redmond state "I think that homeless veterans are seen as a shadow, no one deserves to live the life that the homeless have, and it is heartbreaking. Veterans find themselves in this position due to the fact that they made the choice to serve their country. I think the main reason why they become homeless is because they were away for so many years that when they come back to a normal life most the time they do not know how to live like that anymore, and that leads to other problems like alcohol abuse or drug abuse, or sometimes they come back home with some kind of traumatic disorder and is even harder for them reintegrate to a normal life."
References
Dep Readjustment Counseling Service, VA. Department of Veterans Affairs, (1995). Readjustment counseling service: Vet centers address multiple clients (07/17/96,). Retrieved from website: http://www.gpo.gov/fdsys/pkg/GAOREPORTS-HEHS-96-113/html/GAOREPORTS-HEHS-96-113.htm Gamache, G., Rosenheck, R., & Tessler, R. The Proportion of Veterans among homeless men: a decade later. The Proportion of Veterans among homeless men: a decade later, 36, 481-485. Retrieved February 10, 2014, from
the Ohio Link database. (2008, May. 29 ). In Homelessness: The Social Impact. Retrieved Mar. 25, 2014, from http://slohomeless.wordpress.com/2008/05/29/homelessness-the-social-impact/ Kennedy, E. (n.d.). Retrieved from http://www.military.com/benefits/veteran-benefits/homeless-veterans-programs.html National Coalition for the Homeless. National Coalition for the Homeless. (2012, Feb 20). Homeless Veterans. Washington, DC: National Coalition for the Homeless. Redmond, David. (2014) Drug Addicted Veterans Interview.
Ronsenheck, R., Kasprow, W., Frisman, L., & Liu-Mares, W. (2003). Cost-effectiveness of supported housing for homeless person with mental illness. 60, 940-951. Retrieved from archpsyc.jamanetwork.com/data/Journals/PSYCH/5189/YOA20666.pdf Vet center program. (2014, February 25). Retrieved from http://www.vetcenter.va.gov/
Related Topics