Heroes: Do They Still Exist?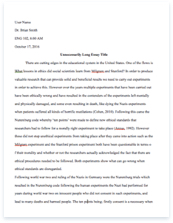 The whole doc is available only for registered users
Pages: 4
Word count: 763
Category: Hero
A limited time offer! Get a custom sample essay written according to your requirements urgent 3h delivery guaranteed
Order Now
In modern times we hear the word hero all of the time. The news media throws the term around as if it is an everyday word. So who, or what, can be classified as heroic? The definition of a hero is a person, typically a man, who is admired for courage or noble qualities. To the average person, however, a hero is much more. To better understand what a hero is it may be easier to describe what a hero is not. A hero is not a football player who scores the game-winning touchdown or the goaltender who saves his team from a loss. Nearly every day on television, people talk of athletes and celebrities as being heroes, but are they? They are not heroes at all. When these athletes or celebrities save a child, by risking their lives, from a storm then they will possess the qualities to be called heroes in my opinion. Policemen and firemen are at times classified as heroes. Until they prove themselves they are just ordinary people. The title heroic is not given by occupation but by achievement.
So, what is a hero? Heroes, broadly termed, are people who other people admire because of the positive character qualities or abilities they possess. A person can be a hero in many ways, but there are certain characteristics that qualify someone as a hero in other people's eyes. These are selflessness, sacrifice, saving, and stepping in. One defining characteristic of every hero is that they think of others before themselves. Many people, when called upon to name the heroes in their lives, will mention a parent or caregiver who clearly put the needs of their children, or those under their care, above their own. When someone acts in such a way that proves they care more about other people around them than they do about their own life, then they are considered a hero. Sacrifice is an extension of selflessness. It is giving up something perceived as good in order to achieve something that is perceived to be of even greater good. For example, a person may leap in front of a moving vehicle in order to push someone else out of the way; he would sacrifice his own safety and well-being for the safety of someone else. This is a heroic characteristic. Another defining characteristic of a hero is saving lives.
The great comic book superheroes, like Superman, Spider-Man, and Batman, are always saving people's lives. In an epic sense, people are still labeled as heroes when they do something to save someone else's life. The lifeguard who dives into the lake and saves a drowning person or the passer-by who intervenes in a dangerous situation to save someone else's life are rewarded as heroes, often in a public ceremony. Many people are heroes for saving lives by not risking their own lives, but just by stepping in and talking to another person. A friend who just listens to another friend who is suffering from depression or a neighbor who reaches out to another neighbor at a time of need will also be thought of as heroes for intervening when help is needed. A hero is someone who is not afraid to help when they see an opportunity, in spite of the sacrifice or in spite of what people may think of them for doing it.
So who are heroes? Parents are true heroes. Most parents sacrifice time, money, love and everything else for their children. When times are tough, good parents do all they can to make things better for their children. Mothers and fathers often work a second job-late at night or on weekends-to provide for their kids. My mother and father are always there for me when I need anything. I personally view my parents as true heroes for all they do, have done, and will do. Another hero of mine has to be my brother, Tyler. He is serving in the military, United States Marines to be specific, and has been for about four years. I look up to him because he has sacrificed his life for his country and will do anything for his family. My concept of what makes someone a hero is a person who does something to change someone's life for the better. This is mainly everyday people who do small things to make the world a better place. These people may volunteer at a homeless shelter or donate clothing or money to the poor. Without these people the world would be a lot different.
Related Topics