Help of Volunteers in Training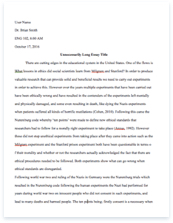 The whole doc is available only for registered users
A limited time offer! Get a custom sample essay written according to your requirements urgent 3h delivery guaranteed
Order Now
What are three ways in which cultural, language and family background influence Sloane's learning?
First, culture has a huge effect on how a student views the world and process information such as learning. They may approach learning and education in a different way than other students who are already accustomed. Certain countries have different ways of they are taught to be around other people and the public.
For example, one country may teach students to visually solve a problem instead of speaking. So, in turn, it is not that Sloane does not know the answer or is being disrespectful rather than that is how she is taught learning in her country (Sousa, n.d.). Next, Sloane's background can be affected by having a hard time with the ability to translate between the two languages (Spanish and English). There are some students who have difficulty translating words which can affect the way they successfully read and write (How do language difficulties affect learning, 2012).
Finally, every country has a different method of the way they teach. For example, if Sloane's family taught her at a young age a specific way of doing something then this can cause an issue on how she will accept new ways of being taught (Guild and Garger, n.d.).
How will knowledge of Sloane's home environment assist her teachers in providing educational services and support?
If Sloane's teachers have knowledge and acceptance of her customs and culture at home, then it can make a positive learning experience for the student at school. Sloane is experiencing her parents going through a divorce and since Sloane is living somewhere new it can be quite stressful on her. Children usually want to be and follow their parents and when there is something is different, they can usually tell. Therefore, if the school officials know and are aware, they can accommodate the student in the best way they can. Maybe the teachers can be sure that Sloane is in an educational environment where she is receiving positive support and accepting their feelings but also maintaining structured learning (Lavoie, n.d.). Making Sloane feel less anxious and stressed can help her focus more on school then what is going on at home.
What are three steps a teacher could take with Sloane and her mother to build a collaborative relationship that takes in account their unique circumstances?
One step Sloane's teacher can take to collaborate with Sloane and her mom is to be considerate on their language which would mean trying to in cooperate a few assignments and some of her homework in their Spanish native language and English as well. Doing this will assist them to develop and know the English language a bit better while also helping the barrier in language.
A second way could be letting Sloane and her mom receive extra help such as tutoring with assignments/homework that way they can learn and gain more knowledge of English to complete the assignments successfully. They can do this before or after school a few days per week. A third step to assist Sloane and her mom build a positive collaborative relationship is to create family homework assignments where Sloane's entire family can take apart in it.
What are three strategies that a teacher could use to encourage Sloane's mother to actively participate in Sloane's education process?
Three strategies that a teacher can do to get Sloane's mother to actively participate in Sloane's education process is to create a monthly letter, parent-teacher conferences every couple months and recruit volunteers during special events. Creating a monthly letter to Sloane's mom will help her stay up to date on the current learning material, events, class projects, announcements, ways the child can supplement learning at home when they're not in school, etc. Hosting parent-teacher conferences can help Sloane's mom discuss Sloane's learning and growth progress, grades, any questions Sloane's mom might have and create future goals for learning.
Recruiting Sloane's mother as a volunteer can help her be physically involved in the classroom being hands on with her daughter and other students as well as seeing what goes on during a daily basis.
How would you respond to office staff and teachers wanting information regarding the order of protection, referencing the CEC Code of Ethics or other appropriate professional dispositions of learners?
According to the CEC code of Code of Ethics says to maintain confidentiality of information except when information is released under specific conditions of written consent and statutory confidentiality requirements (Savage, 2008). Therefore, if other office staff and teachers want information about personal information about the student, I would just explain that it is confidential and only shared with specific people like administration, and certain teachers in which the principal of the school approves. I would tell them that I am respecting the confidentiality of each student while maintaining a professional stance to our students. It is my responsibility and moral duty as a school official and professional teacher to keep the personal information confidential.
Part 2 The ethical principles I used in this case study about Sloane is respect, good morals and stewardship (leader). In the bible, Jesus treated everyone with respect and did not tear anyone down rather build them up. In 1 Peter 2:17, he said "Show proper respect to everyone: Love the brotherhood of believers, fear God, honor the king." As followers of Christ, we should respect all men, Christians, God and all other officials just as He did. In the bible God gave good morals to His people like the ten commandments broken down to two specifics that said love God and love your neighbor.
This is the result of His reflection of His good moral character to all His people. In Genesis 1:26, 28 God has made us stewards (leaders) of His creation and guardians of the planet. God says we need to exercise our delegated authority, mostly for the good will of all human beings. The ethical principles I chose align with the Christian worldview because I put myself in Sloane's shoes and realized if I was her, I would want to be respected of my culture just like Jesus was respectful to all His people no matter what.
Having good morals enhances my ability to lead to respect students like Sloane who may see or view things differently and Jesus had excellent to all His people showing us the right way to be to everyone. Jesus was the king and leader to all the people in his Kingdom just like I will be an excellent steward (leader) to all my students in the classroom as I will be there for them and help them the best I can. A specific example of how my proposed actions support the common good in the educational setting is when school officials should be fully aware and have knowledge of Sloane's family situation that way the teacher can give positive feedback and be able to support her feelings. Another specific example is letting Sloane and her mom receive tutoring services during convenient times such as before or after school to receive help for assignments that way it can help them with getting to know the English language. A third example is letting Sloane's mom become involved in volunteering opportunities inside the classroom to help her daughter and other children that way she can have apart in the education process.
These examples can be applications for Christian Worldview by showing the Sloane love and kindness through the stressful time of her parent's divorce just as Christ shows love and kindness to all His people. God is always present in any situation lend a hand in helping those suffering and tries to provide support just like the teacher can do to help Sloane and her mother with a language barrier. God teaches his people to serve him as well as recruiting other people that may be struggling with areas of their life to become a comfortable Christ-follower just as teachers can recruit volunteers like Sloane's mom that is struggling so she can help students in the classroom and her daughter, and she is being helped as well by listening to the English language and becoming more comfortable with it.
References
Guild, P., & Garger, S. (n.d.). Chapter 3. Culture and Style. Retrieved from http://www.ascd.org/publications/books/198186/chapters/
Culture-and-Style.aspx How do language difficulties affect learning? (2012, August 13). Retrieved from https://talkingtalk.co.za/how-do-language-difficulties-affect-learning/
Lavoie, R. (n.d.). information for professionals. Retrieved from http://www.pedro-carroll.com/professionals/education/
Savage, S. (2008, April 02). Cec Code of Ethics and Standards for Professional Practice for Special Educators. Retrieved from https://www.redorbit.com/news/education/1322342/cec_code_of_ethics_and_standards_for_professional_practice_for/
Sousa, D. (n.d.). Rhode Island Office of Higher Education New Website. Retrieved from http://www.ribghe.org/
Related Topics