Hanover Bates Chemical Corporation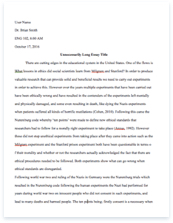 The whole doc is available only for registered users
A limited time offer! Get a custom sample essay written according to your requirements urgent 3h delivery guaranteed
Order Now
Situation Analysis:
            Hanover Bates is a leading producer of chemicals for the chemical plating industry. The company did not produce any commodity type chemicals, but bought raw materials from a variety of suppliers and then mixed and formulated them as per customer requirements. The company is financially strong and is actively traded in the market.
            The chemicals industry spends very little on advertising and sales promotion. The companies generally know who their customers are and hence sales effort is concentrated around key accounts and hence the field sales effectiveness and efficiency put in by the sales force is very crucial to the company. Optimal performance of the sales force, in terms of volumes and profit generation by achieving the right product mix is very important. The company went in for a sales program guidelines setting in 1998. Product line based selling was changed to full product sales by the same salesperson to an account, and account visit frequencies were also fixed on account revenue categories.
            The North East district had always been a laggard in implementing these changes, also the district produced good volumes but lesser profits compared to other districts and hence the new Manager, Jim, has been brought in to turn around the performance of this district.
            Jim is faced with a situation which could embarrass him. He must deal with his team and gain his place as its boss.
Performance of NE District:
            District 3 is the worst performing district for Hanover Bates. In 2000, it has achieved 93% actual sales against the budgeted sales quota and it has achieved only 85% of its Gross Profit targets (Appendix 1, Table 1). It also consumes 30% of its gross profit as selling expenses, compared to top selling District 1, which uses only 24% of its gross margins as selling expenses (Appendix 1, Table 2).
Weak Spots in Performance:
            District 3 sales reps make more calls to every category of accounts than District 7's sales reps. But District 7 contributes more even though it sells lesser than District 3 (Appendix 1, Table 2). This clearly shows that the sales call effectiveness of the sales persons of NE district is very low. It could be that they are making calls of poor quality, calls without objectives and calls just to meet the reporting norms in the sales plan.
            District 7's sales persons make 25% lesser number of calls than NE's sales persons (Exhibit 5-6). Greater number of calls means that NE district selling expenses increases, thus reducing their contribution rate.
Root Causes of Poor Performance:
            Jim is not an experienced sales person. His sales team considers him to be outsider who became a manager because he is a favorite of the National Sales Manager. They could also believe that he is incompetent to deal with the role of a Sales Manager.
            Carver was not promoted to the role because of his age, and if this had not been communicated to him, he would be naturally disgruntled.
            The effectiveness of Jim's predecessor should also be considered as a root cause of this performance. The immediate superior is always responsible for motivation or demotivation of his subordinates.
            There could be a sense of insecurity and distrust at Jim, because he comes from the Corporate Office. His proximity to the National Sales Manager could be perceived more as a threat than as a factor that can really aid the sales persons.
Improvement Measures by the Management:
            The management has to engage its sales persons in confidence building measures. If Carver is breeding trouble, it should be made clear to him why he was not considered for the position. Honest discussions in this regard have to be done.
            Jim has to prove himself to be a worthy leader of his team. He must first gain their confidence to be able to do this. The team must see him as a value addition in managing their work.
            Another possible intervention could be to transfer one or two sales reps to another district. But this must be done only if the confidence building measures fail.
            Take the team through a year long training calendar. Motivation and trust building workshops can be done on a regular basis to bring Jim closer to the team. The management has to make an effort to fit Jim into the role of a District Manager.
Appendix 1: 
Table 1:
| | | | | | | | |
| --- | --- | --- | --- | --- | --- | --- | --- |
| District | No. of Reps | Sales Quota | Sales Act | Gross Profit Quota | Gross Profit Act | Achievement of Quota | Achievement of Gross Profit |
| 1 | 7 | 7661 | 7812 | 3104 | 3178 | 102% | 102% |
| 2 | 6 | 7500 | 7480 | 3000 | 3058 | 100% | 102% |
| 3 | 6 | 7300 | 6812 | 2920 | 2478 | 93% | 85% |
| 4 | 6 | 6740 | 6636 | 2696 | 2590 | 98% | 96% |
| 5 | 5 | 6600 | 6420 | 2620 | 2372 | 97% | 91% |
| 6 | 5 | 6240 | 6410 | 2504 | 2358 | 103% | 94% |
| 7 | 5 | 5440 | 6210 | 2176 | 2260 | 114% | 104% |
All figures in thousands
Table 2:
| | | | | | |
| --- | --- | --- | --- | --- | --- |
| District | Act Sales | Gross Profit | Selling Exp | Contribution | Selling Exp as % of Gross Profit |
| 1 | 7812 | 3178 | 777 | 2401 | 24% |
| 2 | 7480 | 3058 | 702 | 2355 | 23% |
| 3 | 6812 | 2478 | 737 | 1740 | 30% |
| 4 | 6636 | 2590 | 696 | 1893 | 27% |
| 5 | 6420 | 2372 | 653 | 1718 | 28% |
| 6 | 6410 | 2358 | 630 | 1727 | 27% |
| 7 | 6210 | 2260 | 600 | 2019 | 27% |
Related Topics