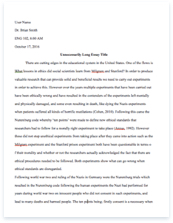 The whole doc is available only for registered users
A limited time offer! Get a custom sample essay written according to your requirements urgent 3h delivery guaranteed
Order Now
Experiment one involved 205 university students who rated themselves as being pro-gay law reform. The students were given numerous questions that asked them to rate the moral basis for their attitude, and what they believed society's attitude was. Following the questioning, the participants were told that the study is ongoing, and previous students have been questioned on the same issues; this was done to manipulate group norm. They were told previous students were completely for pro-gay law reform, or completely against it. The final test that the student's were given, they were questioned regarding the likelihood of them expressing their support through either, public intentions, or private intentions. Predictions were made that participants would more likely show private support when they had the support of a group; however it was felt that conformity would occur with willingness to display public support.
In experiment two, 110 University of Queensland students stated that they were in favor of a government apology to Aborigines, they were told that previous students were either, supportive or non-supportive of a government apology. After receiving this information students were questioned as to whether they would show public or private support on this social issue. Predictions were made that group support would be essential to those with those with a low moral basis for attitudes, yet those with a strong moral basis would show no conformity. Basically predictions were accurate; in both experiments students that were keener on private support, had a lower moral basis and would be more likely to show private support when group support was apparent.
The students that had a stronger moral basis, were not affected by group norms, and were intent to act both publicly and privately, in displaying their attitudes (On Being Loud and Proud, 2003). These studies correspond with Muzafer Sherif's (1935, 1937) studies of norm formation (Myers & Spencer, 2004). Sherif found that participants would conform to group norms, just as the participants in the Loud and Proud study did, although Sherif's studies did not have any moral components. In sum, one will be more likely to conform if to group norms, if their moral basis is weak, and will be less likely to conform to group norms if their moral basis is strong. This also applies to ones likeliness of demonstrating how they feel, whether it be publicly or privately, moral basis seems to play a large part in whether one conforms to group norms.
References:
Hornsey, Matthew J., Majkut, Louise, Terry, Deborah J., & McKimmie, Blake M., (2003, September). On being loud and proud: Non-conformity and counter-conformity to group norms. British Journal of Social Psychology, Vol. 42, 319-333. Myers, D.G., & Spencer, S. J. (2004). Social Psychology Second Canadian Edition. Toronto: McGraw-Hill.
Related Topics