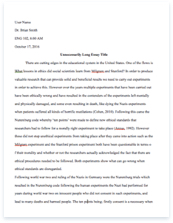 The whole doc is available only for registered users
Pages: 4
Word count: 931
Category: Company
A limited time offer! Get a custom sample essay written according to your requirements urgent 3h delivery guaranteed
Order Now
Introduction
The major problem facing Ernie in running Grimaldi Candy Company is lack of business strategies. He is running his business haphazardly based making arbitrary decision when needs arise.  For most business, strategic planning may take time and efforts but it is much beneficial to the long term growth of the business. Strategic planning will assist the including human resource management. The problems facing Ernie in Grimaldi Candy Company is failure to plan for immediate and future operations of the company. This study looks into different ways in which Ernie can use strategic planning to improve operation of Grimaldi Candy Company.
Strategic planning at Grimaldi Candy Company
Ernie does not believe in planning for the business. He believes in implementing short term strategies and he is too cheap to pay attention to the detailed requirement of strategic planning. Every Christmas, the company loses many sales just because Ernie cannot pay interest on short-term loans that would help the company to buy materials to meet the increased demand in the market. Christmas and Valentine are the busiest period of the year for the company and failure to plan during this time leads to loss of sales. The company makes a lot of money during spring and summer but this does not go past the holiday season as Ernie always spend "rainy funds" when he thinks the sales are down.
Ernie does not have basic strategic planning principles. Strategic planning ensures that the business plans for its long and short term changes. Classical approach to strategic planning is particularly important since it is focused on the short and long term growth of the company with profit maximization being the ultimate goal. Failure to plan for the company makes it difficult for Ernie to put in place strategies to acquire resources to put the company through during holidays when the company is expected to make money. Ernie should not be that cheap to count on the extra interest he is going to pay for short term loans that can assist the company to increase production during the high season and meet the growing demand.
Strategic planning would ensure that Ernie has projected incomes and expenses for a full business year and his efforts should be to see that the company meets these objectives.  After running the business for a number of years, Ernie understands the market demand during holidays and he should project the amount of money that will be required assist the company meet market demand. He can acquire this money through taking short term loan or through "rainy day" savings.
Another mistake the Ernie commits is reviewing his accounts in three months. Although review of account receivables is important to assist in getting the financial situation of the business at hand, it should be done within the stipulated business year. This means that Ernie should be reviewing the business at the end of the business year. All what Ernie needs to have a complete control of the financial situation of his business is strategic planning. This would assist him to plan for the high income and low income periods of the business to meet market demand during high seasons.
Human resource management is another major problem facing Grimaldi Candy Company. Ernie just doesn't know how to get the best employees for the company and how to craft the best package for them to stay in the business. He hires employees on instinct rather than their qualifications. He does not want to hire permanent employees to avoid paying healthcare benefits and only 10% of employees are full time. As a result, the company experience high employee turnover with average employee staying in the company for only 6 months. Most employees are not given their job description, performance evaluation, training, job raises or promotions. As a result, these employees are not motivated at all.
Because they are poorly paid, they do not feel a part of the company and consider their jobs at Grimaldi Candy Company as part time jobs. In order to have an overhaul of human resource management in the company, Ernie need to realize that employees are the most important asset for any company.  Ernie should realize that productivity of the company is hinged on the competitiveness of the workforce which means right from the recruitment phase, the company should select the best employees.
Since Ernie is not in a position to recruit the best employee, he should consider getting assistance of a hiring firm. In addition, he should consider setting up a human resource department regardless of the size of his company. He should also consider hiring more permanent employees and get part time employees when there is a lot of work to be done. He should also implement a monetary and non-monetary promotion system to motivate the employees. In addition, Ernie should seek services of qualified accountants to prepare his taxes instead of his bookkeeper to avoid overpaying taxes. He should also seek financial advice qualified financial planners to get helpful information.
Conclusion
Ernie has been experiencing problems running Grimaldi Candy Company because he does not believe in taking his time, effort, and money in strategic planning. Strategic planning would assist him to project income and expenses for the company and consequently plan for them. He should also seek services of hiring firms, qualified accountants, and qualified financial advisors to assist him in running the business. Ernie's cheap management style will continue to cost the business a deal until he takes initiative to run it professionally.
Related Topics