Google's Organizational Behavior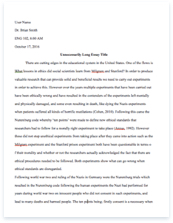 The whole doc is available only for registered users
OPEN DOC
A limited time offer! Get a custom sample essay written according to your requirements urgent 3h delivery guaranteed
Order Now
Introduction
Google Company was jointly founded by Sergey Brin and Larry Page in September 1998.  In August 2004 the company managed to raise $1.67 billion in an Initial Public Offer. The company employee base stands at 19, 000 worldwide with about 8, 000 in its Mountain View headquarters alone (About, 2008)
Google name was derived from googol the name for digit 1 accompanied by a hundred zeros as written in "Mathematics and the Imagination" by Edward Kasner. Given its length name, the founders found it more appropriate in line with the immense data Google carries (Bellis, 2009)
Google emerged top on the Fortune list the second time in row in the famous "100 Best Companies to Work For". It led in 2007 as the best company in the category for its unusual fringe benefits and maintained the position in 2008 for its historic stock performance. Google employee benefits are unmatched in the industry and are tailor-made to cover every area of a workers life.
 Google benefits are designed to trap and tap the best brains in the industry and propel the company into greater heights. Its mission is to make information available universally in different domains and languages. Google is the largest search engine in the world. (Young, 2008)
A Glimpse at Silicon Valley Google Facilities
Google, Inc is headquartered in 1600 Amphitheatre Parkway, Mountain View, CA 940043. The Google headquarters in Silicon Valley has more than 20 buildings. Google workplace is designed in such away that three or four employees are able to work sitting in the same area. Googleplex is the name given to its campus. With over 19, 000 employees only 8,000 are stationed at its Mountain View head quarters. The Googolplex stands on an area that measures about 2 million sq feet or 42 acres.  (About.com, 2009)
Silicon Valley Employee Benefits
Employees' motivation is deeply embedded in Google's philosophy which attaches utmost importance to employees. The purpose of the benefits is to meet employees' needs and have him/her concentrate on the job. They offer a wide of range of fringe benefits besides the exemplary on-site facilities at Googleplex campus. In doing these they virtually cover every aspect of life of an employee (Google, 2009a)
Health and Wellness
Employees stationed at California are covered with Blue Shield, CIGNA and Kaiser Insurance companies. In addition they have a comprehensive dental cover from Delta Dental besides being entitled to a Flex Spending Account Plan. The Flex Spending plan covers even dependants and transportation benefits.
The employees are also entitled to an Employee Assistance Program which extends to dependants. Under this plan, the recipients benefit from free short term counseling child care referrals, free legal consultation, and pet care referrals.
They have a life insurance cover of twice their annual salary and a Voluntary life insurance which enables them to get an additional life policy. Californian employees have a Short Term and Long Term Disability cover which comes at 100% of salary and 66 2/3 % respectively. Moreover they are entitled to twice their annual salary under the Business Travel Accident Insurance plan. (Google, 2009a) 
Table 1: Top 20 Best Companies to Work For in 2007
| | | | |
| --- | --- | --- | --- |
| Rank | Company | Job growth | U.S. employees |
| 1 | Google | 60% | 8,134 |
| 2 | Quicken Loans | 68% | 4,920 |
| 3 | Wegmans Food Markets | 4% | 35,302 |
| 4 | Edward Jones | 5% | 31,451 |
| 5 | Genentech | 9% | 10,842 |
| 6 | Cisco Systems | 17% | 32,160 |
| 7 | Starbucks | 15% | 134,013 |
| 8 | Qualcomm | 15% | 10,095 |
| 9 | Goldman Sachs | 10% | 13,764 |
| 10 | Methodist Hospital System | 11% | 10,481 |
| 11 | Boston Consulting Group | 8% | 1,543 |
| 12 | Nugget Markets | 20% | 1,322 |
| 13 | Umpqua Bank | 25% | 1,788 |
| 14 | Network Appliance | 25% | 4,481 |
| 15 | W. L. Gore & Associates | 6% | 5,211 |
| 16 | Whole Foods Market | 11% | 41,385 |
| 17 | David Weekley Homes | -11% | 1,450 |
| 18 | OhioHealth | 4% | 11,254 |
| 19 | Arnold & Porter | -3% | 1,272 |
| 20 | Container Store | 5% | 3,019 |
Adapted from Fortune Jan. 22nd 2007 Issue at http://money.cnn.com/magazines/fortune/bestcompanies/2007/full_list/
Savings and Retirement plan
(Google, 2009)The Google 401 (k) plan allows employees to make remittances up to 60% and qualify for 100% of their contribution or rather 50% of their annual premiums   without the vesting schedule.  Under this umbrella, employees are further eligible for investment options offered through the Vanguard. The 529 College plan enables employees to put aside funds for their college/university education. (Google, 2009a)
Vacation benefits
Employees in their first, forth, and sixth year of employment are entitled to  15 days , 20 days and 25 days paid vacation respectively anywhere in the world but is subject to location.  Google gives a full paid maternal salary for up to 18 weeks whereas employees on parental leave receive a 100% pay for up to 7 weeks. Furthermore, new parents take home up to $500 for the initial three months after the birth of their baby. (Google, 2009a)
20 day Work Program
Under the program, Google employees can use up to 20% of their time on projects not related to their job. It recognizes that most of its products have emanated from such noble causes (Strickland, 2009)
Other Benefits
Besides the above benefits, employees also enjoy $12,000 tuition reimbursement for B grades and above. If an employee refers another prospective employee to Google's opportunities, then he/she is entitled to a bonus under the Employee Referral Program. Google has a Back Up Child care for 5 free days per year through the Children Creative Learning Center. Under the Gift Matching Program Google gives up to $3000 for every philanthropic remittance made by an employee as part of its corporate responsibility.  Google has a spectacular Adoption Assistance program with reimbursement up to $5,000 to cater for legal fees and other expenses incidental to adopting a child.
Californian employees have free lunches, dinner and snacks. Should an employee feel unwell, they have their own on-site doctor in Mountain View. Google takes great pleasure in offering free shuttle services to its California employees to locations in South Bay, East Bay and San Francisco.
Furthermore; the company gives free financial classes which cover every facet of finance. Other fringe benefits include, free car wash, fitness classes, gym, oil change for you car, massage, hair dresser and stylist and even repair of your bicycle. Whether you choose an outdoor volleyball, to go on a beach; shop around with great discounts, do dry-cleaning absolutely free or just visit local attractions, Google is the place to be (Google, 2009a)
Performance/ management/ values/teamwork
Google excels in employee performance and team work building through a number of rewards and programs.  For instance the 20 day program gives employees time to dedicate to their own programs other those related to their duties.  Google has the best when it comes to a flexible working system and the provision of mothers rest rooms.
The company has a well developed Employee Resource groups (ERGs) to foster participation by employees in community development projects.  Moreover, it has a Council on Disability which meets bi-annually (Google, 2009b)
Teamwork
Google Company organizes quarterly meetings with top executives which provide the platform for rehearsing its previous performance and achievements. It is a brainstorming workshop which encourages employees to field questions and receive feedback on diverse topics. They also have got departmental meetings led by senior staff.
Google carries out periodical internal surveys to gather input from its workforce on varied topical issues. Examples of surveys teams include the Engineering Team Survey, Job Satisfaction survey, the Sales Team Survey among others. The results from these surveys are published on the internal website and team leaders are expected to deliberate with their teams.
The company runs an internal blogging tool which enables employees to share work updates, stories and notes which has the result of promoting cross functional integration in the company.  Through TGIF weekly-get-together, employees meet and recap on main events of the week and engage in a brainstorming session. This session is web cast to its global employee force and is also archived for those who miss the meeting due to time differentials.
Google TFIG is enhanced to incorporate video conferencing features enabling teams to engage their senior leaders from anywhere in the world.  TFIG questions are submitted by employees via emails and are voted to determine their position in the queue.  Before a product is launched to other users, first it has to be released to the Google staff for exploration and feedback.  Google maintains a strict 'no retaliation policy' for its employees in order to encourage them to reports all cases of misconduct (Scribd, 2008).
Through the ERGs, Google employees are able to form networks with other Google staff which greatly strengthens the Google community.  The ERGs enables the employees to vet the Human Resource programs besides being an invaluable forum for career development.  The company values its employees so much that it invests in their education to boost their performance.  Google has managed to step up its performance in key areas through internships, retreats and awarding specific performance
Google has a brilliant pool of employees who will startle any executive anywhere. They have managed to tap the best in the industry through benefits that are equal to none. Google management has managed to get the best modern ideas out of its employees by giving attention to detail. The company has got 650 smart brains that play the same fiddle- delivering the best quality (Hammond, 2007).
Google engineers are so smart that they have developed 10,000 servers which take minute details of web visitors to the Google site including those that download.  This brilliant team of engineers is the reason behind the success of the company.  Currently the company has invested in developing a system that is able to virtually search detailed information on the internet and improve their internet search speed beyond the current 0.2 seconds (Hammond, 2007).
Google works through small teams of employees to enhance speed, continuity and creativity.  The management is open to listen to very idea from the employees however crazy it may sound for it may just be the thing they have been looking for.  Google will fund and avail the necessary resources to turn those ideas into sellable products.
The team of outsanding engineers is apt at providing real time solutions in the technology sector. They have an interactive forum for engineers and researchers who meet to share on the latest in the industry.  Google is the center to the world top notch scientists that transcend all fields of academia covering areas such as climatology, e-commerce, and neuroscience and internet security (Google, 2009c).
All employees eat from the same Google café where they get a chance to share with other colleagues from other departments on diverse areas. It is an avenue for discussions on every aspect on the company.
 Google Company philosophy is innovation thereby calling on every employee to participate effectively to the success of the company. It is hard to distinguish a senior manager and from a lower cadre employee for all will be found wearing several hats. Hiring policy is completely non discriminatory focusing on an individual's capability than his/her experience (Google, 2009c).
Values
Google's values are embedded in the philosophy that a company should be run by geeks with the HR working in close liaison with business operations. And the staffs have gladly accepted to be referred to as geeks, an all the more reason for their commitment in developing the best business solutions and services in technology.
Google fosters a strength based culture and in March 2008 it was voted the best innovative company in this area. The value creativity and enhance dreams of its skilled workforce. (Scribd, 2008)
Google Personalities
The company has more than 10, 000 dedicated staff. It has the board of directors which comprises of 10 personalities including Sergey Brin and Larry Page, the Google co founders. The company CEO is Eric Schmidt who is also the chairman of board. Eric, the accomplished strategist, has shaped his career at Google as a developer and entrepreneur.  Formerly at Sun Microsystems, Eric is an elected member to the National Academy of Engineering besides presiding over the New America Foundation. In 2007 he became a fellow to the American Academy of Arts and Scientist. Google co-founder Larry Page is the president of Products division.  He holds a PHD from in Computer science from Stanford University (Google, 2009d).
In 2002 he was named as the World Economic Forum Global Leader for Tomorrow. He sits on National Advisory Committee of Michigan University and at the same time a trustee to the X PRIZE board.
Larry's co-founder, Sergey Brin, has prominently participated in world forums ranging from academia and business to entertainment. He has featured regularly on CNBC, CNN and Charlie Rose Show. Together with his co-founder Larry, they emerged as the Persons of the Week on ABC.
Tim Armstrong is a daring sales executive who heads American Operations and also serves as a Senior Vice President to Google Inc.  Tim is a board member to Interactive Advertising Bureau (IAB) and trustee to Connecticut College and Lawrence Academy
Nikesh Arora is the President for EMEA Operations and Senior Vice President.
 He comes to Google as an accomplished analyst with immense expertise in consulting and finance. He has served previously at the T-mobile firm as a chief marketing officer where he helped found T-Motion PLC.  He has a rich management portfolio from Putnam Investments and Boston's Fidelity Investment.  Nikesh holds an MBA from Northwestern University and also possesses an electrical engineering degree from the Institute of Technology in Varanasi (Google, 2009d)
Laszlo Bock is another prominent personality in Google management.  He is the Vice President of Global People Operations which entails development and retention of employees. He formerly worked for General Electric as the Human Resource Director. He was a management consultant with McKinsey and Company. He brings to Google rich background knowledge in private equity and media development.  He is very instrumental in facilitating the turnaround strategies.
He holds an MBA from Yale University of Management and International Relations degree from Pomona College.
Shona Brown is the Senior Vice President of Business Operations and has worked with Google since 2003. She is a distinguished global strategist having worked for numerous companies in broad areas that include business and operations. She has also worked as a lecturer at the Stanford University Department of Engineering and School of Business. She holds a computer degree from Carleton University and a Masters in Economics from Oxford University (Google, 2009d).
Coughran is the Senior Vice President of Engineering at Google. He is in charge of cluster management and search systems.  He brings to Google a wealth of knowledge in the field of engineering and science.  He has served in various capacities before but notable among them was when he was the head of Bell Lab's Computing Sciences Research Centre. He is a board member to nSolutions Inc and Clearwell Systems Inc. He is a Stanford PhD holder.
David Drummond is the Senior Vice President in charge of Corporate Development and Legal Affairs.  He joined Google in 2002 as chief legal officer and has since rose tremendously to his current portfolio. He holds a History degree from Santa Clara and a Law Degree from Stanford Law School (Google, 2009d).
Allan Eustace is the Senior Vice President of Engineering and Research. He came to Google in 2002 after having worked for fifteen years at HP and Compaq computers where he helped design Micro Titan Floating Point unit, BIPS.  He also served as the Western Research Laboratory director in 1999 (Google, 2009d).
Conclusion
Silicon Valley is the darling of any employee in the world and the best utopian location to render one's manpower. Employing over 5,000 personnel every year, Google has become the ultimate destination for every employee offering them beyond what they essentially need in their day to day life. These fringe benefits have enticed the best brains in all industries ranging from CEOs, Scientists, engineers, doctors, teachers, business leaders and politicians to Silicon Valley.
The company has embarked on an ambitious development and expansionist policy in product innovation which will continue to keep it at the helm of the industry.  Its management style is exemplary and unmatched. We will continue to see more of products from this company of brilliant engineers.  In the wake of the global economic downturn, it seems Google has managed to maintain it utopian style but time will tell if this will continue to be the case in the foreseeable future.
It is should also be remembered that Google has since been displaced from the top position although it continues to fascinate many with its top standards when it comes to employee management. We will wait and see if through its ambitious product differentiation, whether it will be able to reclaim her position and probably maintained it or not. Meanwhile, other companies have to roll up their socks to remain in the field or they will be swallowed up by competition.
Work Cited
About, (2008). Google-Overview, Company Culture and History. Retrieved 25th March 2009 from http://jobsearchtech.about.com/od/companyprofiles/a/google.htm
About, (2009). Google world headquarters. Retrieved 25th March 2009 from http://retailindustry.about.com/od/topusretailcompanies/a/googleworld.htm
Bellis, M. (2009). Who invented Google? Retrieved 25th March 2009 from http://inventors.about.com/od/gstartinventions/a/google.htm
Fortune, (2007). The table was adapted from Fortune Jan. 22nd Issue at http://money.cnn.com/magazines/fortune/bestcompanies/2007/full_list/
Google, (2009a). Benefits. Retrieved 25th March 2009 from http://www.google.com/support/jobs/bin/static.py?page=benefits.html
Google, (2009b). Engineers Life at Google. Retrieved 25th March 2009 from http://www.google.com/intl/en/jobs/lifeatgoogle/englife.html
Google, (2009c). Google Culture. Retrieved 25th March 2009 from http://www.google.com/corporate/culture.html
Google, (2009d). Google management. Retrieved 25th March 2009 from http://www.google.com/corporate/execs.html
Google, (2009e). Then best place to work. Retrieved 25th March 2009 from http://www.google.com/corporate/diversity/bestplace.html
Hummonds, K. (2007). How Google Grows. Retrieved 25th March 2009 from http://www.fastcompany.com/magazine/69/google
Scribd, (2008). Strategic HR planning at Google Inc. Retrieved 25th March 2009 from http://www.scribd.com/doc/13286610/Strategic-HR-Planning-at-Google-Inc
Strickland, J. (2009). How Googleplex Works. Retrieved 25th March 2009 from http://computer.howstuffworks.com/googleplex3.htm
Young, L. (2008). Work life, Employee Benefits and Google Strange Choice. Retrieved 25th March 2009 from http://bx.businessweek.com/work-life-balance/worklife-balance-employee-benefits-and-googles-strange-choice/10148263448219417519-ac21562cebda07260b63deface83c71f/
Related Topics