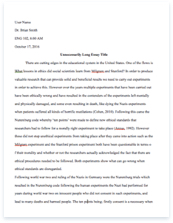 The whole doc is available only for registered users
OPEN DOC
Pages: 7
Word count: 1731
Category: Google
A limited time offer! Get a custom sample essay written according to your requirements urgent 3h delivery guaranteed
Order Now
We should remember that Google did not invent the search engine. Prior to Google, there was Yahoo! Search, Altavista, Excite and other search competitors. However, it is widely accepted that it is a combination of technology and usability that allowed Google to come on top the search engine "war". At a time when Yahoo! was filling its front page with a myriad of services, Google's front page remained clean and simple, allowing people to do the one thing they come to Google for – searching the web – quickly and efficiently. This was a successful strategy for Google. As of October 2007, Google had a 54% share of total searches in the US. Yahoo came in second with 19.5 with MSN/Live Search at third with 12% (Burns, 2007).
While Google is the clear leader, there are still other alternatives to Google search. In this paper, we examine two alternatives to Google search, mainly Yahoo! Search and MSN/Live as these are the closest competitors to Google. We shall examine how they perform against Google based on measurable, quantifiable metrics as well as by comparing the level of satisfaction one gets from using these two other search engines.
Even if Google is the undisputed king, there are also reasons to try and get a "second opinion" from another search engine. Studies show that about half of the pages in a  search engine's index exist only in that search engine. This means that even if Google may have the largest index size of all search engines, that index size is still not a representative copy of the contents of the Web. Combing through two search engines allows one to search through a larger percentage of the web. Additionally, a user may choose other search engines over Google due to the presence of some features.
There are four main criteria for judging search engines (Barker, 2003). First is the search engine's database. How large is the database? How updated is it? What kinds of documents does the database contain?  We should not be surprised that Yahoo search, as a part of the Yahoo! Web portal has many traces of its web portal mother. Aside from the usual web, images and news searches, Yahoo search also has audio, local, and shopping databases. While Google also has some of these features, the portal side of Yahoo provides a lot of information for these Yahoo databases. The Yahoo! Directory is also an important strength of Yahoo search. Live also has images, video, audio, etc databases but because it is the youngest of the three search engines under study, we can expect its databases to be the smallest among the three (Notess, 2003). However I think it is safe to assume that with the backing of Microsoft, Live's database can be competitive with Yahoo! and Google if given enough time.
The next criteria for judging search engines is the capabilities of the engine itself. Some of these capabilities are the ability for the search engine to accept complicated boolean expressions (America AND Racing NOT NASCAR), the ability to search within search results, etc. These factors all affect how much control the engine gives the user in specifying the results that he or she wants. Google in this regard is behind Yahoo. First is the lack of support for full boolean operators, a feature that Yahoo has. There are also inconsistencies with Google's performance. Some of these inconsistencies are incomplete results and site limitation failures. Personally however, the amount of control that Google gives is enough around 95% of the time. Again, Live search comes up last. Live does not allow truncation, wild cards and has a 10 word limit on searches.
The third metric for search engines is the way that search engines rank result. Even the most obscure search term has the ability to fetch hundreds of thousands of results. It is therefore imperative that the search engine is able to provide the most relevant results first. In this regard, Google's patented PageRank system seems to win it for Google. Google ranks the relevance of websites by seeing how many other websites link to that page thus establishing the page's notoriety or relevance. Live also uses a system of seeing the links toward the page to gauge the page's relevance. Yahoo on the other hand uses a "relevance algorithm". For me, (as well as the rest of the world it seems) Google's PageRank system is still on top over all these other search engines just by seeing the continued popularity of Google.
The last metric for search engines is the user experience, little tweaks and features that seem to make the search process more pleasurable for the user. What I like about Google is the ability to quickly go to Advanced search with one click from the main page. It takes at least two clicks in the case of Yahoo and Live. It is especially harder for Live due to the size and placement of the "Advanced" link. The embedded calculator within Google is also a Godsend feature. What I like about Yahoo is the way it lists all related searches with my search results – a feature absent from Google and Live. What Live has going for it is its clean polished look as well as the ability to quickly search only pages from the users current country.
It is also odd that while Google's clean and direct interface is what led to its dominance, Google search is now the most cluttered among the three. Going to Yahoo or Live search, one sees a mostly blank page save for the minimalist inspired search area. Going to Google.com on the other hand leads to a page with news, weather, Google calendar and other portal-like devices. It seems that while Live and Yahoo search are imitating the Google of ten years ago, Google is now trying to become more than just search based on their own homepage.
As a test, I tried to use the three search engines to look for information. The first search term I used was "error control coding", an esoteric term I randomly found on Wikipedia. Yahoo gave up possible related searches with my search results, asking if I want to try searching for "error correction", "error detection" etc. The first result on Yahoo also went to the Wikipedia article on error control coding followed by a book on Amazon about error control coding. The rest of the top ten were articles from university webpages as well as other books from Amazon. On Live, the first result went to Amazon with the rest of the results going towards university lectures and the like. It is interesting that the Wikipedia article on error control coding did not make it into the first page of Live search results. Google gave the same results as Live except that the university page was ranked first before the Amazon page.
On this test, I would say that Google was a hair ahead of Yahoo with Live the last among the three. Generally, I use search engines to find information that I need immediately and because I had exhausted my usual sources. If I wanted to look for a book on Amazon, I'd go to Amazon directly, same with looking for an article on Wikipedia. Google in this case gave me the best results as nine out of the top ten search results were quality articles about error control coding. Yahoo came in second as it had 2 amazon hits as well as the wikipedia article in its top ten. The related searches were also a nice feature from Yahoo search. The explore concepts tab on Yahoo is a very useful tool for people who are searching for a subject that they know completely nothing about as it lays down possible learning tracks that the user may pursue.
I would have to say that Live was the worst in my error control coding test. Aside from having a book I have to purchase as the top result, the qualities of the pages Live gave me were the worst of the three. Two went to an online class syllabus that wasn't of value for someone who wants to read about error control coding. Two results went to online book sellers while there was one result that went to a paid seminar on error control coding.
The results are similar when I tried searching for a less esoteric subject. When I tried searching for fruitcake recipes on Live, the top result went to a messageboard where someone was asking for a fruitcake recipe. There were no fruitcake recipes in the first result, just a post and two useless replies. Google and Yahoo's first result on the other hand went to the same page which discusses tips on cooking fruitcakes as well as several fruitcake recipe variations.
It is clear therefore that some search engines are better than others in some regards. However as previously stated, search engines are almost always woefully incomplete. With the explosive growth of the web, this trend will not seem to end. It is therefore important that users explore other search engines besides their search engine of choice in order to maximize their productivity on the Web.
In my experience, Google will still be the first thing I used when searching for material on the web. However I have discovered that when I need to use an alternative search engine, Yahoo will be the search engine of choice due to the quality of its results as well as the handy related searches feature.
Bibliography
Barker, J. (2003). What Makes a Search Engine Good?. In UC Berkeley Library. Retrieved December 8, 2007, from http://www.lib.berkeley.edu/TeachingLib/Guides/Internet/SrchEngCriteria.pdf.
Burns, E. (October 26, 2007). Top 10 U.S. Search Providers, September 2007. In Search Engine Watch. Retrieved December 8, 2007, from http://searchenginewatch.com/showPage.html?page=3627422.
Notess, G. (October 10, 2006). Google Inconsistencies. In Search Engine Showdown. Retrieved December 8, 2007 from http://www.searchengineshowdown.com/features/google/inconsistent.shtml
Notess, G. (October 10, 2006). Review of Google. In Search Engine Showdown. Retrieved December 8, 2007 from http://www.searchengineshowdown.com/features/google/review.html
Notess, G. (October 21, 2006). Review of Live Search. In Search Engine Showdown. Retrieved December 8, 2007 from http://www.searchengineshowdown.com/features/live/review.html
Notess, G. (October 10, 2006). Review of Yahoo. In Search Engine Showdown. Retrieved December 8, 2007 from http://www.searchengineshowdown.com/features/yahoo/review.html
Related Topics