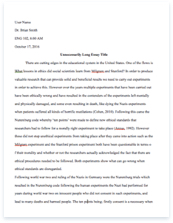 The whole doc is available only for registered users
A limited time offer! Get a custom sample essay written according to your requirements urgent 3h delivery guaranteed
Order Now
1. What were the key factors behind Google's early success?
The key factors behind Google's early success were:
(1) The Google's cofounders perfected in an innovative search algorithm. This act contributed to the early success of the Company. They could turn the keyword spam predicament within the web into a chance via resolving it. Old search engines relied heavily on tallying of keywords. However, Larry Page and Sergey Brin formed dependable searches. They formed the searches via the sum of websites that linked to the page. This enabled them to weigh the search result significance. (2) The Company centered on the user. This characteristic fascinated many people. This is attributed to the fact that the white search page was relatively easy. Besides, the characteristic colorful logo led to trouble-free and fast searches. (3) The Company delivered search results desired by many people. As a result, the users trusted the Company. (4)
The Company's sponsored links were pertinent to the sought keywords. Thus, they turned out to be valuable to the users. (5) The sponsored links text was relatively easy. As a result, they didn't decelerate page loads. Additionally, they permitted an enhanced search experience. (6) The firm implemented an effectual monetizing paid search scheme. Initially, the cofounders implemented the "cost per intuition scheme". This scheme made money in spite of whether users clicked on it. (7) The management team. Sergey Brin, Larry Page, and Eric Schmidt were the management trio that brought Google to the forefront of the web search industry. Their keen business sense, innovative ideas, and engineering and business experience has made Google the powerful company that it is today.
2. Do you expect the search business to become more concentrated (that is, dominated by fewer 
firms)? Is search a winner-take-all business?
My initial urge is to answer "yes". I do expect the search business to become more concentrated. I attribute this to the fact that Google has apparently dominated the search business. On the other hand, Yahoo may anticipate preserving the market share. It can only achieve this by providing editorial content in which a number of customers may perhaps be "duped" into examining. Second, the industry is dominated by few firms (Google, Yahoo and Microsoft) and Google is the unquestionable leader. It is followed by Yahoo and Microsoft MSN. Other stakeholders in the industry have scarce market shares. These firms are at the moment experiencing strong rivalry. Thus
there is a high chance that the dominant Companies shall one day merge and purchase smaller Companies. Last, it is crystal clear that Google is the leader of the Search industry. As result, it makes many people to believe that the firm demonstrates adequately the condition of the market. I may say that this search industry is a winner-take-all business. Google is a perfect example to verify this reality.
Google's case demonstrates that it's not possible to come within this market. The firm was established prior to the commencement of the explosion of the Internet sphere. At the moment, any Internet site that isn't oriented on Google is expected to be subjected to looming death. It is apparent that majority of Internet customer go via an Internet web search with the aim of reaching Internet websites. Besides, most of the users use Google. With Google's large lead and gargantuan resources to throw at any new innovation it decides to take on, it would take more than a good idea to beat this Giant. What would be needed is another disruptive technology that connects future users in ways that Google hasn't addressed.
3. In addition to enhancing its core search businesses, should Google also branch out into new 
arenas? Which of the following would you recommend: 1) building a full-fledged portal like Yahoo!'s; 2) targeting Microsoft's desktop software hegemony; and 3) becoming an e-commerce intermediary like eBay?
In addition to enhancing its core search business, Google could also branch out into new areas. It has the corporate structure in place for such innovation. For example, the 70/20/10 rule allocates engineering efforts (70% engineering efforts, 20% projects that extend the core, and 10% new business), Google's small project teams could concentrate their technological efforts in many areas. The company strongly encourages the development of new projects which are high-risk and high-reward. The following areas have pros and cons as described below:
Build a full-fledged portal like Yahoo!
Pros: Will be able to provide more customization for its user base. This will be a welcome addition to many Google users who use Google for search but return to MSN or Yahoo for other content. Cons: Competitors can attack them; Google's goal of impartiality, simplicity and performance might be lost if they move towards portal; lose keeping it simple; difficulties of mixing organizational cultures; reputation; more complex to attack the portal area vs. the desktop area.
Targeting Microsoft's hegemony in desktop software?
Pros: It is low risk and has the potential for huge rewards. Google already has the expertise to do this and it could work as a diversion tactic. Google has a simpler and less complicated software for the majority of users (Microsoft has too many tools that people don't use). Cons: Microsoft is the winner take all in its industry. It may hurt Google to compete against such an established competitor.
Becoming an e-commerce intermediary like eBay?
Pros: This option would extend Google's existing technical competence in auction, which it uses for its customers for buying ad space and payment processing, through Checkout. Google will be able to tie the auction service to its ad service and provide an added benefit to the sellers and help them reach the passive buyers, which eBay cannot. While eBay is the current leader in the US, there are many other markets around the world where eBay is not the dominant player. Google has a very good chance to become the winner-take-all player Cons: Online auction is a powerful winner-take-all market although easy to challenge the winner compared to challenging Microsoft in desktop hegemony. Google would experience tremendous difficulty drawing users away from eBay because of its established customer base. EBay users are heavily entrenched, and are enjoying the 2-sided network effects from the community eBay has established. Google's entrance into this market would require a huge financial outlay as well as a significant amount of time to draw users away from the existing market leader.
From the above, Google can also think about entering e-commerce arena. Google could diversify into e-commerce arena by acquiring medium sized e-commerce company with good reputation and volume like craigslist. Google has the distinct advantage to leverage its search, checkout and auction technology in this new venture. Although eBay is a behemoth in e-commerce space, Google can provide a challenge to eBay with its existing reputation, size and better technology- and that is what I would recommend Google to attempt.
Related Topics