Google Case Study Argumentative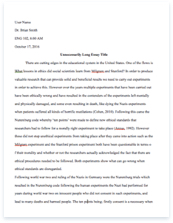 The whole doc is available only for registered users
Pages: 10
Word count: 2411
Category: Google
A limited time offer! Get a custom sample essay written according to your requirements urgent 3h delivery guaranteed
Order Now
1. How is Google's mission statement related to its business strategy? Google's mission is to organize the world's information and make it universally accessible and useful. Google's business strategy is to operate on a simple and innovative business model of attracting internet users to its free search services and earning revenue from targeted advertising. As one can see from the above, the mission statement of Google has been to provide information to anyone who needs it and at the same time to ensure that the information provided is useful to the individual who looks for it. Google's mission is related to its strategy because it believes that the most effective, and ultimately the most profitable, way to accomplish its mission is to put the needs of our users first. Google's mission statement and its business strategy are inter aligned because by offering a high quality end user experience, it has led to a strong word of mouth promotion from the end user which in turn brought in a strong traffic growth towards it which was Google's ultimately strategy to achieve.
The heart of the Google's success is its business strategy to concentrate on the search engine. Google's main strategy has been to have an objective search engine which will suit the needs of the user and as well the advertisers. The search engine is a huge part of its operations and revenue generation. The search engine played a huge success as it gave users more relevant results. Over the years Google have been the industry leader of internet. By far the biggest search product available on the internet is Google's search engine and it is so huge and successful that it has become everything Google actually is. Google's strategy is "to organize the world's information …. and make it universally accessible and useful". Google's search engine market share as of year 2010 is 71.59% and the next highest is Yahoo at 14.28. Google has substantial growth remaining for future years. As per their July 2011 quarterly filings, their sales rose to $6.92 billion, which was more than the %6.57 billion projection and their net income rose to $2,51 billion, a gain of 36 percent. Beyond that, in 2016, Google is projecting their sales to be at $155.388 billion, reaching $253.398 billion in 2026. 2. How does Google's information systems strategy support its business strategy?
Google's information systems strategy is to have information systems that enable new products and services which greatly change the customer convenience by using its existing products and services or by acquiring them to receive the information they want or need. Google's two flagship information systems programs are the AdWords and AdSense. Google uses information systems strategy to differentiate products, and enable new services and products. For instance, Google information systems strategy is to continuously introduce new and unique search services on its Web site, such as Google Maps. Google's information systems strategy is to devote more engineering time to search than to any other product, because search can always get better and faster at helping you find what you want, when you want it, where you want it. Once this is addressed, it directly supports its business strategy. Information systems strategy at Google is unique as new features selection is between the managers and the team sits together in a room and selects the right ones and discards the others where each one is given 10 minutes to support it or to deny a feature.
Keeping in alignment with the business strategy, the IT department free and open access to all employees for all IT employees through the intranet thereby employees can join together or work on similar technologies. Google's business strategy is to concentrate on the value of technological innovation which targets both its users and investors. The PageRank algorithms which was developed initially by Google founders Larry Page and Sergey Brin interprets links to Web pages. It has a wide suite of algorithms that analyze the chain of hypertext links leading to focal sites. Google IT strength is it that it offers a much superior way to search the Web compared to brute-force methods that its competitors search primarily for key words and their frequency. Google believes there is still plenty of room to improve on search technology and is continuously working to improve thereby being aligned with its strategy. Due to the information systems support, Google is able to get innovative and attract new customers and emerge as an industry leader. So many consumers use its search engine daily which is approximately six billion searches is performed each month at Google and thereby in the process is exposed to search engine advertising and more revenue to the company which is to support its business strategy.
Keeping up with the organizational strategy, it allows IT department free and open access to all IT employees. It also allows all IT employees to choose from a wide range of operating systems and computers and as well as to maintain their own blogs. Google is now a key player in mobile telephony. In order to be in sync with its business strategy, Google built mobile applications, such as Gmail that work across multiple devices and locations. Google in order to be in sync with its mission and objective, it developed the Android operating system which is an open source software. The Android operating system allows all the mobile phone companies an open source toolkit. In addition, Google introduced Chrome because it believed that a modern browser, designed to handle today's complex, dynamic web, would be better for users and would help surge greater innovation.
3. How does Google's organizational strategy support its business strategy? Google's organizational Strategy is to accelerate innovation and strengthen brand loyalty through transformational changes while creating an open-source environment to both internal and external to the company. The strategy has been to provide open and free work culture. Its organizational strategy has been to promote culture or creativity and innovation is a number of ways. To align with the business strategy above, Google serves its users by developing products that quickly and easily find, create, organize, and share information. Google places a premium on products that are significant and matters a lot to many users and as well as which have the potential to improve their lives. Google's strength is about innovation in an already existing business model. Rather than relying on the existing straightforward payments for ads such as banners, or payments for "click-throughs" to an advertiser's site, Google's business strategy is different.
It got advertisers to pay for being listed alongside search results as "Sponsored Links," and to pay regardless of whether users clicked on the ads. One of the best business strategies which were successful for Google is that it convinced advertisers to bid for being listed ahead of others. Once this was implemented, every time the user clicked on the paid link, the advertiser paid money to Google. One of its organizational strategies has been to encourage its employees for innovation where it allows them to spend 20 percent of their time on a project of their choosing. In order to motivate its employees and the get the best out of them, one of their organizational strategies is to provide benefits such as free meals, onsite-gym, on-site dentist and washing machines at the campus. Due to this kind of initiatives, products like Google News, Google Suggest, Adsense, and the social networking site Orkut took shape and as well as success. It is important to note that all projects that emerged from this personal time on projects of their liking are part of the Google's portfolio of successful products. Google's Organizational strategy is "We serve our users by developing products that quickly and easily find, create, organize, and share information.
We place a premium on products that matter to many people and have the potential to improve their lives". For Google, providing everything free is not its business model, but it is a strategy designed to feed into a business model based on scale and market leadership. 4. Which of Porter's three generic strategies does Google appear to be using based on this case? Provide a rational for your response. For competitive advantage, Porter defined three strategies. They are Cost Leadership, Differentiation and Focus. As from the case study, Google uses the competitive strategy of differentiation. When we look at Google as a company, if offers many unique products and services to a wide range of customers. . Google, by offering so many distinctive products and services, Google is able to achieve a competitive advantage. "Differentiation is the act of designing a set of meaningful differences to distinguish the company's offering from competitor's offerings." At the time, in alignment with its organizational strategy, Google's goal is to make information universally accessible to all through its search engine.
The beauty here is that they do not focus on a particular niche or a particular segment of users but to any user who uses the internet. When you look at the Google at the early days, it's main focus on a basic web search interface which produced very good search results. This is nothing but differentiation as it differentiated itself by being easy to use (simple GUI page) and effective (good search results). Google's web search engine has differentiated itself from competing search engines by utilizing a patented system called PageRank. One has to note that by the time Yahoo etc had realized how useful Google search results were, it was too late and Google search had already captured the customer base.
Google's search engine criteria are kept secret ( more secretive than the Coca-Cola formula) and the fact that it is difficult to duplicate it, Google is able to maintained its competitive advantage and will continue to do so for a long period of time. Google's AdWords is another product which supports the differentiation strategy for search-driven advertising. Google AdWords is used by advertisers who want to reach to the users on the internet as quick and efficiently as possible. The differentiation Google's AdWords works is that it is easy to create ad text and manage online advertising accounts with no large upfront payment required. The main advantage with AdWords is that advertisers can even target customers in specific geographical locations. Google has differentiated from its competitors is by diversifying into other shopping services which are Google Base and Google Checkout. Google Base is a free online database that allows anyone to post anything (as long as it falls under the Google Base Program Policies) they want. Examples of posting are Recipes etc, . Google Base also offers free classified listings of goods for sale (Like Craigslist). Google Checkout provides an online service that stores users' financial information to facilitate purchases from participating Internet vendors.
5. Using D'Aveni's Hypercompetitive Framework, analyze Google's strategy and the type of market disruption it created. There are different ways of hyper-competitiveness and one of them which Google uses is the strongholds. Here Google's goal is to disrupt first and then to gain sustainability. Google seeks to stay one step ahead of its competitors through a series of upgrades and product launches which will gain advantage and so that it will erode its competitor's ability to sustain and succeed. Google seized the initiative to gain advantage over its competitors. Google has demonstrated this by buying Motorola and then self developing the Android operating system. By having these two initiatives simultaneously, it shown its ability to gain a strategic hold and gain in the mobile market. As Android is an open-source, it is being used by most of the emerging cell phone manufacturers. Due to this, it put Google into the low-margin, cutthroat hardware business (way outside of the company's core competencies), and also into direct competition with Android phone giants like Samsung and HTC. Google had clearly stated and conveyed organizational goals to do more than just let the consumer know what the organization aims to achieve, but also can serve as a driving force for employees of the organization.
Google's corporate values and goals concerning employees, their customers and the Internet motivate their employees, and how they relate to the employee satisfaction and motivation. For example, working for 20 hours on a project of their choice or providing food and laundry services to its employees at the campus. Google's recent success in the hyper-competitive Internet search engine industry is based in their ability to utilize their corporate goals and to drive daily actions geared towards achieving these goals. These decisions also have helped propel the company to success and at same time created disruption to its competitors.
Recently Google launched the GPS product as part of the Motorola Droid handset which is now being sold by Verizon Wireless and it is now worrying the GPS manufacturers with their latest innovation. As of now, it is just launched in USA and it plans to launch it in rest of the world. If that is the case, it will impact the global GPS players which in turn would disrupt the entire GPS market. As everyone knows, Gmail is one of most successful products of Google. Google captured the imagination of users by providing no limit of capacity/space. Now Google is trying to launch this service through the Google Apps to enterprise customers. The biggest attraction for enterprises towards Google Apps Email over other systems is the cost. Even though other players like Microsoft and IBM have a cloud strategy, Google's pricing makes Google Apps very attractive for many enterprises. Due to this, it is disputing the Email application and providers.
References:
Bill Orr, Is Google getting too good?, ABA BANKING JOURNAL/OCTOBER 2007, PP 69-70
Google's Business Strategy: Have No Business Strategy | Co. Design, http://www.fastcodesign.com/1664793/the-best-corporate-strategy-have-no-corporate-strategy , Retrieved on September 18, 2011
Google Press Center: The Google Podium Archive, http://www.google.com/press/podium_archive.html, Retrieved on September 18, 2011
Pearlson, E.Keri,Saunders, S.Carol. Managing and Using Information Systems – A Strategic Approach, (2010), Fourth Edition, Wiley, pp 27-45
Michael A. Cusumano, Google: What It Is and What It Is Not COMMUNICATIONS OF THE ACM February 2005/Vol. 48, No. 2
Stephen E. Arnold, "meh" Google and its strategy, KM World, April 2010, Retrieved on September 17, 2011
Steve Arnold, Google and the Cuculus Strategy, KM World, April 2010, Retrieved on September 18, 2011
Related Topics