Good to Great, Why Some Companies Make the Leap and Others don't by Jim Collins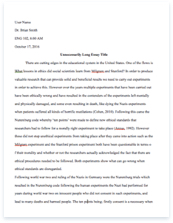 The whole doc is available only for registered users
OPEN DOC
Pages: 7
Word count: 1677
Category: Company
A limited time offer! Get a custom sample essay written according to your requirements urgent 3h delivery guaranteed
Order Now
Abstract
This report analyzes the effectiveness of a bestselling book written by Jim Collins, namely "Good to Great: Why Some Companies Make the Leap and Others Don't". The bibliography page appends sources in APA format.
About the Author
A former lecturer at Stanford University, Jim Collins is one of the bestselling authors of business management and is regarded as a business guru of America. He is also the co-author of the famous book Built to Last. He recently works as a head management researcher in Colorado and often writes for business magazines and journals such as Harvard Business Review.
Summary of the Book
After Collin's bestseller "Built to Last", his next influential book "Good to Great" was a breakthrough. In this book, the writer along with a team of researchers has conducted a comprehensive research of five years data (1965 to 1995) of companies, sorting out great ones from good ones. The criteria for the selection was factors such as performance at stock market, any major breakthrough by that company and evaluation of returns of the company in that breakthrough period which must be at least three times the market.
Collins and his team finally awarded eleven out of 1435 companies with the title of companies that made it from good-to-great. These are: Abbot Laboratories, Circuit City, Fannie Mae, Gillette, Kimberly-Clark, Kroger, Nucor, Philip Morris, Pitney Bowes, Walgreens, and Wells Fargo.
The book illustrates some concepts which Collins believes contribute to greatness of an organization. These are Level 5 Leadership, Confronting the Brutal Facts, Hedgehog Concept, Culture of Disciple, Technology Acceleration and the Flywheel and Doom Loop.
For instance, Level 5 Leadership describes the traits of a leader observed in great organizations. Such leaders are way beyond highly capable individuals, competent managers or effective leaders and don't necessarily have classy profiles. Such leaders are the ones who do not wish for any fame or recognition but in fact, are in habit of giving credit to everyone when won and taking the blame themselves when failed. They are modest in personality but professionally determined, being self-motivated and driving others as well. At the same time, another vital information Collins observed was that these leaders were mostly from within the company.
Then, the notion of first asking 'Who' then focusing on 'What', is explained. Here, 'what' concerns questions about visions and strategies whereas 'who' centers on the right people employed for these tasks. Collins illustrates this with an example of a bus i.e. putting the right people on the bus, taking wrong people off it, and then deciding where to drive.
Next, the significance of confronting the brutal facts of the company is described. A company can attain the level of greatness only when it honestly and sincerely seeks flaws in itself and takes effort to remove those flaws. There are four major guidelines to create a culture where communication is not a barrier. These are: lead with questions, not answers; engage in dialogues and debates, not coercion; conduct autopsies, without blames; and build red flag mechanisms that turn information that cannot be ignored.
Then, the author diverts his attention to a vital concept i.e. Hedgehog Concept. The name is taken from the fable where fox knows many things but a hedgehog knows only one big thing. In Collins view, all companies that made to the path of greatness were hedgehogs i.e. they knew that 'big thing' of the company. In order to recognize the core competency or the big thing, one must refer to the three overlapping circles. These three circles are basically finding answers to three questions: 1) what are you intensely passionate about, 2) what drives your economic engine, and 3) what can you be the best at? If a company is able to answer these three questions, it has discovered the way to greatness.
Followed by the Hedgehog Concept is the Culture of Discipline i.e. companies awarded the title of greatness were successful in developing a culture of discipline. It contains self-disciplined people who are fully devoted to their responsibilities and duties. These people view technology as a means to accomplish their goal which is directly related to their hedgehog concept. In other words, technology is not adopted just because it is in demand in the market or the company can afford that technology but because it accelerates the pace towards attaining that one big thing' it is good at.
Lastly, the idea of flywheel and doom loop is illustrated. The Flywheel refers to momentum i.e. in order to set the wheel into motion, one must give it a continual, steady boost in the beginning and soon it will move with its own force. Companies that have undergone good-to-great transformation have worked this way, never leaving patience and persistence. Doom loop is the opposite of flywheel: here, companies are found ineffectively running towards one direction and then changing the direction completely in failed attempts to create a positive change. Hence, they are not steady and stable because of their lack of vision and the hedgehog concept.
Why I Prefer this Book
Up till now, business gurus have usually focused on how to gain success or how to milk more profits. However, Collins was the first to present the astonishing factors of success; factors that the management books have even failed to identify. Moreover, the most assuring thing about the book is its authenticity: all results are purely based on in-depth research of almost 1435 companies from five years data; therefore, making the results genuine and accurate.
Collins skillfully wrapped up more than 5000 articles and research papers written by his team into 300 pages – pages offering key to greatness.
The book is helpful for every entrepreneur and an executive who wishes to transform his company from better to best. In addition, the book also proves to be resourceful for individuals who not only desire for more profits but are also concerned about getting their employees to love them and their organizations. Thus, it is not only about conversion of good into great but also provides means to become or attain a great leader.
All the facts in the book are in actual, simple and easy to implement. Plus, they also appeal to commonsense and ethical values of an individual. For example, everyone believes that a leader should be humble and kind but Collins proved that this attribute is the key to great leadership and in turn, great company.
The Hedgehog Concept given in the book is also not a rocket science which a common man will find impossible to understand. In fact, it only says that a company can excel only when it finds a product or service which it is deeply and passionately best at. Hence, it can be said that it is the company's Key Selling Point or a competitive advantage over its competitors.
Other concept such as confronting the brutal facts is also logical and valid: One can correct itself only when he admits of his weaknesses. It takes enormous courage to identify the brutal facts about one's own company because it is usually human nature to put the blame on others and free oneself from it. However, no matter how dislikeable it is, it is one of the solutions to greatness without which success is impractical.
 The book is also useful because it tells us that victory cannot be attained at individual level but only when the entire company, sharing the same vision and moving in the same direction, makes efforts for success. This task can be simplified if the right people are hired and wrong ones laid off. Thus, the book teaches that if a person is contradicting with the company's vision, he must be let go, whether the leader of the company likes it or not. It also drives home another important point i.e. it is crucial for employees to work in an organization having values that are parallel to their own personal beliefs. If these two oppose, they should leave that organization because otherwise, they will act as a barrier for the company's success and at the same time, will be unable to gain personal satisfaction.
Therefore, 'Good to Great' forces businessmen to change their perspectives of success and profit and see their business from an entirely different angle. For example, the title of the first chapter 'the good is enemy of the great' clicks anyone who was very much contended with his 'good' and above average performance. It shows that this is not enough and he must continue to struggle to gain the level of supremacy in the industry.
Conclusion
The fascinating thing about the book is that the study involves companies that might not even have any relation with the other and are of entirely different industries; yet, all eleven 'great' companies shared common success factors. Thus, the book is great for anyone; whether he owns a paperclip manufacturing company or a giant pharmaceutical company.
All in all, it is a well-researched book, using techniques such as narrative style and stories which compel the reader to rest until read to the end. The language is also simple and plain, making it readable for every level. Although theories such as Hedgehog Concept and Flywheel are somewhat difficult to comprehend; yet when understood, provide a practical approach to success which one can easily adopt. In addition, while all concepts are tempting in the book, Collin's leadership concept is the most amazing as it magnetizes one's moral values even though opposing the logic, for most believed up till now that great leaders are products of high celebrity profiles. However, Collins proved it and rightfully proved it wrong.
Bibliography
Collins, Jim. (2001). Good to Great: Why Some Companies Make the Leap and Others Don't. New York: Collins.
Early, Gene. (2006). Good to Great Summary. Retrieved November 24th, 2007.
            Website: http://www.resourcerepository.org/org develop/13
Related Topics