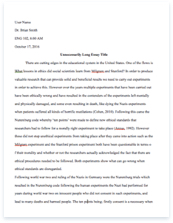 The whole doc is available only for registered users
Pages: 3
Word count: 665
Category: Fashion
A limited time offer! Get a custom sample essay written according to your requirements urgent 3h delivery guaranteed
Order Now
Gianni Versace was born on December 02, 1946 in Reggio di Calabria (Gianni Versace-Biography http://www.fashion-forum.org/fashion-designers/gianni-versace.html), Italy along with his siblings Santo, his older brother and Donatella, his younger sister. He founded the famous fashion tag Versace, one of the world's leading and most famous houses of fashion with its first boutique opened on 1978 in Via della Spiga, Milan.
Versace was introduced early to the world of fashion, introduced by his dressmaker mother which he helped early on by finding precious stones and gold braid which she in turn used to embroider dresses in their small tailor-shop. He was also involved in buying fabrics for clothes his mother would make, and enjoyed traveling while doing so. Through his mother's tailor shop, Versace leaned everything about making clothes as he would often watch his mother make clothes until eventually he started designing his own. He studied architecture first and then moved to Milan when he was 25 to work in the fashion industry. Through designing a collection for Fiori Fioentini in 1972, an Italian-based company, he had his first chance to show his skills in designing apparel.
In the following years, Versace found himself designing for fashion labels De Parisi, Genny, Callaghan, Alma, and then for Complice in 1974. He was initially spotted by head hunters for these companies because of his knitted works. His work for Complice (Gianni Versace, Fashion Designer http://www.infomat.com/whoswho/gianniversace.html) was the first time wherein his own name was first included in the brand name. Here, he was designing leather and suede collections and due to his success, Versace was inspired to create and present his first signature collection at the Palazzo della Permanente Art Museum of Milan, with his first menswear collection following in September of the same year.
The Versace style is a trademark in itself. Known for striking colors, materials and cuts, Versace's designs for both men and women are sexy and revealing to the border line of being vulgar. Gianni Versace became popular for pushing the limit between sexy and vulgarity, between gout and good taste.
Over the years the collection Versace founded started to include more than clothes and expanded to include shoes, belts, perfumes, and other accessories. His designs combined the worlds of high style and popular culture and modern art. New materials like plastic, leather, and metal mesh were creatively incorporated into his creations. Clients of Versace include Phil Collins, Bruce Springsteen, George Michael, Eric Clapton, Elton John, and Michael Jackson. Versace also made clothes for the Princess of Wales and Caroline of Monaco.
1982 also marked a new chapter in Versace's life as he began making costumes for theatre, opera and ballet (Gianni Versace http://en.wikipedia.org/wiki/Gianni_Versace). He even went on to designing accessories, furnishings, and china.
His life and success was cut short when Versace was killed in front of his mansion in Miami, Florida. Versace was coming home from his customary walk along Ocean Drive on July 15, 1997 when he was shot to death. The man who killed Versace was allegedly a serial killer and committed suicide in Miami shortly after murdering Versace.
In September 1997, Santo was announced the new CEO of the Versace holding, while Donatella was announced as the new head of design. Donatella's daughter Allegra was the sole heiress of Gianni Versace, and her son Daniel was to inherit Versace's collection of paintings. Antonio D'Amico, Versace's life partner for 11 years, was left with a pension of about $26,000 a month for life and the right to live in any of Versace's luscious mansions both in Italy and the United States – at Lake Como, Italy, in Milan, Italy, in New York City, and the mansion in Miami, Florida where he was killed.
WORKS CITED
"Gianni Versace – Biography." www.Fashion-Forum.Org.
Copyright 2007. < http://www.fashion-forum.org/fashion-designers/gianni-versace.html>
"Gianni Versace." 12 December 2007. www.Wikipedia.org.
< http://en.wikipedia.org/wiki/Gianni_Versace>
"Gianni Versace, Fashion Designer." 18 January 2007. www.infomat.com <http://www.infomat.com/whoswho/gianniversace.html>
Related Topics