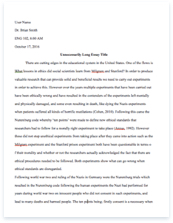 The whole doc is available only for registered users
A limited time offer! Get a custom sample essay written according to your requirements urgent 3h delivery guaranteed
Order Now
 General Motors
I. Mission
To develop and grow a performance-based, world-class, competitive diversity supply base that will work with General Motors towards its goal of being the market leader in the automotive industry. G.M. is a multinational corporation engaged in socially responsible operations, worldwide. It is dedicated to provide products and services of such quality that our customers will receive superior value while our employees and business partners will share in our success and our stock-holders will receive a sustained superior return on their investment
II. SWOT Analysis (minimum 3 each)
A. Strengths
Size and Market Share. General Motors is one of the world's largest automakers. Although GM's market share dropped it is still very much competitive. Global awareness and presence. General Motors has manufacturing operations in 32 countries and its vehicles are sold in 192 countries Strong brand value
Global experience. The company has the experience to bounce back on the top. They have been an international company for over 100 years. B. Weaknesses
Too Much Vertical Integration. GM has a lack of communication between employees from top to bottom high health care cost .The company has a major problem with Union contracts and pension obligation. It has spent too much time on satisfying employees. GM's cars are too big and inefficient. The market in Europe looks for smaller and more efficient cars. GM saw the market trend but still did not change strategy. The company is behind the competition on the Hybrid car. It started too late to invest in alternative energy vehicles. Losing Market share nationally and globally
C. Opportunity
Developing new styles and models. GM should develop smaller and more gas efficient cars, which will help them to increase sales in Europe and Asia. GM still has space to expand in the US and worldwide.
General Motors has made advances in the E-Business strategy and technology for the Asian automotive industry Although the company is behind the research and development of hybrid vehicles, the hybrid technology still gives GM the opportunity to get back on the top, because the hybrid technology is still very new. Reformation of health care and pension obligations
D. Threats
General Motors faces different political rules and restriction international GM has high competition nationally and globally.
Rising fuel prices. The prices for fuel went up in the past years and the prices will still increase in the future. GM vehicles have a lack of fuel efficiency and that is one reason for the dropping in sales. Still facing Pension and high health care cost in the future. The supply cost went up such as for steel.
III. Porter Five Force Analysis
A. Strength of competition
B. Threat of new entrants
C. Bargaining power of buyers
D. Bargaining power of suppliers
E. Threat of substitute products
IV. Strategies
A. Marketing (Business-Level)
The company's marketing strategy is based on the future trend in the automotive industry for smaller and more fuel efficient cars. GM plans to switch is production to more economical cars , because the customers are looking in economic bad times and high rising fuel prices for more fuel efficient cars. However, GM still sees a market for trucks and will continue to produce them. GM plans to add comfort and change the interior to more luxury by adding new features such as CD or DVD players. The company's new slogan is example for its marketing strategy; "Impressive capability and performance. Refined interiors Cutting-edge fuel efficiency. These are the rewards of GMC's never-say-never engineering." GM still wants to follow their strategy of producing a high quality "car for every purse and purpose". However, GM is one of the few automobile giants who has enthusiastically adopted social media as part of their marketing strategy. General Motors adopted blogging and social media with their first blog, Fastlane, launched in January 2005. The goals of the blog were to: Develop a fast way to reach out to and hear from customers, and attract significant web traffic. Also Fastlane will help GM overcome its lumbering-dinosaur image, and close the gap between customers' outdated perceptions of GM quality and the improving quality of new cars and trucks. Recently GM launched another major social media initiative, a new website called GMNext. The GMNext blog is created on the WorldPress Open Source blogging platform, and users can collaborate on the site by uploading photos, videos, and more. However, General Motors plans to open a new research centre in Shanghai focused on developing breakthrough vehicle technologies for the future. B. Competitive
General Motors faces a very tough competition nationally and globally. The company's competitive strategy is that they want to sell slightly fewer cars at higher margins. In January 2007 Bob Lutz, Vice Chairman of General Motors (GM) declared that "We've tried to sell more at lower margins and it's what got General Motors into trouble." GM subjected itself to one of the biggest discount battles in history. This action forced its competitors Ford and Chrysler into a price war that had little effect other than burning money. Not only did the minimum target remain unfulfilled, but GM's market shares sunk even further. GM competitive strategy is to sell a high-quality "car for every purse and purpose" and therefore the company changed to a supply chain that could cost-effectively innovate and manufacture the broadest number of brands and models in the industry. GM focuses more on smaller cars which need less gas in order to be more competitive. GM switched the production from trucks to smaller cars. However, on the way to get back to the top GM sold some unprofitable car brands such as the German brand Opel. C. Boundary (Integration, Partnering, Outsourcing)
GM integration boundary plays a major role to help increase sales and in GM's fight against bankruptcy. More than 70 percent of 2007-model US automobiles offered iPod integration, and General Motors alone made it available on all 56 of its models, representing millions of cars and trucks. Many of the new 2007 GM vehicles feature Bose and OnStar systems, which make them a real hassle to deal with during just about any installation. PAC has introduced a new integration unit, the OS-3Bose, which retains most of the factory features like back-up sensors, warning chimes and turn signal indicators. If the vehicle has a center channel speaker and sub, PAC provides the proper harness to allow you to make the most of the customer's sound system. Another integration of GM is the first Genuine Chevy Volt vehicle. The next critical stage in Volt development process will be the building of true to form and function Chevrolet Volt prototypes. This particular level of vehicle is known as integration vehicles or as GM calls them, IVers. GM is n international company and partnering is very important for them. GM brand partners are: Buick, Cadillac, Chevrolet, GMC, GM Daewoo, Holden, Vauxhall and Wuling. In the past months GM sold it German brand Opel, which help them to get cash.
General Motors announced a partnership with bio-fuel developer Coskata that it hopes will result in the production of cost-effective E85 by 2011. Also General Motors signed an agreement with the Indian Reva Electric Car Company. The two companies would work on developing electric cars for sale in the Indian market. Industry sources say that the first of these products could arrive as early as next year. GM outsourcing strategy is important for the company's future. GM's landmark IT outsourcing moves to break up its tech work among several suppliers and limits the del duration. A huge package of outsourcing contracts announced by General Motors seems to signal shifting fortunes in the $600 billion-a-year information-technology services industry. EDS, HP and IBM are the new GM suppliers. GM handed contracts in large chunks to companies that will handle them on a global basis rather than country by country.
Also, GM and the tech suppliers worked together to create new standards for managing technology, which means all suppliers will do things in a uniform way. GM believes that the new strategy will allow them to improve global collaboration while assuring reliability of its computing systems and cutting costs. D. Global
GM is one of the world's largest automakers and is represented worldwide. GM and its strategic partners produce cars and trucks in 34 countries, sell and service these cars by the following brands: Buick, Cadillac, Chevrolet, GMC, GM Daewoo, Holden, Vauxhall and Wuling. GM's largest national market is the United States, followed by China, Brazil, the United Kingdom, Canada, Russia and Germany. General Motors is sticking to the global marketing strategy that rather than focus on one brand, it wants consumers to be able to choose from a fleet of them. GM focused to sell more cars in Europe, especially in East Europe. Small vehicles continue to dominate the market in Europe and GM hopes to increases sales with producing smaller cars and covering this market by different GM brands. For Example Chevrolets are being sold to entry-level car buyers, Vauxhalls should cover the big middle-market in Europe and Cadillac the luxury market. However, after the U.S. automaker nearly ran out of cash last year, it agreed to sell control of Opel in exchange for German aid to its Rüsselsheim-based subsidiary. Under the terms of a preliminary deal struck late last month, GM seems to have come out well. It would preserve a presence in Europe by retaining a substantial minority stake in Opel of 35 percent while forging ties with the owner of Russia's No. 2 carmaker GAZ.
Under this arrangement, GM will "still have a tremendous broad-based global reach," said Jeff Shuster, executive director of automotive forecasting at J.D. Power and Associates. GM also focused on the Asian market and the Middle East was one of G.M.'s fastest-growing markets. GMC's annual sales in the region were more than 30,000 vehicles. The increase in international sales helped G.M. retain its position as the world's largest automaker E. Corporate-Level (Financial, Innovation, M&A) Corporate-level strategy is the concern to decide in which industry a firm should compete. General Motors is in the automotive industry. GM offers a wide range of different vehicles such as Trucks, small cars, SUV, Vans, Hybrid or Sports coupe through different brands. Financial GM recovered in the past months after increasing sales and selling the German brand Opel. GM problem in the past was the strategic misjudgment by betting big on trucks. The consequences were that GM lost more than $55 billion, and it reported a loss of $3.25 billion for the first quarter of 2008.However, the company changed its strategy and it's slowly recovering but still has a long way to go until it will be back on the top.
For more than a century, GM and its European brands have been at the forefront of automotive design and innovation. Cadillac's Converj concept demonstrates that high-end luxury and advanced propulsion technology can co-exist. The company announces to establish the first lithium-ion battery pack manufacturing facility in the U.S. operated by a major automaker. GM announces to open a new automotive battery lab – the largest of its kind – in the U.S. to further strengthen design, development and testing capabilities.
The market and economic situation forces companies to innovate and since 1998 GM started to focus more on business innovation as a corporate strategy. GM R&D created programs which speed up the product development. It used computer analysis for vehicles design or crash simulation. Though, GM overslept to invest in hybrid technology and therefore it is behind its competition. Hybrid technology is crucial for the company future in order to stay in business and increase sales, because Hybrid cars are the future of the automobile industry.
Automobile manufacturers have to say a lot about energy and the environment. GM says that their vehicles and manufacturing. From producing new vehicles that reduce dependence on petroleum and create fewer emissions, to making strides in their manufacturing facilities to use less energy and water, and create less waste and fewer emissions, GM is doing its part to help limit our environmental footprint. However, one ethical challenges of GM is why it t still produces trucks and vans which are energy inefficient vehicles even though it has the resources and technology to bring hybrid cars on the market. Hybrid cars are the future and if GM cares about the environment and world, they should shift their production to more fuel and energy efficient vehicles. Another ethical issue is that the company tried to improve work condition but still many manufacturing facilities worldwide are out of date and therefore dangerous and provide bad work conditions. Another ethical dilemma is that GM faces the problem of high pension cost and health care cost. The employees are worrying about their benefits, especially today when GM faces the problem of bankruptcy. However, GM mostly provides only favorable pension and health care benefits to its employees in the US. GM employees abroad do not have the same benefits and rights. VII. Recommendations and Implementation (Minimum 3)
GM has a lot of space to improve. I will recommend them for product development in order to create a type of hybrid vehicle that will allow them to be more competitive. The future of the automotive industry is small, fuel efficient cars. I recommend them to focus their production on designing more energy friendly cars, because customers are looking for fuel efficient cars in bad economic times and in times of high gas prices. The management need to change is strategy in order to increase sales. GM recognized the sign of the market that it trends to hybrid vehicles, but the management did not do anything and that's why GM is behind its competition in hybrid technology. Therefore I recommend GM to do better market research and to better interpret market trends in order to be more competitive. Also in the past years GM focused too much on the American market. I recommend them to also focus on the international market, especially Asia and Europe.
The company has the potential and the opportunity to expand nationals as well as globally. General Motors need to re-evaluate the market they are trying to approach, because for so long they continued with a tradition outlook for automobiles, times changed and their original target market looks for something different now. The company should thing about restructuring in order to find a way back to the top. GM needs to restructure the product development pace as well as restructuring employment issues, which means it has to cut on employees because GM is growing in size but not in profit.
Related Topics