Geek Squad: A New Business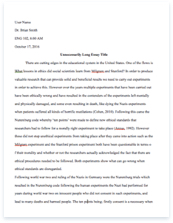 The whole doc is available only for registered users
A limited time offer! Get a custom sample essay written according to your requirements urgent 3h delivery guaranteed
Order Now
1. What are the key environmental forces that created an opportunity for Robert Stephens to start the Geek Squad? I believe the Key environmental forces were (technological & competitive) His experience as a consultant led him to realize that most people needed help with technology, Robert Stephens stated : " we have all experienced trying to keep up with the many changes in our environment, particularly those related to computers, technology, software, communication, and entertainment. Generally, consumers have found it difficult to install, operate, and use many of the electronic products available today". I believe many people cannot work or set up the products they buy from stores, this gave Robert a great opportunity. Since he turned down a scholarship to the Art Institute he used his skills for helping people in this day and age that do not want to spend hours reading a manual because he can do that for you.
2. What changes in the purchasing patterns of (a) all consumers, and (b) women made the acquisition of Geek Squad particularly important for Best Buy? Best Buy had observed very high return rates for most of its complex products. Shoppers would be excited about new products, purchase them and take them home, get frustrated trying to make them actually work, and then return them to the store demanding a refund. In fact, Best Buy research revealed that consumers were beginning to see service as a critical element of the purchase. The partnership was an excellent match.
3. Based on the case information and what you know about consumer electronics, conduct an environmental scan for Geek Squad to identify key trends. For each of the five environmental forces (social, economic, technological, competitive, and regulatory), identify trends likely to influence Geek Squad in the near future. Social – I believe thru social media will benefit the Geek Squad greatly given that millions of people use social media. Economic – although there is a great economic crisis currently, I believe The Geek Squad will be singled out for their great service and low prices during this tough time. Technological – the Geek Squad is up to date with the most latest of innovations from the newest iphone to the newest tablet , they will be there to show you the ropes. Competitive – The geek squad is very competitive with their awesome feedback and customer service many consumers are choosing to stay with them Regulatory – the only thing I can think of for regulatory is their right to customer privacy. I have experienced this myself – they are very professional when dropping off your equipment to be serviced as they will not go thru any of your private files.
4. What promotional activities would you recommend to encourage consumers who use independent installers to switch to Geek Squad? I will start advertising their reliability, their track record they are very professional and most of all their competitive rates.
Related Topics