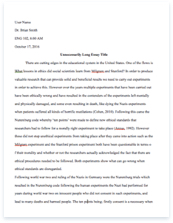 The whole doc is available only for registered users
A limited time offer! Get a custom sample essay written according to your requirements urgent 3h delivery guaranteed
Order Now
An overview:
Frank Abagnale was a criminal who pretended to be a pilot, a paediatrician and a lawyer. He is most remembered for his efforts in evading the FBI, and his fraudulent activities that led him to become a millionaire before the age of 20. Though hardly any information is documented about his trials across the globe, Abagnale served minimal prison time in the United States, and was later hired by the FBI to educate others of his methods and thus strengthening the FBI's fraud prevention units. Abagnale is now a millionaire by his own means, operating a company where he speaks as a guest for government agencies and has developed methods of preventing check fraud. Frank, the child:
Growing up in the Bronx of New York during the '50's and early 60's, Frank's criminal drive began early in his teen years. After watching the deterioration of his parent's marriage, which ended in divorce, Frank moved in and out between his parent's separate homes but ultimately preferred to live with his father. In his book, Catch Me if You Can, Abagnale explains the determination of his mother to move on from her past life, and the same will of his father to hold on. He recalls memories of his father using him as a tool to relay loving messages to his mother, in hopes of winning her back. However, Paulette Abagnale was happy with her new life, and had no intention of revisiting the past. His mother enrolled into college, planning on becoming a dental technician. His father's homemade business fell from its great success, a blow that Abagnale blames himself for:
At the age of fifteen, Abagnale began using his father's credit card, convincing gas stations employees to charge him for a set of tires, but instead of actually putting them on his car, he would pocket some of the money. This allowed the automotive companies to make a profit because they would have an extra set of tires that they could sell. His scheme fell apart when, after hitting nearly all of the gas stations that would accept the card in the Bronx, the credit card bill came in about a month later. His dad was forced to pay $3,400, and when Frank was asked by his father for why he had spent so much money, he responded by saying "It's the girls, Dad, they do funny things to me. I can't explain it"
These were the words of a fifteen year old boy, who not only was a petty con artist but perhaps the youngest playboy in the state of New York. Abagnale loved women, and he indirectly blames them for his drive and he initially started stealing money. The runaway:
When Frank was just 16, he ran away from his home with only $200. He left behind no word of where he was heading, but he was determined to escape from the back and forth world of his parents. He fled to New York city, and took to the home of a boy he met in the street. It wasn't long before Abagnale began over drawing from his bank account with checks written in his name. Eventually, after forging his driver's licence to appear 10 years older, Abagnale decided he needed a cover up. He found it when he witnessed the glamorous life of airline pilots and stewardesses. This life of class, elegance, and reward appealed greatly to Abagnale and set him on his next venture in the con world. The Pilot:
Abagnale was captivated by trim life of Airline crews. He love the attention they got as they walked down the street, and he loved the perks (hotels, food, girls, and privilege to name a few). He was determined to become part of the life he so admired and went to great lengths to achieve that goal: • First: He lied to Pan Am, explaining that he had lost his Pilot's suit and desperately needed a new one because he had a departing flight that evening. • Second: He was directed to a uniform store where he successfully purchased a co-pilots uniform under company compensation, without spending a dime. • Third: Abagnale discovered that he could travel with Pan Am without flying planes so long as he claimed to be heading towards a connecting flight. Frank never actually flew a plane, but he was given many opportunities to do so, all of which he politely declined or automatically set the plane in auto-pilot.
Abagnale took advantage of the fact that his uniform alone came with an image that threw him into the glamour that he craved. He went on expensive spending sprees, all at the expense of Pan Am. He treated many female stewardesses to dinner, and entertainment. He cashed hundreds of cheques which appeared to be written by Pan Am but in reality, Frank bought dozens of miniature models of Pan Am planes, peeled the company's sticker from the toys and stuck them onto the cheques. However, his schemes were catching up to him, and eventually he had to scrap his identity as Frank Williams, the pilot. This happened after a too-close-for-comfort situation where he was questioned by the FBI about his position with Pan Am, and after providing the sufficient documentation (a Pan Am Identification card, and a FAA license, both of which were forged), he was released and quickly escaped to Georgia. The doctor:
Once landing in Atlanta, Abagnale began impersonating a doctor by claiming he was from a different state, and seeking a much needed vacation in Georgia. He ended up landing a job as a supervisor in a local hospital for interns that worked during the night. He was paid nearly 140 dollars a night. Frank had to keep up with his scheme, and thus invested in a small dictionary of medical terms, which he continually made reference to during his night shift. Frank held his position in the hospital for more than 11 months, and was encountered twice in situations where he was sought for his "medical expertise". However, after a new born child nearly died because of his lack of medical training, Abagnale was scared away from his position was happy to hear that he was being replaced by a permanent supervisor. The lawyer:
Frank, once again, was on the move and eager to impress another lady by the name of Diane. He convinced her that he graduated with a masters in Law at Harvard, and after being convinced by one of her friend's to take the bar exam, he forged Harvard transcripts using common supplies from an art store. Abagnale failed twice before eventually passing, as he claims and referred to his lack of education as a technicality in achieving his law degree. He landed a job with Diane's friend, which lasted for 9 months. After coming into contact with an actual Harvard law graduate that continually asked questions about Abagnale's time at the university, Frank once again had to skip town in order to save face because he could not provide the basic information. that the man sought. He lied, naturally, and said that he was on vacation for several weeks. The almost-groom:
Abagnale ventured to L.A where he met and fell in love with a girl he calls Rosalie. He describes her as being cold but lovely, and the two were set to married within just months of knowing each other. Rosalie's parents thought that Abagnale was such a fine young man and invited him many times to their home. However, the level of trust that Rosalie's family and herself had in him, caused him to lose his guard, and he confessed to Rosalie of his past, his age, and his crimes. At first she did not believe him but after being convinced, she went home by herself and called the police. Abagnale was not around her home during the time, but when he had passed by her street and saw the cop car in front of her house, he decided to leave, heading for San Francisco. The convict:
After hitting San Francisco, and claiming to have taught sociology at a university there, Abagnale hit the ground running and headed overseas. He bounced between beautiful European cities, including Paris, where he was eventually caught by angry French federal agents. However, he didn't spend too much time in detainment because he had convinced someone to bail him out and was on the streets again. Abagnale went back to the states where he slept with a number of women and even posed as a Pan Am pilot again. After receiving more heat from the government, he flew to southern France, to the hometown of his mother. It was here that Abagnale was finally caught and sent to prison for 6 months in France.
Frank was then deported to Sweden where he spent another 6 months. After each of his sentences, the rest of the countries that he had stolen money from were greedy and waiting to get their hands on him. However, this never happened, as after serving time in Sweden, Frank was deported to the United States where he served only 5 years of a 12 year sentence. After the initial 5 years, Abagnale was released on the condition that he would help the F.B.I in educating it's members of fraud. Abagnale agreed and served the F.B.I for nearly 35 years, in which he also created his own company. My understanding of Frank Abagnale Jr., The man:
While researching and reading his history, Abagnale appeared to me as a clever person. He seemed like a chameleon, that could blend, but with learning capabilities that only strengthened his facades. However, after reading his book Catch Me if you Can, my understanding of Abagnale changed. He became a womanizer, and more childlike, even thought he was nearly 32 when his book was published. He wrote simply but dressed up his vocabulary with strategically placed words with complex meaning. Abagnale the man, was less of a man than the men that dedicated their careers to catching him. Not enough light is shed on the F.B.I's time and effort in convicting him, but rather more is spent on glamorizing the life of a criminal and a liar.
"[L]aw is full of technicalities. Technicalities are what screw up justice"
-Frank Abagnale Jr.
Abagnale, Frank W., and Stan Redding. Catch Me If You Can. New York: Grosset & Dunlap, 1980. Print.
This source provided an abundance of information that formed the personality of Frank Abagnale. It is written in a first person narrative style and is heavily detailed with information, filling in the gaps that other sources could not provide. Abagnale's retelling of events is questionable in regards to his past as a criminal and compulsive liar. This reading was used merely as a guideline for names and explanations from the author himself.
"Frank Abagnale Biography." Bio.com. A&E Networks Television, n.d. Web. 18 Dec. 2012.
This source provided a well fleshed out time line of events surrounding Frank Abagnale's life and crimes. From it, I gathered useful information about Abagnale's childhood leading up to his first crimes, and critique of Abagnale's published work. However, even though the source is world renowned and has done manly profiles on a number of influential figures, it's lack of information regarding the author of the article was discouraging.
LIANE, HANSEN. "Interview: Frank W. Abagnale Jr. Discusses His Crime-Filled Youth And How He Is On The Other Side Of The Law Now." Weekend Edition Sunday (NPR) (n.d.): Canadian Reference Centre. Web. 18 Dec. 2012.
This source provided more insight to Abagnale the person, rather than the criminal. It offered more explanation for Abagnale's behaviour and an "up-to-date" image of Abagnale in 2001. Abagnale appears to be clear cut, and to the point, but becomes elaborate when he explains his alleged escapes and time spent posing as a doctor.
Related Topics