Frailty, thy name is woman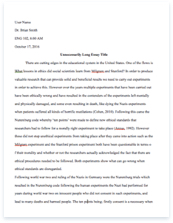 The whole doc is available only for registered users
A limited time offer! Get a custom sample essay written according to your requirements urgent 3h delivery guaranteed
Order Now
Frailty is defined as being fragile, foible, and having a moral weakness (Oxford Dictionary). At one point during the play Hamlet, Hamlet states, "Frailty, thy name is women" (i.ii.146), generalizing that all women are frail. During the period Hamlet was written, the society was patriarchal, therefore, the women were very dependent on the men, and were unable to exist independently. Through their submissiveness Gertrude and Ophelia are treated as marionettes, who are easily manipulated by those around them. Thus their behavior portrays the frailty of their characters. They are similar in the sense that they are frail, however, they displayed distinct aspects of frailty. Gertrude lacks moral fiber and Ophelia exhibits emotional weakness and weak character.
Gertrude demonstrates moral frailty, as she does not contend to common rules and beliefs. She hastily marries Claudius, longing for the affection she loses when her husband is murdered. She is oblivious to the fact that her marriage to her brother-in-law was immoral, but she marries him to maintain the protection and affection that she desperately needs. Although Gertrude is Queen of Denmark, she does not have a strong presentation within the play–monarchs, being men or women, are active in their country. Frightened of arousing contradictions, Gertrude allows the men to make decisions affecting the court without consulting her–For example, she allowed for Claudius to independently reach the conclusion that Hamlet should leave for the well being of the people of the court (iii.iii.1-7). Gertrude makes small conversations and then is told to leave, an order she obeys readily and without complaint. Claudius states, "Madam, come" (i.ii.122) and "O Gertrude, come away" (iv.ii.28), and Gertrude does not refuse to reject his orders; when he says "Sweet Gertrude, leave us too" (iii.i.28), Gertrude replies to him by saying "I shall obey you"(iii.i.37).
Gertrude gives in to Polonius wanting to remain in her room (during the closet scene) thinking that she may need protection from her own son. During the closet scene, Hamlet tried to make his mother aware of her wrongful actions, but she is unable to withstand the confrontation and breaks down. Hamlet verbally attacks Gertrude by saying "Nay, but to live/ in the rank and sweat of an enseamed bed,/ Stew'd in corruption, honeying and making love/ Over the nasty sty". Gertrude feels guilt and pleas for Hamlet to stop insulting her relationship with Claudius and cries, "O speak to me no more./ These words like daggers enter in my ears./ No more, sweet Hamlet" (iii.iv. 92-96). Gertrude does not have the strength to command her son to stop insulting her relationship. Gertrude becomes morally frail due to the fact that she is vulnerable to change for her environment.
In comparison to Gertrude, Ophelia always wants to please those around her, thus she loses self-confidence and becomes widely dependent on the men in her life. Although she truly loved Hamlet, she becomes a puppet and follows her father's orders for confronting him (the nunnery scene) so that her father and Claudius can spy upon him: "Ophelia, walk you here.–Gracious so please you,/ We will bestow ourselves.–Read on this book,/ That show of such an exercise may colour/ Your loneliness (iii.i.43-46). She is highly dependent on her father, thus to appease him–and maintain the support that he provides throughout her life–, Ophelia is content on making personal sacrifices, such as refraining from returning her declaration of love for Hamlet: During a one on one conversation with his daughter, Polonius states "…I would not, in plain terms, from this time forth/ Have you so slander any moment leisure/ As to give words or talk with the Lord Hamlet./ Look to't, I charge you. Come your way"; and Ophelia replies to him by saying, "I shall obey, my lord" (i.iii.132-136).
When Hamlet says, Ophelia, "Get thee to a nunnery" (iii.i.121), and tells her he no longer loves her, Ophelia does not have the willpower to speak up and defend herself. This is due to the fact that in his earlier designs, sending gifts and promising marriage, Hamlet confused Ophelia's state of mind. After Hamlet causes the death of her father, Ophelia descends to madness and sings senseless songs: " Tomorrow is Saint Valentine's day,/ All in the morning betime,/ And I a maid at your window,/ To be your Valentine" (iv.v.48-51)–which has nothing to do with her father's death. Ophelia, having no sense of direction, looks forward to her brother coming and stabilizing her life for her as she says, "…My brother shall know of it" (iv.v.70). However, Laertes is unable to take responsibility for Ophelia, and she realizes this. As she is giving out flowers to the bystanders, Ophelia says, "…I would give you some violets, but they withered all when my father died" (iv.v.182); explaining that dependence and faithfulness died along with her father–violets are the flowers of faithfulness (Hamlet p.101). As she drowns, Ophelia chants "old lauds,/ As one incapable of her own distress" (iv.vii.177), and flowers surround her–they characterize the delicateness, innocence, purity and fragility of Ophelia. Having her strings in the hands of her controlling men causes Ophelia to have a pitiable character and emotional frailty.
The characters of Gertrude and Ophelia directly fit into the definition of frailty–they are fragile, foible and morally weak. Gertrude and Ophelia appear to be attractive, however, one is morally weak, and the other is emotionally weak and has a fragile character. Their passive performance leads to Gertrude and Ophelia becoming susceptible to frailty and receiving pitiable dealings.
Related Topics