FBI Child Pornography Investigations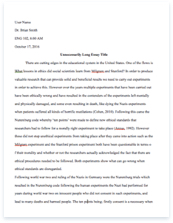 The whole doc is available only for registered users
A limited time offer! Get a custom sample essay written according to your requirements urgent 3h delivery guaranteed
Order Now
In conducting an investigation regarding child pornography, the FBI created an account (user name) on Limewire—peer-to-peer file sharing software. Using their established account, they searched the database. Any users/account holders who logged on to download and/or upload, had their IP address(es) recorded. The FBI gained access to their personal information via the internet service providers. The data provided to the FBI included Jacob Covington's personal information. The following morning, several agents went to his home; however, Covington was not home. Covington's roommate, Matthew Stevens, let them into Covington's room. The FBI searched the entire room and seized one computer and one external storage device. Forensic computer specialists were used to hack Covington's password, due to encryption. A search of the contents/files resulted in discovery—several gigabytes worth of child pornography. The police obtained an arrest warrant and Jacob Covington was arrested at his place of work, BestBuy, the following day.
He was searched upon arrest and his vehicle impounded—no additional information/evidence was located. Issues— Peer-to-peer File Sharing & Recording ID Addresses/Personal Information
In United States v. Miller, 425 U.S. 435 (1976), the Court held to the standing that without a reasonable assumption of privacy, information shared with a third party is risky. Jacob Covington's alleged use of a multi-user, sharing platform rightfully exposed him to investigation. Law Enforcement Seeking out Crime Katz v. United States, 389 U.S. 347 (1967), stated that there are no Fourth Amendment protections for public exposure. United States v. White, 401 U.S. 745, 751 (1971) acknowledges this risk (in exposing information/self) and adds that it includes the possibility of unknowingly exposing to an agent of the government. Agents Visiting the Residence In Terry v. Ohio, 392 U.S. 1 (1968), the Court acknowledged that reasonable suspicion of a crime allows an officer/agent to further investigate; however, investigative permissions are limited. In Payton v. New York, 445 US 573 (1980), it is reiterated that the Fourth Amendment was established to protect against unreasonable searches, requiring probable cause warrants.
A major focus in this case was the "plain language" of the Fourth Amendment regarding the importance of one's home (Lippman, p. 147-148). If protected from warrantless in-house arrests "absent exigent circumstances", it seems unreasonable to search and seize without same. If time was of the essence in Covington's case, it seems unlikely that the agents would have waited until the following morning to continue the investigation. Additional cases focus on exigent circumstances to legitimize warrantless in-home arrests/searches —Mincey v. Arizona, 437 U.S. 385, 393-394 (1978), Warden v. Hayden, 387 U.S. 294, 298-299 (1967) and Welsh v. Wisconsin, 446 US 740 (1984). We are dealing with a delayed investigation—search and seizure—in the Covington case, which should reasonably have no lesser standards. In Kyllo v. United States, 533 U.S. 27 (2001), the Court reasoned that a warrantless search of a home is rarely constitutional. The Number of Agents who went to the Residence Consent is reviewed in Schneckloth v. Bustamonte, 412 U.S. 218 (1973). It is reasoned the Fourth and Fourteenth Amendment require uncoerced consent.
The fact that several agents went to the residence could be viewed as a coercive action. Roommate Granting Entrance to Residence, specifically Jacob Covington's Bedroom & Search of Jacob Covington's Bedroom In Katz v. United States, 389 U.S. 347 (1967), there was a transition to an expectation of privacy standard—moving from the trespass method applied in Olmstead v. United States, 277 U.S. 438, 465, 478 (1928). Ultimately, the holding was that the Fourth Amendment "protects people, not places." The method was twofold—testing for personal and public agreement on reasonable expectation of privacy (Lippman, p. 60-61). In United States v. Matlock, 415 U.S. 164, 171 (1974), it was decided that a roommate ("co-occupant") has the right to consent to a search. In Georgia v. Randolph, 547 U.S. 103 (2006), the Court reasoned that secondary occupant could grant entrance for search in absent of a co-occupant's refusal—Covington was not present to do so. By these ruling, it appears reasonable that the roommate was able to authorize entrance. Seizure of the Computer and Storage Device In Illinois v. Rodriguez, 497 U.S. 117 (1990), the Court reviewed third party consent to warrantless entry and search.
It has been reasoned that consent can be obtained via a third party—it is acceptable if an error is made in the assumption of "common authority," so long as the belief was reasonable. The agents' belief of authority appears weak, considering encryption by definition draws a line at authorization—if Covington's roommate did not have the ability (or give the consent) to bypass the password encryption, it seems unreasonable to have assumed authority (or consent). Encryption and Findings Kyllo v. United States, 533 U.S. 27 (2001), says when government uses a device that is not in general public use to explore details of the home that would previously have been unknowable without physical intrusion, the surveillance is a search and is presumptively unreasonable without a warrant. In the case against Jacob Covington, agents conducted an unreasonable search and seizure of his home, confiscating a computer and external hard drive and using the FBI's forensic computer specialist to bypass Covington's encryption/password. This is a violation of his Fourth Amendment rights. The common person does not have access to a high-level FBI forensic computer specialist, meaning it is not in general public use and therefore their actions are unconstitutional.
Arrest Warrant Jacob Covington was arrested at his place of employment by law enforcement authorities. They had a warrant for his arrest for the possession of and distribution of child pornography, which was based on probable cause by the evidence found on the personal computer and drive seized from his room. Probable cause was based on the evidence retrieved from the files discovered on his computer by the FBI. Carroll v. United States, 267 U.S. 132, 162 (1925), says that "officers possess probable cause for an arrest where the facts and circumstances within their knowledge and of which they have reasonable trustworthy information are sufficient to warrant a person of reasonable caution to believe that an offense has been or is being committed". Since an arrest is based on probable cause, Covington's arrest was constitutional.
Search after Arrest According to the Supreme Court in Rawlings v. Kentucky, 448 U.S. 98, 111 (1980), a search incident to an arrest must be contemporaneous with the arrest, meaning the search must take place immediately before, during or after the arrest. Otherwise, the police will require a warrant—a search conducted too long after the arrest will be deemed unreasonable. Considering the police had an arrest warrant and the search was conducted at the point of Jacob Covington's arrest, the search appears to be constitutional. Access and Roommate's lack of Authority to use the Computer when Jacob Covington was not Present Covington's roommate, Matthew Stevens, did have permission to use Covington's computer, limited to when Covington was home. How do we know Stevens abided by this rule and did not use the computer when Covington was not home? Why would Stevens willingly allow the police to enter the home without a warrant? There is a possibility that Stevens believed if the police were to find any evidence, it would not be linked back to him since it was on Covington's computer.
In Frazier v. Cupp, 394 U.S. 731, 740 (1969), police who were conducting an investigation asked the defendant's cousin if they could open a bag to see what was inside—his cousin agreed. According to the Supreme Court, Frazier had "assumed the risk that [his cousin] would allow someone else [the police] to look inside". Additionally, in Illinois v. Rodriguez, 497 U.S. 177 (1990), it was determined that consent may exist if:  it is given by an individual "who possesses common authority over the premises to be searched" or police "reasonable rely on consent from an individual who, in fact, lacks common authority". In this case, Covington's roommate possessed common authority over the computer since he had been given permission to use it. When he allowed the agents into the room to search, it appears to have observed the requirements on the law. In numerous past rulings, the Court has upheld the Fourth Amendment's clearly worded support for security in one's home, viewing it as primary protection.
In this case, there are numerous components to the search of Jacob Covington's dwelling and subsequent seizure of his computer/hardware. It seems contrary to consider that a third-party has common authority to consent to warrantless entry and search (of computer), yet completely dismiss the possibility he was the active user of the Limewire account—authority without responsibility. Additionally, we must consider the scope of the search, including the time it took for agents to visit Covington's residence after the discovery of the child pornography files and the number of officers that arrived at the home, which could be considered coercive action. Covington's roommate justifiably let the officers into the apartment and room, but not into the computer/storage device—again, with authority comes ability.The questions raised in this case pertains to protections under the Fourth and Fourteenth Amendments—due process and reasonable search and seizure practices.
We must consider if the chain of events complied with allotted constitutional protections. We conclude that violating the privacy of one's home has been tightly controlled by the Court in many instances. While exigent circumstances are an exception, albeit rare, a delay in the investigation (next morning) does not indicate haste. Additionally, the assumption of authority over the computer appears unreasonable based on the roommate's inability to access without Covington's direct allowance (password). So based on the facts that law enforcement officials did not immediately seek access to Mr. Convington's home after the discovery of evidence of child pornography, the warrantless in home search and seizure, and the failure to consider that the roommate, Matthew Stevens could in fact be the guilty party, it is our recommendation on these things that we believe that our client Jacob Covington be found innocent on the charges of the possession and distribution of child pornography.
Related Topics