Family of Woodstock, Inc.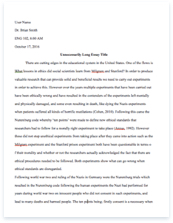 The whole doc is available only for registered users
Pages: 4
Word count: 828
Category: Family
A limited time offer! Get a custom sample essay written according to your requirements urgent 3h delivery guaranteed
Order Now
Family of Woodstock is a place where teens and adults are assisted in many ways. I am an interviewee for the upcoming position here at Family of Woodstock and I would like you to be aware of my knowledge and to let you know why I applied. I am a person that is really interesting in helping other people and that is the reason why I am graduating with a degree in human service. After reading and learning about the facts of Family of Woodstock, I became very interested in the working for the organization as I would like to take part of the people helping the young adults by providing my knowledge and skills. It is very difficult to prepare an organization as well as to understand the needs of the people. A person has to have the heart to be able to help others in need; otherwise that person will not be able to fully assist others. Family of Woodstock began as the founders found several factors that led them to create such an awesome organization. The people in need are the people that inspired the founders to open the organization. The founders had to learn and understand why so many teens and young adults had decided to run away or to escape the confines of the world they had been living in.
Listening to their reasons and to understand why is what helped them plan an organization that would be able to assist them fully. The founders saw how people slept on benches, on parking lots, hitchhiking, and even seeking out food and clothing. These are some of the reasons that led the founders to provide them with a shelter and other assistance needed such as clothes and food. Once the organization was established, they were able to specialize to meet many of the needs of the people in their community. After reviewing how the organization was established and how it has worked in a 40 year period, it is clearly seen that the organization has been able to keep the doors open and providing services in different areas. The 24 hour hotline was established back in 1970 and there have been changes since then. Now people that need assistance with drug abuse are able to call the line for assistance. Then there are medical services established as well as the free store. Serious issues that have become large in society have been issues that the Family of Woodstock has tried to help and offer services.
From emergency housing, to domestic violence, to helping teen runaways, the homeless, and walk in centers, family of Woodstock does meet and is still meeting the needs of Ulster county. The beliefs and values began when Family of Woodstock decided to help the young people that were coming to the little town looking for help. There were people in that town that belived that it was not their problem to help those in need but there were also many volunteers that decided to help and that is how Family of Woodstock came together. The belief in those volunteers is what made Family of Woodstock. Soft Landing Machine was the first main volunteer group which helped those consuming drugs. Those volunteers took time to talk to the people in need and spent some time with them to understand what they were going through. Today, the volunteers and employees are what make Family of Woodstock, with the diverse backgrounds, experience and interests but one thing is for sure they share common values. Human services share a common goal and value and that's helping to improve one's life, rather its social economic or the economics of well-being of individuals and families that they serve.
While most human service programs serve to different clients and offer different services, most clients have many issues and need to seek out numerous services. However, as human services develop programs to help service to the clients we must remember that there should be a numerous of other services as well. When specializing in human services delivers we need to be aware of what major issues are causing suffering in today's society, and what's the minor issue. This goes to say that specialization of any human service delivers have become a trend across the profession do to the fact that as professionals they now and understand what issues families and individuals go through, rather because of experiences or knowledge. In conclusion, Family of Woodstock has helped other Human service organizations become specialized in helping. With the knowledge and understanding the importance of helping others, Family of Woodstock has become an organization that has lasted for forty years based on what's important to them.
References
Burger, W. R. (2011).Human services in contemporary America(8th ed.). Belmont, CA: Brooks/Cole, Cengage Learning. EBOOK COLLECTION: Ch. 3 of Human Services in Contemporary America Family of Woodstock turns 40. (n.d.).Family of Woodstock turns 40. Retrieved May 5, 2014, from http://www.dailyfreeman.com/general-news/20100808/family-of-woodstock-turns-40
Related Topics