Explanatory Summary of "Is Facebook Making Us Lonely"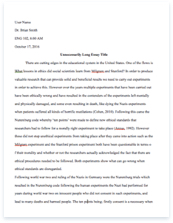 The whole doc is available only for registered users
Pages: 5
Word count: 1097
Category: Facebook
A limited time offer! Get a custom sample essay written according to your requirements urgent 3h delivery guaranteed
Order Now
17 September 2012
Explanatory Summary of "Is Facebook Making Us Lonely"
In the Stephen Marche's May 2012 publication in The Atlantic, "Is Facebook Making us Lonely", explores the history and usage of social networking along with the most recent theories in order to argue that social networking depends on the user's motives not, social networking itself. Facebook does not create loneliness, but it does not exterminate it either. It all depends on ones usage. Marche begins his article with a story. The story is about Yvette Vickers, a former playmate and actress, who died months before anyone realized she was dead. Although, Vickers had devoted fans she only connected with them through social networking. This informs the reader that Vickers had no close companionships, due to the fact that it took so long to discover her death. It was discovered that her computer was on when she died. Marche describes Vickers's story because it dramatically highlights the intense loneliness a person experiences when they have no real human companionships, just virtual ones. The Los Angeles Times posted about Vickers's death. It instantly went viral. Her death increased a growing fear of loneliness. Vickers received much more attention in death then she did in her last years of life. Soon Vickers's fame began to fade.
Marche includes this information to show that Facebook and Twitter "trends" aren't real grief and they only last a brief moment. Next Marche explains, the way Internet has begun to make our society less social, making us lonelier. Marche uses large number amounts of money and yeas to show how much is invested causing the reader to forma an opinion that Facebook has high influential tendencies. Marche explains the deception of Mark Zeckeberg, In The Social Network. He explains this as it pertains to his article " Is Facebook Making Us Lonely?" Marche states, "Facebook, arrived in the middle of a dramatic increase and intensity of human loneliness"(62). Eric Klinenberg, a sociologist at NYU, explains that it is really about the quality not so much the quantity of social networking. Marche describes how Eric Klinenberg gives the various tests to people to see if they are lonely and about the epidemic of loneliness, which plays into if loneliness causes the lonely people revert to the social network. Furthermore, Marche explains to the reader that in the 1940s professional and social services were not in such high demand as they are in 2010. Marche's explanation for this is the societal breakdown. He also states that loneliness puts those at a greater risk for many things such as: obesity and inflammation. Marche says loneliness is something normal with Americans. When Americans get money they buy something better and less populated. Stating all of this Marche explains this because it also gives evidence to his thesis.
Marche says one common feature in American culture is its celebration of the self. Which, Franklin Delano Roosevelt, former president, calls individualism " The great watchword of life". Marche explains that Americans are lonely because they want to be, but the question is, Is Facebook causing us to separate or bring us together? Gathering for warmth or leaving us in pain? Marche makes it clear that he has no real definite opinion, but indicates in a way for the reader to infer some idea of their own. Marche says it is not just Facebook causing loneliness but the Internet itself, He explains how a prominent 1998 article by a team of researchers explains how the increase in Internet increases with loneliness. Yet it may be that Facebook encourages contact with people outside of our household. Lonely people are inclined to spend more time on Facebook. Yet another research study by Mona Burke, until recently a graduate student at the human-computer institute at Carnegie Mellon, also discovers that reasons for Facebook varies, for example it could be used for business purposes, Interactions with others, to discover long lost relatives etc. The list goes on. Marche includes all of this information because it provides research on the fact that not all people that use Facebook are necessarily lonely. Marche goes into detail about Jon Cacioppo's, the director of the Center for Cognitive and Social Neuroscience at the University of Chicago and the world's leading expert on loneliness.
Marche explains how Cacioppo reveals how much loneliness is affecting human psychology. To Cacioppo, Internet communication allows "ersatz intimacies"(68). Marche tells the reader that in one of Cacioppo's experiments, Cacioppo looked for a connection between loneliness of the subject and relative frequencies of their interactions. In Cacioppo's study he concluded with if one uses Facebook to increase face to face interaction, then it increases social capitol, however if you turn to media instead of physical activity then that is unhealthy. Cacioppo states Facebook can be terrific if it is used properly. Marche goes into detail about John Cacioppo's research on loneliness to provide other opinions and research on the idea "Is Facebook Making Us Lonely". Marche continues with stating that loneliness is not caused by the social media, but Americans are causing themselves to be lonely. The new technologies lure Americans to superficial interactions. Marche says that Facebook allows its users to be themselves without the embarrassment of reality. Facebook gives its users a sense of happiness. This cause the reader to indicate that Facebook is not all bad, but this is not Marche's point exactly.
His point is to give evidence and facts to support his thesis. The author continues his article and brings about Sherry Turkle, a professor of computer culture at MIT. Marche explains that Turkle is much more skeptical of the online society. She feels that the problem with social networking is that it is incomplete. It does not give the entire connection with actual humans. Marche talks about Lanier and Turk and their diagnoses of NPD and how it was correct. Narcissistic personality disorder (NPD) is a condition in which people have a extreme sense of self- importance and a high preoccupation with themselves. Lanier and Turk survyed 35,000 people of narcissistic personality disorder (NPD). One in sixteen americans has NPD. Marche feels the danger with Facebook is that it threatens the American nature of solitude. Facebook revealed that it is not the same as a real human face to face interaction. Facebook does not give its users the pleasure to forget our worries, but a chance to disconnect form reality. So this all concludes to that Facebook does not cause loneliness but it is a way to ease it, To give false companionships and to bring communication.
Related Topics