Example of Injustice – 'of Mice and Men'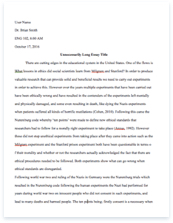 The whole doc is available only for registered users
A limited time offer! Get a custom sample essay written according to your requirements urgent 3h delivery guaranteed
Order Now
How is what happened to George and Lennie in Weed an example of injustice, and how does this foreshadow the end of the novel?
Throughout the novel 'Of Mice and Men, we learn a lot about injustice and racism. 'Of Mice and Men' is a novel set on a ranch in Weed, California during the Great Depression of the 1930s. Social injustice is when a person or a group of people feel they are better than the people who are different by race, intelligence, age, sex, or other differences. In the novel, no one gets treated fairly and lots of people were affected by social injustice. Curley is a great example of injustice; he is rude and mean towards Lennie just because Lennie is a broad man. Curley doesn't like men that are larger than him, so he singles out Lennie and attacks him. 'No big son-of-a-bitch is gonna laugh at me. I'll show ya who's yella.' Curley also shows great injustice towards his wife; he's always out looking for her like she has no right to go anywhere by herself – 'You seen a girl around here?' Also we find out that Curley beats his wife which now a days would be illegal but back then nobody really cared. Another good example of social injustice is Crooks. Crooks has to be alone all the time because he is black. 'Maybe you better go along to your own house now' When Crooks tells Curley's wife to leave his room, she threatens that she can get him lynched.
This reduces Crooks to a big pile of nothing and crushes Crooks dreams of going to the dream farm. He only responds with a series of yes ma'am 's and then becomes beyond depressed. George and Lennie had faced a great deal of injustice throughout the novel. Lennie being one of the main characters in the book also suffers from one of the heaviest examples of injustice. Lennie is big, strong, and mentally ill. He does not realize his own physical strength, and therefore he constantly becomes a victim of it throughout the book. When he starts being picked on by Curley, he doesn't know what to do. Curley picks on Lennie because he is big and Curley isn't, therefore Curley is jealous of his size and constantly shoots him down. Curley doesn't understand what's wrong with Lennie and how he doesn't know how to fight back against him and even if Curley did know what was wrong with Lennie, he probably wouldn't have cared – he still would have used Lennie as a tool for taking his anger out on.
Another case of injustice against Lennie is when he's being hunted down for the murder of Curley's wife. Although Lennie was the one who killed her, Curley and everyone else don't realize that he never meant to hurt her. Slim, George and Candy are the only ones who know what has really happened, but they don't tell the truth knowing that no one will listen to them anyway which demonstrates lack of justice and rules. In this essay I have pointed out some of the main examples of social injustice in California in the 1930s, these show us how different it was back then from what it is now. It leads us to the sad ending of the novel where Lennie gets shot thanks to his mental illness and the injustice he had to face because maybe if there were certain rules, Curley and others wouldn't go to hunt Lennie down and George wouldn't have to shoot his friend in order to prevent him from a slow and painful death. Maybe Curley would try to solve the problem legally and Lennie wouldn't have lost his life due to a mistake and a misunderstanding.
Related Topics