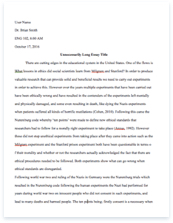 The whole doc is available only for registered users
A limited time offer! Get a custom sample essay written according to your requirements urgent 3h delivery guaranteed
Order Now
Every company has a code of ethics that they use to provide their organization with as a framework to guide them in their responsibilities and to assist them in situations that they might find unethical in nature. The American College of Healthcare Executives (ACHE) is an international professional society of more than 30,000 healthcare executives who lead hospitals, healthcare systems and other healthcare organizations (www.ACHE.org). The organization is known for their educational programs including the annual Congress on Healthcare Leadership (www.ACHE.org). ACHE's works towards their goal of being the premier professional society for healthcare executives dedicated to improving healthcare delivery (www.ACHE.org). This paper will discuss the code of ethics that professional organizations use to provide their organization with a structure to direct them in the performance of their job responsibilities, in situations that might be otherwise ethically incorrect.
Self AssessmentThe Ethics Self-Assessment can help identify those areas in which are on strong ethical ground; areas that you may wish to examine the basis for your responses; and opportunities for further reflection (www.ACHE.org). It is not a scoring assessment because everyone has different beliefs and therefore, cannot be scored numerically. This Self-Assessment can help medical professionals identify those areas in which they have a strong ethical ground; areas that they may wish to examine the basis for their responses; and opportunities for further reflection (www.ACHE.org).
The concept of procedural justice is the base application of organizational decision making. This application shows organizations that they need to rely on a deliberate process to foster fairness through a clear understanding of all competing values in response to a particular ethical conflict (Nelson, W.A., 2005). In order to be successful, the decision makers need to take into account the perceptions and values of all of the people who are affected with the decision at hand and allows them to explore various options and how the options are driven by underlying values (Nelson, W.A., 2005). There are no simple answers to the issues of ranking priorities; however; the organization's mission and value statement may provide guidance when ranking the interests or values of one over another (Nelson, W.A., 2005).
There are eight steps to the Ethical Decision-Making Process. Clarifying the ethical conflict is the first step. The questions need to be clearly defined so that all individuals involved need to be able to agree that is an ethical question. If the conflict is found not to be an ethical question than it would need to be referred to another person to handle. The second step is to identify all of the individuals and/or programs that are part of the ethical question at hand. Understanding the circumstances surrounding the ethical conflict is the third step in this process. This step is to provide an abundance of facts and findings which includes why the question has surfaced, how it is currently addressed in the organization or specific department (Nelson, W.A., 2005). It is important to identify the economic, patient care, legal, and/or community concern (Nelson, W.A., 2005).
The fourth step is to identify the ethical perspectives relevant to the conflict. Identifying the actions and responses that can be taken to resolve the ethical question/issue is the fifth step in this process. The individuals involved with the decision making process needs to ensure that they have systematically and quantitatively evaluated each option which is considered to be the sixth step (Nelson, W.A., 2005). The seventh step is to share and implement the decisions. The decisions need to be publicly disclosed along with the ethical reasons behind them (Nelson, W.A., 2005). Finally, everyone involved must review the decision to ensure it will achieve their desired goal. Reviewing and communicating the outcome can be either formal or informal depending upon the issue at hand. If the outcomes course of action doesn't resolve the issue than the organization needs to explore other options based on the information that they (Nelson, W.A., 2005).
Writers Self Assessment AnalysisThis writer was able to understand what areas she was strong in as well as showing what areas she needed to review and improve upon. Through researching the questions that were answered with either occasionally or usually the writer realized how important it was to keep in mind the code of ethics while dealing with every situation. The decisions made and the actions taken in response to ethical questions are critical because of their direct impact on the quality of care (Nelson, W.A., 2005).
After reviewing the Ethical Self-Assessment this writer realized the importance of the Utilitarianism theory also know as social consequentalism. This theory expresses that the moral worth of an action is solely determined by its contribution to overall utility, that is, its contribution to happiness or pleasure as summed among all persons (Baillee, H.W., Garrett, R.M., and Garrett, T.M., 2001). This theory holds that one should act so as to do the greatest good for the greatest number (meaning that the moral worth of an action is determined by its outcome-the ends justify the means (Baillee, H.W., Garrett, R.M., and Garrett, T.M., 2001).
ConclusionIn conclusion, ethical self-assessments are crucial and must be used as an important tool in every healthcare organization. The different situations raised within this industry cannot afford to go unnoticed ethically. Every individual plays a vital role in the success of healthcare and there are numerous amounts of ethical dilemmas in regards to quality, availability and oversight. The self-assessment tool when reviewed accurately can assist everyone involved in the decision making of their organization especially with the abundance of issues that are raised daily which cannot afford to be overlooked. It provides sufficient information for every organization to handle current issues effectively and ethically so that the processes are handled effectively and each person involved understands what their particular role is within the process.
References:
American College of Healthcare Executives (2008). "About Us". Retrieved online on January 18, 2010 from http://www.ache.org/aboutache.cfmAmerican College of Healthcare Executives (2008). "Purpose of Ethical Self Assessment". Retrieved online on January 18, 2010 from http://www.ache.org/newclub/CAREER/ethself.cfmBaillee, H.W., Garrett, R.M., and Garrett, T.M. (2001). "Health Care Ethics: Principles and Problems – Chapter 1." Retrieved online on January 18, 2010 from UOP website https://ecampus.phoenix.edu/content/eBookLibrary2/content/eReader.aspxNelson, W.A. PhD. Healthcare Executive (July/August 2005). "An Organizational Ethics Decision-Making Process". Retrieved online on January 18, 2010 from http://www.ache.org/ABT_ACHE/EthicsToolkit/Ethical_Decision_Process.pdf
Related Topics