Various Forms of Entertainment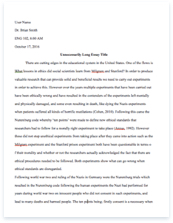 The whole doc is available only for registered users
A limited time offer! Get a custom sample essay written according to your requirements urgent 3h delivery guaranteed
Order Now
Entertainment has rapidly taken on many different forms in the 21st century, and has become an integral aspect of people's daily lives. Neil Postman, an American author, describes the current nature of society, "Our politics, religion, news, athletics, education and commerce have been transformed into congenial adjuncts of show business, largely without protest or even much popular notice. The result is that we are a people on the verge of amusing ourselves to death." Industrial Society has made influential technological innovations that have captivated and redefined the daily tasks conducted by people. Although many people believe that the 21st century has increased the quality of life, it has led to a deception of intellectual values because people have become so accustomed to following their delights instead of their passions, and bears risk to the regress of society.
The growth of technology and its capabilities in the past 20 years has been unprecedented. This has led to a wide amount of effects and a reconstruction of many common day tasks. Many people have forgotten how to use common sense and analytical thinking to decipher problems because they have been given an abundance of help and convenience. For example, a simple task such as finding a particular route on an atlas or globe has vanished through the competence of using a path construed by a smartphone. There are various other applications that simplify down assignments or work, and this causes people to lose their common thinking skills and instead rely on an electronic piece of hardware. In the case of an emergency, or even a momentary failure of technology, many people would not be able to logically reason a solution or improvise. According to Nielsen Total Audience, a media consumption analyzer, "Americans spend on average watching five hours of television per day." Entertainment has begun to take over the lives of many Americans, and leaves society trapped in a reliance on digital broadcasting. People begin to lose their work ethic and focus on more important things in life, instead of striving for their deepest ambitions and contributing to the development of society.
Many people believe that commerce has made a positive global impact that has fostered business transactions and improved the standard of living nationwide.However, not all forms of commerce are beneficial to the consumers. Although productivity has increased, it can lead to multiple consequences. For instance, the fast food industry has reached a prominent level in society and has changed the American culture. Eric Schlosser, author of Fast Food Nation, states, "Americans now spend more money on fast food than on higher education, personal computers, computer software, or new cars. They spend more on fast food than on movies, books, magazines, newspapers, videos, and recorded music-combined." The spread of this food commerce industry has led to the transmission of deadly pathogens as well as a massive rate of obesity that slows or removes working procedures or advancements. In the 1970s, a farm activist called Jim Hightower, warned of "McDonaldization" taking place. The idea refers to the takeover of the complete food industry by fast food and the homogenization of American culture. This leaves no room for growth or competition in a capitalist market, and beckons the downfall of our unique and diverse cultural patterns.
Related Topics