Employee Motivation at Pasquinelli Homes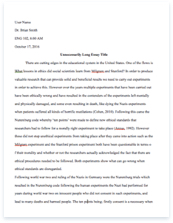 The whole doc is available only for registered users
A limited time offer! Get a custom sample essay written according to your requirements urgent 3h delivery guaranteed
Order Now
Problem Analysis
High rate of employee turn over is a tell-tale sign of low morale and dissatisfied employees. There are different factors that cause the high turnover in business.  It could be because of the mismatch between employee's skills and the job, unequal or substantial wage structures and the lack of opportunity for advancement and growth.  Job satisfaction has direct economic implications.  Low job causes high rate of absenteeism, low levels of effort on the company and high rate of quitting. (Steers and Porter, 1978)  This indicates that dissatisfaction could cause lower productivity and high labor cost which would ultimately translate to a decline in company profits.
That Pasquinelli homes has had the same director for over 20 years and all the decisions have to go through him reveals that the company follows a highly centralized organization. Moreover, there is lack of communication between upper management lover management and employees.  An offshoot to this predicament is low productivity and company losses that entailed streamlining the organization through personnel dismissals in order to minimize costs.
In a centralized organization, decision making functions are pushed up to the higher hierarchies in the organizational structure.  Considering that communication between management and employees is also deficient, employees feel alienated to the objectives and operations of the company.  As a company primarily engaged in marketing, a mechanistic organizational set up is not appropriate for Pasquinelli home.  It should streamline organizational decision making and find a way to cultivate employees' personal mastery.  This is necessary because the nature of the company's business requires greater use of human resources as marketing entails networking, making decision that is close to action and finally, quickly responding to market changes. To achieve this, the following strategic alternatives are evaluated:
Downsizing – The Company have already implemented layoffs in order to cut down costs. Downsizing further will only aggravate employee discontent and disgruntlement aside from creating a poor image of the company.
Changing leadership by hiring a new director – Hiring a new director will not necessary change the situation if decisions remain centralized on this position and the management still refuse to involve employee in decision making functions.  This alternative also does not address to problem of allowing employees to grow professionally which is another major problem identified.
Solution
Adopt an organic organizational structure.  Organic organizations feature decentralized decision making and adaptive learning.  (Bass and Riggio, 2005) This organizational structure is low in specialization, formalization, and centralization, which is ideal for a company whose nature of business is principally engaged in marketing where the business environment is fast changing and innovative.  Because organization members are practically equal in terms of professional skills, adherence to the chain of command is flexible and self control is emphasized.  This structure also follows a flat organization where the span of control is wide because members are usually co equal with each other and reports only to the director or manager.  A flat organization puts high premium on training and acculturation, which are responsive and cost effective to marketing organizations.  (Chawla and Renesch, 1995)
Another variable that affects the design of organization design is departmentalization or the creation of departments.  It is the process through which an organization's activities are grouped together and assigned to managers.  In the case of Pasquinelli homes, it is advisable for it to follow divisional departmentalization or the grouping of departments into self contained units or purposes in line with adopting an organic organizational structure.  As a marketing company, it should create a mini units under go departmentalization geographic or territorial Departmentalization.  It is a division in which departments or units are established for each of the territories in which the company conducts business. (Bedeian, 1984) While the functional organization is simple, obvious, logical, efficient and effective in facilitating control, a divisional organization allows focus by territory, which is advantageous for monitoring performance and decentralizing the burden and pressure from the company's top management i.e. director to the department or area managers
Moreover, an organic organization promotes participative approach in decision making.  While the management is fundamentally responsible for the establishment of organizational goals and objectives, it should ensure to inculcate commitment of the employees to the mission and vision of the organization by establishing a goal that is compellingly attractive and parallel with the individual employee's goals and getting everybody to act on it.  Following the Goal-setting theory that stipulates that motivation of employees to perform is carried out through the evaluation of the fulfillment or progress in the achievement of specific goals. (O'Neil and Drillings, 1994), management should consider a participative approach in defining the over all objectives of the company by involving the employees in the formulation of company mission and vision.  If individual goals are aligned with the general goal of the company, people will naturally seek responsibility and are willing to help solve problems by working.
Finally, an organic organization allows employees to learn and to confront their assumed roles.  One of the most important motivator to work is still the priceless opportunity for a person to improve himself.  It is in a person's work that he is able to assert his personality.  This means that work is the best form of continuing education.  From his work environment the potentials that he possesses are drawn out and tested.  As it is common for a certain workplace to be filled with problems, a person has to draw out from his being every talent he has to confront and solve such problems.  The challenges he faces at work leads him use the personal resources within him, giving him opportunities for self-improvement and development. In addition, it is equally important to provide workers adequate facilities and proper working environment.  A company needs to recognize that the work force have physical and psychological demands that must be met so that they can work effectively.
Another aspect that the individual seeks is his being productive in the use of his mind and creativity.  This aspect of the job makes it interesting and challenging.  A person gets occupied in a real sense when he has the opportunity to use whatever knowledge he already has or when he is forced to acquire newer knowledge in order to resolve a problematic situation confronting him.  He escapes boredom and his work becomes worthwhile.  He can then think positively, viewing problems not as burdens that bear him down but as challenges that can lead him to greater achievements.  This will make him diligent, for the reason not only because he loves his work but also because he is ever on the look-out for better wages and means of solving problems and meeting challenges.
It is also important to give a person the chance to make his own decisions in work.  In well-run and successful companies, there is the inclination for sharing decision – making, responsibilities and for bringing as many types of decisions from the top to as many of the lower levels as possible.  In this way, a man at work can set target, can calculate the resources needed and can be subsequently deploy and employ them in order to meet the targets.  This instills, in the worker a spirit of initiative, which enables him to move on his own, without having to wait for detailed instructions from the top.  Being made responsible and accountable to one's decision contributes to a person's effectiveness and productivity.  Anyone who constantly exercises the use of his mind and of his will in his work becomes a better person in the process.  His mind enables him to rise.  He gets to do his work, but he also becomes a more self-fulfilled person, because he gets to express himself in rich and diverse ways in the work that absorbs him.
Action Plan
Leadership Training – the director of the company should undergo leadership training that focuses on implementing learning organizations an organic organization structure and change management.  While every member of an organization is important for the accomplishment of a task or change, the importance of every member also varies. In both change and project management, it is important to identify and assess the importance of the people who are involved. Leaders are apparently important.  Leaders are usually the source of an idea, cause or the personality that influences the change and movement.  Nevertheless, it must be noted that every member is important in an organization because everyone plays a role for the achievement of organization objectives.  People make up an organization.  People define an organization.  The success of any organization relies heavily on the human capital.  Thus the human resource is the key ingredient to a successful change management. (Paton, and McCalman, 2000)   The success of any endeavor including change largely depends on the people who shall embrace them.  This is because this is the only resource that is rational and capable of innovating change that creates competitive advantage.
Reorganize the company – The company will be reorganizing to follow an organic organizational structure.  Employees are organized around self-directed groups by territory covered. This structure puts high premium on flexibility so that the organization can quickly be responsive to changes and demands of the organization.  A flat organization also helps stress on training and acculturation to the benefit of all its members.  Under this set up, the organization seamlessly complied with the equity motivational theory which acknowledges that subtle and variable factors affect each individual's assessment and perception of their relationship with their work. Employees are prevented to compare among themselves as they are fairly given the pay and respect they earn in relation to their time and effort.  Finally, because associates often approach the planning and performance of tasks together, cross functional meeting are constantly conducted allowing more informed decisions among members.  (Marsick and Watkins, 1999)
References
Bass, B.M and Riggio, R. (2005). Transformational Leadership. Routledge Press
Bedeian, A. 1984. Organizations: Theory and Analysis : Text and Cases. Dryden Press
Chawla, S and Renesch, J., (1995). Learning Organizations: Developing Cultures for Tomorrow's Workplace. Productivity Press
Marsick, V. and Watkins, K. 1999. Facilitating learning organizations: making learning count. Gower Publishing, Ltd.,
O'Neil, H. and Drillings, M. (1994). Motivation: Theory and Research. Lawrence Erlbaum Associates
Paton, R, and McCalman, J. 2000. Change Management: A Guide to Effective Implementation. Sage Publications
Steers, R. and Porter, L. 1978. Motivation and Work Behavior. McGraw-Hill Pulications
Related Topics