Effects of Advertisement on Indian Children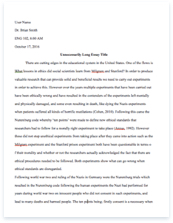 The whole doc is available only for registered users
A limited time offer! Get a custom sample essay written according to your requirements urgent 3h delivery guaranteed
Order Now
Background: Advertisements has been a part of our culture and its impact of young children has been a concern for quite some time. The Society at large must raise their voice. Aim: This study was conducted to find out the implication of irresponsible advertisements and their impact of children of aged 7-15. Methods: Cross-sectional study was conducted on children and parents with two separate independent questionnaires. 500 students from schools and 120 families are the subject of the study. Results: Rise in the sales of junk food, growth in TV ads, harmful content broadcasting, and no regulation over unhealthy food and development of bad habits among children. Conclusion: Strict enforcement of regulations on advertisements in any form, corrective measures and a need of guidelines under the supervision of the government and society.
Keywords: Advertisement, Children, Health, Regulation
Introduction
The term advertising is derived from the original Latin word 'advertere' which means 'to turn' the attention and according to the New Encyclopaedia Britannica, "Advertising is a form of communication intended to promote the sale of a product or service to influence the public opinion to gain political support or to advance a particular cause."Today Children purchasing power is approximately $ 700 billion which is more than the economy of 115 poor nations combined. In a complex world of capitalization and heavy market competition, advertisements play a vital role in persuasion of consumer towards lines of products. Advertising is rightly considered as one of the most powerful means of influence on mass consciousness. Over its long history, advertising has evolved and has become a dominant sub-culture of human life. Most of us do not realize how advertisement effects out life-style.
Advertising is increasingly interfering in a person's life by controlling them on the conscious and unconscious levels. Though advertising is needed for economic development, as it accelerates the sale of manufactured goods, it can reduce prices, increases consumption and thereby increases output; it subsidizes media, encourages competition, and expands market and creates more jobs. Despite the fact that global market is in recession, the study suggests that advertising expenditures in all media segment throughout India are ascending by 23% and India currently holds 9th position advertising market worldwide.
Many of us believe that we do not get influenced by any sort of advertisement but people in the marketing sector thinks otherwise. Advertising rarely succeeds through argument or calls to action, instead it creates positive memories and feelings that influence our behaviour over time to encourage us to buy something at a later date. No one likes to think that they are easily influenced. In the United States alone companies invest $70 billion into marketing which contradicts with the feeling most of us have. The demographics of India are inclusive of the second most populous country in the world with 50% of its citizen under the age of 25 and 31 % of the population is under the age of 15. Marketers across the world and in India are targeting children for marketing of their products. Kids represent an important demographic segment to marketers because they have their own purchasing power, they influence their parents' buying decisions and they are the adult consumers of the future.
"Pester power" refers to children's ability to nag their parents into purchasing items they may not otherwise bought Today kids have more bargaining power and autonomy over their parents which instigate parents to purchase items of the child's choice .The reach of marketers has gone beyond the conventional media and has arrived in school books. Corporations realize the power of the school environment for promoting their name and products. The exploitation of children and forging them into future consumers by cooperate world is not new , even though advanced societies have been raising their voices and concerns to regulate the media but there has not been a great success. In the last two decades the impact of TV advertisements on children's memory and behaviour is the major topic of debates in many countries, (EU Journal 2011). Aggressive advertising of cruel amusement to children and teens (Media Awareness Network, 2005);
The impact of advertisement on food and obesity within teens and youth (Centers for Disease Control and Prevention 2010, Atlanta); Impact of Advertising on Children's Health and Irrational Behaviour (HRD Ministry 2009, Delhi), these are few literatures reviewed for the purpose of the study . This study plans to assess the paradigmatic shift and impact of advertising in consumer behaviour pattern and behaviour in life of a child from aged 7-15 from the capital city of Delhi, India. Though advertising is a vital tool to generate consumption and drive the economic growth in India but excess exploitation of underage children through advertisements can bear serious repercussions. Although there are always two sides of the coin in some ways advertisements always enhance children's knowledge and understanding. The aim of the study is to determine the characteristics of the perception and attitudes of children towards television advertisements, the nature and extent of its impact on children.
Materials and Methods
The study was conducted in Delhi, the capital city of India. For the purpose of this study two independent research surveys and questionnaires were developed. The first approach was to determine the strength of advertisement on children of aged 7-15. This survey was conducted in five different schools. The schools taken into account are government and private schools from all regions of the capital. Gayan Ganga Educational Academy, Okhla (south Delhi), Delhi Public School, CP (Central Delhi), St.Peters School, Rohini (North Delhi) , Modern Public School, Pritampura (East Delhi) and Applebee Convent School, Rajouri Garden (West Delhi) . One hundred children from each school were selected which makes 500 sample size and is considered to be sufficient for study. Privacy and confidentiality was ensured and the consent of participant was obtained.
The participants were given with a set of questions which took them 20-25 minutes. The whole process was administered and supervised by the teachers of school. The second phase of the research process involved parents and their children. With the total of 300 samples, 120 families were taken into consideration and were interviewed with the questionnaires at different places such as shopping complexes, entertainment halls, schools and parks. The aim of this study was to find the evidence of how advertising has direct impact on their children and at large on their purchasing and consumption. In order to give proportionate representation to each class of society, the questionnaire included a question about the salary of the parents annually.
The techniques used to process and analyze the data are convenience sampling technique, quantitative methods such as Arithmetic mean and percentage. Those analyzed facts and findings are presented in different forms such as pie charts and in chronological order. All the survey questionnaires were in two languages Hindi and English as both the languages are used in Delhi profoundly. A variety of secondary sources were also used to extract data to make this study successful to understand the subject in depth and to find some corrective measures.
Results
The first phase of research consisted of 500 children from ageed 7 to 15. Among the respondents, 58% were males and 42% were females. The median age of children was 12. The average hours of watching TV is 4.5 hours which includes channels like National Geographic , Cartoon Network , Discovery channel , Disney and Pogo as most favourite among all mentioned by the participants. The results indicate that 39% of children in general forget to complete their home work and other tasks while 46% of them like to perform other tasks watching TV. 29% of the participant confirmed they have got into fight to watch their daily soap.
When asked about advertisements in particular, participants' acknowledgement came as surprise, as the results were more dramatic than expected. 86% of respondents confirmed that they like watching advertisements. Out of the sample of 500 children 200(40%) responded that they remember the contents of advertisements, solely 265 (53%) remembered a fraction of the ads and 35(7%) of them said that it was hard for them to remember the content of the ads. Thirty four percent of children regularly discuss ads, 50% of them did it once in a while and 16 % said they never referred to ads with their family and friends. One hundred and sixty children (32%) are believed to have asked or influenced others to use products which they have seen in ads, while 140 children (28%) have pointed out solely when they felt it could be helpful and 200 children (40%) of then never influenced or asked others to use any product from ads they have seen.
In general 84% of respondents believed that ads are a good way to learn about new products and new things happening around them, 10% thought that it's a way of entertainment and 6% thought that ads have no value whatsoever. When mentioned if they would like to make a career in any of the ads they have seen, the results were peculiar as whopping 54% of the respondents were in favour of making a career in the ads they have seen and 42% of the children said no to the career from any of the ads, while solely 2% of them had no idea. Last but not the least, the most fundamental question in the questionnaire was if any of the participants follow or implement any sort of advertisement in their life. The results give us a very distinct view as 74% (370/500) children said "YES" and only 26% (130/500) said "NO".
Analysis of the second phase of the results
Fifty five per cent of parents responded that they get influenced in their decision making when it comes to buying specially clothes, food items, toys, FMCG items including cosmetics and fashion accessories. In the opinion of parents of young children the concerns were high about the regulating the ads especially for food items. The pie chart below demonstrates the thinking of the parents about regulation of food ads.
Figure [ 1 ] Regulation on food related items (source: The author's research) If one takes parents view into account 84% of children eats while watching TV and just 16% avoid watching TV.
Figure 2. Watching TV while eating (Source: The author's research)
Sixty two per cent of parents surveyed have discussed advertisements related to fast foods, cosmetics and funny ads but only 39% parents have discussed ads related to social aspects and health. By taking all responses in account by the respondent parents, the conclusion is that each child spends 14 hours a week watching TV.
Figure [ 3 ](source: The author's research)
Parents responded that most of products they purchase for their children are somehow related to TV characters, cartoon special edition or a product used by some of his/her friends.
Figure [ 4 ] (Source: The author's research)
Secondary data results
Snacks food market: $ 3.5 billion. More than 60% of commercials promote sugared cereals, candy, fatty foods and toys. The most elite medical institution of India, AIIMS found in its survey that 27% children in schools are overweight and 7% are obese. Indian media market is $20 billion. The sales of soft drinks and fast food have increased exponentially. Social ads about polio vaccination have also made its presence felt as only one hundred and twelve cases were registered as unattended. According to a leading journal, a child views more than 40,000 ads per year on television.
Discussion and Conclusion
One of the biggest concerns today is health of children and deteriorating values in society. The reason why we as a society do not wish to engage in social reforms is because we lack awareness and will. But when we integrate all the results, we derive a future prospect where the children of today will be unhealthy and this might bring serious repercussion as cost bearing on future governments in terms of health care. What we all as a society do not understand is that these advertisements are doing disservice to not only society but nation at large. This view is supported by 95% of parents. Cartoon characters, clowns, mascots and famous character are being used by many corporations to lure children to buy products which are not even necessary for them and these ads make a long term impact on child's futile mind, which drives them to purchase or instigate parents to a certain product.
With India's growing economy and rising middle class (570 million) both father and mother tends to spend less time with their children and this makes children more vulnerable as there is less supervision at home. The belief of the Indian society has always been that a healthy society raises children to be responsible citizens. One cannot guard or shield children away from all forms of advertisement, however with strict governmental regulations on ads and parental supervision we can bring a better society and better health for our children. From the results derived from the first phase of the study we can conclude is that advertisements have enhanced the vocabulary, better understanding of the surrounding and general knowledge in children. There is also evidence found that children are now lot better imaginative, creative and vocal than their parents.
Brands like Lays, Kurkure, Cheetos, Maggi, Mc Donald's Happy Meal, Coca Cola, Pepsi, Sun feast Biscuits etc. are widely recognized among respondent children due to high presence of free toys and others attractive items attached to the products. Most of the sample respondents have the knowledge that these products are not good for their health but they still consume them as these products are highly addictive. The problem according to the scientific community is not being obese but obesity as the prime precursor of many non-communicable diseases (NCDs) like diabetes, hypertension, cardiovascular diseases (CVDs), gall bladder ailments, cancer, psycho-social problems, breathlessness, sleep disorders, asthma, arthritis, weak bones and reproductive hormone abnormalities. Iron deficiency can result into anaemia. Advertisements have an indirect effect on the behaviour of children. They might develop temper tantrums when deprived of the latest toys and clothes that are shown in commercials.
Another very distressing situation of advertising is related to alcohol, and India's two largest breweries spend nearly $ 400 million on advertising annually. On average children come across 1500- 2500 commercials of beer and alcohol carrying the message that "real men" drinks. The Data till 2007 suggests that such ads had a direct impact of children and the Ministry of Health and Child Development was convinced that there were growing numbers of teenager getting involved in drinking at very early ages. After the regulation over alcohol ads there have been a drastic change in the consumption of alcohol. This is a very good case of advertising and its direct impact on the society, however with regulation and tighter norms the problem was solved to a large extent. Many advertisements in the present times include dangerous stunts, which can be performed only by experts. Even though the commercials broadcast the statutory warnings with the ad, the kids often attempt to imitate the stunts at home, with fatal results.
Keeping the society and children's health in mind we can take various measures to stop any side effects of advertisement on our present generation and generations yet to come. One of the first places where child is brought up is his or her home, so the charity begins at home by this the author mean that parents must monitor and control their children's habits. They should check regularly that a child is not exposed to any wrong content on any form of media. School is the second place where a child gets his or her upbringing. School should ban any forms of ads inside school premises and should not deliver any junk food in school mess. Statutory warnings must be used on foods which are harmful to body if taken twice a week. A code of conduct must be revised and regulated to broadcast any ads related to food, toys, games, carbonated drinks etc. Companies promoting their products must keep in mind certain things as use of age-appropriate language, showing diversity, positive not preachy messages and to be responsible.
There are various other studies conducted in the field of advertisement and its impact on children by authors like Anand Nawathe, Dr. Purnima Srivastava and Sudhir Deate . All the studies are conducted by these authors have conclusive results and make clear statement that advertisement generate economic growth but lacks the morality by being irresponsive to the fact that ads can bear deleterious effects on children. These authors also validate the point that being a very young nation we must step forward to change the prevailing environment or later it will be late. Many aspects of the study in this field are coherent with those of other authors. India as a growing nation needs voice and will to change the ongoing culture. "The pen is mightier than the sword" will not be wrong to put in such circumstances as it is high time we as a society must call upon scholars, academicians and NGO's to study the problem in depth and conduct a massive study in this field as the prevailing data and studies are not enough to pronounce this subject as exhaustive.
Bibliography
Young, Brian M. (2002), "The Child's Understanding Of The Intent behind Advertising", Independent Television Commission.
Dittmann, Melissa. (2004, June 6). Protecting Children From Advertising. Monitor on Psychology, 35, 1-4.
Effects Of Advertising On Children. Anti Essays. Retrieved November 25, 2012, from the World Wide Web: http://www.antiessays.com/free-essays/140642.html
Centers for Disease Control and Prevention (2006). NHANES data on the prevalence of overweight among children and adolescents: India, 2003–2006. Delhi : CDC National Center for Health Statistics, Health E-Stat.
James U. McNeal. (March 16, 2009). From Savers to Spenders: How Children Became a Consumer Market. In Center of Media Literacy. Retrieved 19/11/2012, from http://www.medialit.org/reading-room/savers-spenders-how-children-became-consumer-market
Barrie Gunter. (October 12, 2012). Effects Of Advertising On Children. In Lifestyle Lounge. Retrieved 19/11/2012, from http://lifestyle.iloveindia.com/lounge/effects-of-advertising-on-children-4751.html.
Melissa Galvez. (February 26, 2010). Consuming Kids with Advertising. In Houston Public Radio. Retrieved 19/11/2012, from
http://app1.kuhf.org/articles/1267227609-Consuming-Kids-with-Advertising.html.
Related Topics