Effective Solution To A National Problem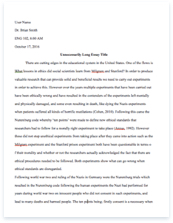 The whole doc is available only for registered users
A limited time offer! Get a custom sample essay written according to your requirements urgent 3h delivery guaranteed
Order Now
We Propose a cost-effective solution to a nation-wide problem at the school age level of Unhealthy Lunch choices. There has been an increase in: Child-hood obesity, mal nutrition, heart disease, and diabetes. We would like to propose a healthy food and beverage service to your school district. We would not only provide for your students but also your valued teachers as well. Our facility is prepared to work with your establishment to create the most healthful lunches for your faculty and students. We are adequately equipped in finding the best prices for the best food items because of our extensive research and relationships with vendors. To solve the health problems associated with unhealthy lunch choices, we recommend that you approve the purchasing and distribution, within the next month, of our approved healthy lunch plans and menus.
Having this program in your school district will ensure that students and faculty are received al recommended daily food groups and vitamins and will in the end promote life long healthy eating habits. In the past decade, school provided lunches have been a serious reason for unhealthy eating habits of children. School Lunches contain about the same amount of fat as a happy meal at McDonalds. Along with the extremely high fat and calorie content of school provided lunches there is not enough of the daily recommended fruits and vegetables. The American Dietetic Association reports that only ten to twenty percent of American children meet the Centers for Disease Control and Prevention's recommendation of consuming at least five fruits and vegetables per day; and children eat 1/3 of their meals at school.
The result of low fruit and vegetable consumption habits formed in childhood and adolescence generally tend to continue throughout adulthood, thereby putting older generations at risk for vitamin and mineral deficiencies which increase the potential risk for developing birth defects in newborns, mental and physical retardation, compromised immune systems, and blindness. Due to unhealthy food and drink choices, fifty-six percent of children are overweight, therefore putting them at heightened risk for developing such health problems as heart disease, cancer, type two diabetes, asthma, osteoporosis, and depression. This is a serious matter that
Part of the issue of unhealthy school lunches is money specifically not enough of it. The main challenge for many school districts is to pull together a menu that fits into the budget, while also trying to appeal to hundreds of children that have grown up with a diet filled with mostly processed foods. Food that is good for them usually doesn't taste good to them. Unhealthy food is generally cheaper to buy, and contains preservatives, high fructose corn syrup and partially hydrogenated oils, all the fixings that make things taste especially good to and keep them coming back for more. There is a way to provide cost-effective healthy nutrient school lunches.
Purchasing and implementing our healthy school lunch menu for each school in your school district will ensure a well-balanced meal that provides all the daily recommended vitamins and nutrients at a cost-effective price. With using our healthy lunch plan and menu you will be doing the following: Eating healthy is the most important way you can keep active and shield you from the many diseases that are now common as kids grow older, including heart disease and diabetes. By eating healthy children are boosting energy levels, improving bodily functions, and helping to improve the immune. You will meet your daily nutritional needs. Your daily food intake should include some amounts of grain, fruit, vegetables, milk (or other dairy products), beans, oils, and protein.
Eating healthy will increase school performance resulting in high grades and the ability to retain information increases. We will provide all necessary supplies and for the meal plans. They will be shipped everyday to your facility fresh and ready to eat. This will save time and money instead of having a whole kitchen operation with a crew of cooks. Teaching the students the importance of healthy eating will create life long healthy eating habits. This plan will be personalized to your budget and needs of the students and faculty of the San Antonio Area School District. All our foods are made at our state of the art kitchen facility and shipped daily to your school with the number of orders place. We will provide a few extra in case of anyone forgetting their order or errors.
Our Healthy Lunch meal plan is very cost-effective because we use the best ingredients for the best price. We get wholesale price discounts and have many special relationships with our vendors. This will also cut down on the cost of employment of lunch ladies, dishwashers and cooks. The price of the lunch will be a little higher but with cut costs of wages, energy to run equipment and equipment expenses it will out weigh the total cost in the end. Make your students grow up and be healthy and responsible eaters. With Healthy lunches you are giving your students the energy, the nutrition, and the health to succeed in this world. You are also eliminating any work on the schools end to hire workers and pay for expenses for the operation of the cafeteria. The student pays a set amount of money and we do the rest. There are no worries on your end.
Related Topics