Dunkin Donuts Performance Management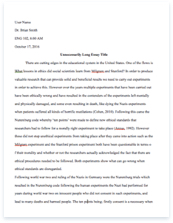 The whole doc is available only for registered users
A limited time offer! Get a custom sample essay written according to your requirements urgent 3h delivery guaranteed
Order Now
Performance Management strategy focuses on what is involved in managing the organization. It is a natural process of management, not a system or a technique. (Fowler, 1990). It is also about managing within the context of the business (its internal and external environment). This will affect how performance operates. (Michael Armstrong, 2004).
This paper will analyze Dunkin Donuts' performance management strategy. Dunkin Donuts is one of the largest chains coffees and baked goods in the world. The company has been in operation since 1950 and serves more than 3 million customers daily. Its stores offer online order placement services and franchise options. The company's stores provide a selection of cookies, bagels and sandwiches. Dunkin' Donuts also sells 52 varieties of donuts and more than a dozen coffee beverages. At the end of 2008 there were over 8,800 stores, including 6,395 franchised restaurants in 34 United States and nearly 30 countries throughout the world. In 2008 its sales revenue was approximately $5.5 billion.
The company uses performance management to manage employees performance and make pay decisions but, just like most of the companies, Dunkin Donuts doesn't use performance management to help manage talent through identifying training needs and developing leadership talent. The company is not able to provide pay, rewards and development activities that differentiate excellent, average, and poor performers.
The focus of this paper is to provide a strategic and integrated approach to delivering sustained success to the organization by improving the performance of people who work in it and by developing capabilities of teams and individual contributors using the performance management approach.
ORGANIZATION DESCRIPTION AND STRATEGY
Dunkin Donuts is a global retailer of coffee and bakery products. The company is 99 per cent franchised and has used the franchised system as a route to market entry and expansion worldwide.
The brand Dunkin' Donuts is a coffee and doughnut franchise under the ownership and control by parent company Dunkin' Brands. Dunkin' Donuts was founded in Quincy, Massachusetts by Bill Rosenberg in 1950 and ever since it has been a staple of the snack food and beverage sector in the geographic region. Today, Dunkin' Donuts dominates the snack food sector and is making its mark on the coffee house sector not only in the U.S., but across 30 countries world over (www.dunkindonuts.com). Dunkin' Donuts is the world's biggest coffee and baked goods chain, with more than 3 million customers daily. In the span of the last decade, Dunkin' Donuts has produced a quality line of coffee blends and espresso drinks that have led to it achieving the number one spot in the US in coffee-by-the-cup sales (Bright Agency. 2006).
To build strong, profitable, long-term customer relationships, Dunkin's Donuts has developed marketing strategies and plans. The firm must determine how to best create value for its chosen target market. So, the firm should connect with his customers to establish and strengthen customer relationships.
If its website is any indication, Dunkin' Brands, which today has a portfolio of three complementary brands: Dunkin' Donuts, Togo's (the California sandwich shop) and Baskin-Robbins (the largest and one of the most-loved ice cream chains in the world), has no intention of abandoning its focus on high-quality, affordable food and beverages on the go. Each of their brands appeals to a different time of day, working together to offer great food and great value to their customers. The company combines the strength of its brands by housing two or three in a single storefront, completely redefining the quick service experience for their clientele.
With a focus on "how Dunkin' Donuts keeps busy Americans fueled and on the go… the ad campaign is a fun and often quirky celebration of life, showing Americans embracing their work, their play and everything in between, accompanied every step of the way by Dunkin' Donuts."
Dunkin Donuts' focus on customer satisfaction is an attempt to keep the current customers and gain new ones. It tries to provide innovative products and services as opposed to their competitors. Apart from providing superior quality and innovative products, they also influence the market share by providing competitive prices. So where the company is seems to be mistaken? Dunkin Donuts is lacking on HR Integration. The integration will link different aspects of human resources management, specially human resources development and rewards, to achieve a coherent approach to the management and development of people.
HUMAN RESOURCES: STRATEGY & ROLE WITHIN ORGANIZATION
The Human Resource department of an organization has multiple responsibilities. It is responsible for employee selection, development, evaluation, compensation and employee relations. The role of Human Resource management is being increasingly affected and reshaped by the growing diversity of the workforce, global and domestic compensation, and complex legal and ethical issues. In short, the Human Resource department of an organization is faced with balancing its responsibilities towards the organization it serves as well as the society in which it operates.
In a short amount of time, Human Resources (HR) management has gone from an administrative function to a fully fledged strategic partner in the enterprise. Many companies have completed this transition, but some companies still struggle with the changing duties of the modern HR department.
HR today encompasses much more than hiring, firing, and filling out benefits forms. Some of the responsibilities of HR now include (Ivancevich, 2001, p. 5),
Equal employment opportunity (EEO) compliance.
Job Analysis.
Human resource planning.
Employee recruitment, selection, motivation, and orientation.
Performance evaluation and compensation.
Training and development.
Labor relations.
As a strategic partner in the organization, HR has to change constantly to meet future trends, legal issues, and other threats and opportunities. The responsibility for performing the HR functions does not reside only in the HR Department; all managers at all levels of the organization share in that responsibility. HR staff designs HR policies and procedures and the operating managers implement them. (Pieter Grobler, 2006).
We know that not every company will be large enough to have either a separate human resources department or one containing all of the personnel functions or areas of responsibility. Even some of the largest corporations are not necessarily structured in the same manner. Nevertheless, similarities exist among organizations and thus it is possible to be specific about the essential functions in which every human resource department should be involved.
On the particular situation, the Dunkin Donuts owner and operator have twelve locations with one Personnel Manager and one Office Manager. The job of the Personnel Manager includes a variety of other duties in addition to HR, including the supervision of the bookkeeping, payroll, hiring, sales, and clerical functions. The Office Manager is the owner. He reserves the responsibilities of this job to himself. He makes the hiring decisions and sends the applicants to work on the stores where the job opening exists. As a Store Manager of one location I prefer to personally select the employees who will be working with me at my store.
DESCRIPTION OF DUNKIN DONUTS PERFORMANCE MANAGEMENT STRATEGY
Cooke and Armstrong (1990, cited in Rudman, 2002) that "Human resources strategies exist to ensure that the culture, values and structure of the organization and the quality, motivation and commitment of its members contribute fully to the achievement of its objectives".
In January, 2010 the Employee Handbook was developed to help all employees get acquainted and answer many of their initial questions. The employee handbook explains Dunkin Donuts personnel policies and benefits, as well as the specific opportunities and responsibilities that exist for them within the company. The company use the information contained on the book as an advisory guide to assist the company and their supervisors with the effective management and personnel.
Performance management systems are seen as a means of integrating HR management activities with the strategic objectives of an organization (Rudman, 2002). Performance management systems involve setting performance goals and expectations for the organization as a whole, for teams within the organization and individual employees. The performance management approach includes identifying planning, monitoring and reviewing the performance of people through methodically relating the needs of the individuals and the objectives of the organization. Thus the theme of mutuality of interests emerges, along with the notion that performance management is a process that implies more than a one-off appraisal discussion (Rudman, 2002).
To monitor and reviewing employee's performance Dunkin Donuts offers free donuts from customers who access its website and take a survey about their experience while visiting an specific location. The survey also gives the guest the opportunity to evaluate cleanness of the store, temperature and taste of the food along with specific comments about the visit.
Dunkin Donuts loses competitive advantages when the is not well collected. An organization's goals can be achieved only when people put in their best efforts. How to ascertain whether an employee has shown his or her best performance on a given job? The answer is performance appraisal.
Employee assessment is one of the fundamental jobs of HRM. But not an easy one though. In simple terms, performance appraisal may be understood as the assessment of an individual's performance in a systematic way, the performance being measured against such factors as job knowledge, quality and quantity of output, initiative, leadership abilities, supervision, dependability, co-operation, judgment, versatility, health, and the like.
When it comes to management, an organization should be effective and efficient in all ways. For bring it into a realization, an organization should get some managers who can apply their conceptual, human, and technical skills. Barlett and Ghoshal believed in a generic role that managers are people who are expected to add value to the company in a generic way carrying out a generic set of tasks and possessing some generic capabilities. (Barlett, C., A & Goshal, S, 1997, p.105). Managers have some important jobs. They need to do their jobs in order to achieve the goal of the organization/company they belong to. Shenhar (2006) said that the basic job of managers is to manage people, manage money, and also manage technology.
Dunkin Donuts do not invest on these professionals and the training provide based on online training only. Web Based Training program. There are not management classes or on site classes about new products or any work-related subject.
ANALYSIS OF DUNKIN DONUTS PERFORMANCE MANAGEMENT
Woodruffe, 1991 believes that competency is a person-related concept that refers to the dimensions of behavior lying behind competent performance, whereas competence is a work-related concept that refers to areas of work at which the person is competent.
The integration of objectives is important in order to achieve a shared understanding of performance requirements throughout the organization, thus providing for everyone to make an appropriate contribution to the attainment of team, department and corporate goals and to upholding core values. The aim of integration is to ensure as far as possible that everything that people do – at all levels of the organization – will support the achievement of corporate goals.
It is also essential to achieve commitment to individual or team objections by discussion or agreement rather than telling people targets they must attain. The discussions can focus on how the targets will be attained by the individual or team and what support they will need in order to reach attainment.
The holistic approach to performance management is not used at Dunkin Donuts. There is not a concern with the organization as a whole. Performance Management in its fullest sense is based on the belief that everything that people do at work at any level contributes to achieving the overall purpose of the organization. It is therefore concerned with what people do (their work), how they do it (their behavior) and what they achieve (their results). It embraces all formal and informal measures adopted by an organization to increase corporate, team and individual effectiveness and continuously to develop skill and competence.
When the company uses only the survey feedback to evaluate performances, they are forgetting that people tend to call to make complains much more than they call to make complements about a service or product. Informal way of measures is also necessary to make a conclusion about the current situation.
Measurement involves using the right measures at the right time, especially in measuring organizational performance. If a performance indicator is going to be of any value, there must be a way to accurately define and measure it. Performance indicators are measurements that define where an organization is and helps to focus on areas that need improvement. Many things are measurable, but that does not make them key to the organization¡¦s success. In selecting performance indicators, it is critical to limit them to those factors that are essential to the organizational goals.
It is important to include an appeal process in any performance management system because this gives the organization an opportunity to learn about and deal with potential problems before they escalate into formal challenges. Having an appeals process in place also helps to increase employees' perception of fairness regarding the system. (Elaine D. Pulakos, 2009).
RECOMMENDATIONS FOR IMPROVEMENT
When it comes to get the organization ready for the change, Dunkin Donuts has been gone especially well in the past when its main competitor, Starbucks, started to grow and implement new items, Dunkin Donuts adapted to it. But when it comes to get people ready for the change, which is when Dunkin Donuts have not gone well because the company implements new products and techniques without proper training to its employees.
The people show a concern for survival and in order to change that it is a must to give people the chance to be around people they like and give sense of accomplishment. Being more careful on the hiring process, and making sure well qualified professionals work on our team are action that Dunkin Donuts need to take to change that situation now. The structure is like a hospital, and it is important to make a differentiation between the high qualified employees and the ones who need to be substitute. Taking advantage of people with high skills working with them as a team and having an award – winning structure will help will help to keep and add more customers. The Management Style is Authoritarian but a few times consultative, but it is important to consult people not only on moments of crisis but throughout year. Executives need to get more inputs from people who do the work.
One of the purposes of performance management is to develop employees who are effective at their jobs. When employees are not performing as well as they should, performance management seeks to improve their performance. Achieving the overall goal requires several ongoing activities, including identification and prioritization of desired results, establishing means to measure progress toward those results, setting standards for assessing how well results were achieved, tracking and measuring progress toward results, exchanging ongoing feedback among those participants working to achieve results, periodically reviewing progress, reinforcing activities that achieve results and intervening to improve progress where needed.
The integration of objectives is important in order to achieve a shared understanding of performance requirements throughout the organization, thus providing for everyone to make an appropriate contribution to the attainment of team, department and corporate goals and to upholding core values. The aim of integration is to ensure as far as possible that everything that people do – at all levels of the organization – will support the achievement of corporate goals (Armstrong, 2004).
It is also essential to achieve commitment to individual or team objections by discussion or agreement rather than telling people targets they must attain. The discussions can focus on how the targets will be attained by the individual or team and what support they will need in order to reach attainment.
Employees are willing to give their all when they are well-treated, appreciated. And the ability to unlock that potential is a competitive distinction. It's their decisions, their actions, and their attitude that really make the difference. Also keeping them satisfied and engaged can avoid the cost of turnovers and can increase revenue through customer satisfaction. Employees satisfied = Customers Satisfied = Higher profits without additional efforts. Employee loyalty results in positive financial outcomes. Employee loyalty results in positive financial outcomes.
Rewarding and appreciating the employees' efforts ensures that their level of their performance and consequently the performance of the company is not compromised. It ensures optimum productivity, performance and maximum
profitability.
Rewarding the staff for a job well done not only enhance their performance but also serves as a tool to keep them motivated. Therefore, performance management is an effective system that allows the organization to achieve the financial goals of Dunkin Donuts.
SUMMARY
Employees are an integral and indispensable part of running a business smoothly and efficiently. That's why, keeping in mind the crucial role of all employees, a recent trend known as Performance Management has come into practice. Using performance management, you can ensure that employees not only fulfill their responsibilities, but do so to the best of their abilities and up to the company's expectations.
Just as revision of business plans is sometimes necessary for the success of your business, measuring the performance of every employee is also important. This ensures that tasks are efficiently completed on time and on or under budget. It also points out to you any shortcomings of either your staff or business plans, and helps you to take the appropriate corrective actions.
Performance management allows organizations to tap the full potential of its staff. In short, it can be described as a comprehensive process starting from monitoring and developing the desired traits to rating their progress and rewarding them for their achievements. Additionally, it will also help in providing them with a clear picture of what you expect from them and what they need to accomplish.
REFERENCES
Armstrong, Michael (2002). Strategic human resource management: a guide to action.
Barlett, C., A & Goshal, S, (1997).The Individualized Corporation: A Fundamentally New Approach to Management. HarperBusiness.
Clegg, S, Kornberger, M & Pitsis, T 2009, Managing and Organizations: An introduction to theory and practice, ed. 2, Sage, London
Otley, D & Ferreira, A (2009). The design and use of performance management systems: An extended framework for analysis,
Noe, Raymond A. . Hollenbeck, John R, Gerhart, Barry, Wright, Patrick M. (2008). Human resource management: gaining a competitive advantage.
McGraw-Hill Irwin.
Renckly, Richard B. (2004) Human Resources.
Pulakos, Elaine D. (2009).Performance Management: A New Approach for Driving Business Results.
Stone, R 2005, Human Resource Management, ed. 5, John Wiley & Sons, Australia
http://www.shrm.com
http://www.morebusiness.com
Related Topics