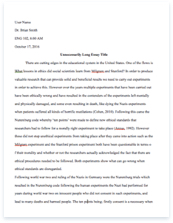 The whole doc is available only for registered users
A limited time offer! Get a custom sample essay written according to your requirements urgent 3h delivery guaranteed
Order Now
1.Sharelle Klaus created DRY Soda with no beverage industry experience. Make a list of the ways that she dealt with her lack of industry experience. On a scale of 1 to 10 (10 is highest), how successful do you think Klaus has been in overcoming her lack of industry experience?
She demand some advice to her Husband because he works for DaVinci Gourmet a food company.
She asks her husband colleagues for more precision, she asks people from the VP of Sales to the woman who has in charge of customer education.
She asks advice from a food chemist.
She asks advice for the product flavor to six influencial people in food to give them some feedback on the product.
She asks advice from 2 distributors which are Columbia and Alaska to have their feedback about the product and feedback for distributing her product.
I think I will put a 9 to Klaus , because with any experiences of the food , she rely on good contact that she has , to be a good entrepreneur we have to have good contact , she asks advice from diversify contact so she can have different opinion on her product , moreover I think that she learned a lot about managing her business thanks to those contact so without them she cannot launch her business . So she overcomes her lack of experience.
2. Evaluate Klaus's initial management team. Why do you think she selected the people that she did? What are some common attributes the people she selected possess? The Klaus's initial management team is very effective in my opinion. Why? Because she selected the people in function of their experience, and I think in a food company more experiences you have better you are . So I thinks that the opportunity of Dry Soda will be increasing years after years, and she can rely on good member team to overcome difficulty in the future. The common attributes the people she selected possess are:
The Management team have great and diversify experiences. They had all at least 6 years minimum of experiences .
The other common attributes is "Interestingly, every member of the initial management team signed on without a steady paycheck. Instead, they all agreed to start their careers with DRY Soda by receiving an equity stake in the business."
3. What do you think would have happened if Klaus had decided to "go it alone" and create DRY soda without reaching out to people with beverage industry experience? Do you think it would have hurt her more in the prelaunch phase of the business, the postlaunch phase of the business, or equally in both phases? I think that if she decided "go it alone" and create Dry Soda without reaching out to people with experience , she had faced more challenge and it will be very hard for her to launch her company , it will had taken more time to create and develop her company . I think it will be more hard for her to challenge the prelaunch phase of the Business than the postlaunch phase. We see in the courses that the critical phase for a business is the prelaunch phase if she go it alone she has to face these new challenge: Developing the vision and business idea
Search for investor
Appointing the manager
4. Why do you think Klaus added Dan Ginsberg, the former CEO of Red Bull, to her board of directors in 2007? In your judgment, was Ginsberg a good choice? Evaluate Klaus's 2007 board of directors. Do some Internet research on each member of the board, and speculate on why Klaus added each of them to her board. I think that Klaus Added Dan Grinsberg the former CEO of Red bull to her board of directors, because He is a famous CEO who did great things with Red Bull , moreover she needed to have someone with a great experience ( as a CEO )inside of the company , and Klaus can learn a lot from him and help his business to growth.
Application Questions
1.If DRY Soda had put together a board of advisers when the company was founded, what type of people should it have asked to participate?
Sharelle Klaus begins to open her business with no experience, so she rely on her husband and on his colleague to have advice about running the business so we can suppose that firstly she can asks to her husband and his colleague to join the board of director. But on the one hand it's a good thing to have some family contacts but sometimes family had tendency to facilitate family relationship and sometimes they say what we want to hear and they will not criticize you in a good way to improve .But I think that she can asks advice from suppliers, some financial advisers, banker, accountant, customer, . It's always a good thing when we set up a business to have some outdoor advice so I think that she have to tell these people to participate .
2. Look at the "You Be the VC" 9.2 feature. What type of new-venture team should Foodspotting assemble? Make up a simulated new-venture team for Foodspotting that would be capable of growing the company.
The business idea of Foodspotting is to create a Web site and a smartphone app that provides a visual guide to great food and where to find it. Instead of reviewing restaurants, users will share where to find their favorite dishes and see what dishes other people have liked at the restaurants they visit. So they had to assemble a new venture team composed of senior member and junior members, why this combination it's because the Foodspotting is a new startup which provide an application for smartphone .So they have to have some experienced members to run the firm , but they have to have some junior and intern to develop the creativity of the application and the idea For me these will be a good organization, and I think that this new venture team are capable of growing the company :
CEO / Founder
Head of Business operation Head of Development Operation Head of Community Media
Senior / Junior ( Marketing , FinanceSenior / Junior Mobile Developer Senior / Junior Social Media Accounting, Supply chain …..)
Related Topics