Do Multinational Corporations exploit the Developing World?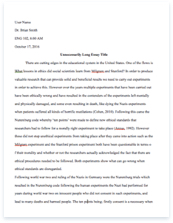 The whole doc is available only for registered users
A limited time offer! Get a custom sample essay written according to your requirements urgent 3h delivery guaranteed
Order Now
International trade has been in existence since time immemorial. The only clear difference between 'globalization' in those days and now is the presence of large corporations nowadays operating in several countries. With blurring boundaries between nations, leaders of countries from the lower half of world economies are divided on their views regarding the ultimate value of multinational companies harnessing their human and environmental resources, while those from above continue to trumpet the economic benefits the expansion of production base of their corporations provide to host countries.
Modern day globalization has been imminent since the early days of industrial revolution. Massive growth of production of goods eventually outpace the demands in their localities, and thus companies needed wider markets and explored nationwide and in no time overseas. But save for issues on nationalism, the preservation of culture of individual countries, and complaints from local companies of unfair market competition,  this aspect of globalization – the importation of goods by less developed countries – hadn't have encountered fierce criticism or opposition as much as the other aspect had – the expansion of production base of corporations to other nations.
As soon as corporations started exploring wider markets and spurred demand, the idea of conducting their production operations from other countries has been looming. Aside from more production capacity, the prospect of operating in a country with less stringent environmental laws and lower wage standards is just irresistible for multinational companies.
Governments of host nations, on their part, would almost always want to welcome any multinational companies interested in establishing production operations in their country. With the economic benefits they would provide through taxes and employment, the skills they would impart to its populace, and the transfer of technology they will bring in with them, multinational companies will certainly help improve the image of governments to their citizens. If not for the opposition of some sectors of society – citing possible exploitation of the environment and human resources – governments, especially of least developed countries, would automatically allow any multinational company interested to operate.
Globalization has given multinational corporations power beyond nation-states, and has considerably weakened a country's control over corporate practices and inflows and outflows of capital, setting of regulations, balance of trade and exchange rates, or local economic policies. The domination of these large corporations has also limited the ability of individual workers to demand higher wages and better working environment, for governments themselves fear that they may transfer to other more 'conducive' countries. In addition, some multinational companies have budgets that far exceed those of developing countries; they can cultivate a deep influence in international affairs and domestic economies.
So, with all these contrasting views on multinational corporations, what's the real deal with them? What are the reasons large companies outsource labor from other countries? What are the effects of the presence of foreign companies in host nations? Do they exploit the developing countries? Do host nations gain benefits?
Multinationals, becoming common since around 1890, are those corporations that maintain production facilities or other assets in foreign countries other than their base in their home countries. These companies have offices and factories in various countries and have a centralized head office where they co-ordinate major management decisions and global management. Their decisions on policies in research and development, production, marketing, and labor issues are made in reference with the customs and traditions of the host country. These companies expose themselves to risks of constantly fluctuating foreign exchange rates and the difficulty of conducting operations in unfamiliar economic environments, add to these the instability of political situations in many developing countries.
Most of these companies are from the U.S., Japan, and some European countries. Notable examples would be Coca-Cola, Wal-Mart, Nike, Adidas, AOL, BMW, Honda, and Toshiba.
It has of course been shown how large and important these multinational corporations are, and that their role and influence has far extended, in accordance with their rapid growth in recent years. But along with these come many and varied questions from the people curious about them.
Multinational companies establish operations in other countries for two main reasons. The first being that they will be able to gain access to local markets of host countries. This tactic is comparatively more efficient and beneficial to them than operating in their home countries and exporting their goods to other countries, in which they will have to deal with rising barriers to international trade in the form of soaring tariffs and strict rules on imports. The other reason is the cheap labor force and less stringent environmental laws in developing countries. In this way they can minimize production costs, while maintaining revenues by retaining the prices of their goods.
One of the foremost issues raised against multinational companies is their alleged exploitation of workers in poor countries. Critics, for instance, argue that if a clothing sells for $200 in New York while the worker abroad who sewed is only compensated 60 cents an hour, it is downright exploitation. But corporations counter that there is not necessarily a correlation between the price of a product and the compensation paid by a company. They contend that for every piece of product that sells, there could be nine others that do not. And so according to them, practically the resulting price of a product is just tenth of its actual price, not mentioning further distribution costs and tariffs.
Those who are for multinational companies cite studies conducted in Shanghai, Mexico, Vietnam, Bangladesh, and Indonesia. These studies found that multinational corporations actually compensate their employees with a 'wage premium' – their wage that exceeds the average rate in the host country by 40 to 100 percent.
Some also argue that while compensations provided by multinational companies in the host country are considerably small compared to that in the U.S., these countries are so poor that the people would rather work in a foreign company than in local ones who pay even smaller wages.
Critics further cry of unfairly long working hours in multinational corporations, while companies counter that their workers voluntarily report for duty for extended periods of time so that they can earn more income – they are not exploited but are driven by themselves. They regard it as their advantage that factories allow for extended working hours.
Aside from labor, another issue raised against these companies is the exploitation of the environment. This is also a major reason why they chose to operate in developing countries instead – these countries generally have less stringent laws on proper caring of the environment. Concerns such as factories replacing forests, liquid waste disposal and air pollution constitute this issue. By situating themselves in these countries and not having to abide with strict environmental rules, they save themselves millions of dollars on construction and maintenance.
Another issue is their control of the world's capital and resources, thus contributing to global inequity. They also tend to make developing nations more dependent on the wealthy ones. This is especially true with the U.S. America controls most of these companies, and the spread of American pop culture internationally through various media (movies, television, print, and the internet) further creates demands of U.S. goods, thereby effectively leaving the fate of economic environments in weaker nations to the hands of American propagandists.
These companies could also disrupt domestic communities when they abruptly close and relocate, which they could do anytime they want or feel the need to. Their presence and dominance had made the constituents dependent on them, and abruptly closing their establishments could lead to severe implications. They also most of the time overwhelm local companies.
But despite these numerous issues raised against multinational corporations, it is a fact that host countries do benefit from them. Foremost is that they afford the government wider tax bases, resulting to increased revenue. They also provide the much needed employment opportunities, which is sorely lacking in many developing nations.
Another huge benefit is what some call the spillover. This refers to the transfer of technology and manufacturing techniques to host countries. Local establishments adopt productivity-enhancing techniques from multinational companies through better technology and management principles. Local workers also learn important skills by working in foreign firms. Managers likewise absorb better practices while working in these companies themselves. And high standards inherent in multinational companies push their local counterparts to cope with them and thus improving local standards in the process. And governments, in their desire to attract more foreign investors and keep current ones, are bound to develop their country's infrastructure and stabilize political climate, thereby generally improving living standards among its citizens.
Taking into consideration and weighing all its pros and cons, I personally believe that multinational corporations in general provide benefits to the developing world. While issues raised against them are indeed real and need to be addressed, we cannot expect these companies, nor should we put the entire responsibility on their shoulders, to simply take the task of saving the fate of relatively poorer countries. Governments and civil society groups should do their part in addressing humanitarian and development needs through public aid, long term programs and technical assistance.
List of References
Blomstrom, Magnus & Kokko, Ari, 1998. Multinational Corporations and Spillovers. Journal of Economic Surveys, Blackwell Publishing, vol. 12(3)
Krugman, P. R. & Venables, A. J., 1995. Globalization and the Inequality of Nations. The Quarterly Journal of Economics, MIT Press, vol. 110(4).
Markusen, James R. & Venables, Anthony J., 1999. Foreign direct investment as a catalyst for industrial development. European Economic Review, Elsevier, vol. 43(2).
Puga, Diego, 1999. The rise and fall of regional inequalities. European Economic Review, Elsevier, vol. 43(2).
Tayeb, M. H., International Human Resource Management. Oxford University Press.
Related Topics