Directive leadership style General Motors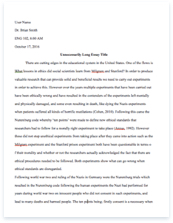 The whole doc is available only for registered users
A limited time offer! Get a custom sample essay written according to your requirements urgent 3h delivery guaranteed
Order Now
The behavioural leadership approach studies the behaviors of leaders. The approach believes that leadership can be learned and developed through training and observations. Therefore, anyone can become a leader. In general, the leadership behavior could be classified into two categories. They are tasks-oriented leadership behavior and people-oriented leadership behavior. Tasks-oriented behavior focuses on the organization of work and 'getting things done'. People-oriented behavior focuses on showing concern for subordinates and consideration of their ideas and feelings.
We can base on the behavioural leadership approach to try to analysis Barra's leadership style. General Motors (GM) made the decision to recall 2. 6 million vehicles due to a faulty ignition switch. Barra as the CEO of GM, she not only insisted on undertaking the responsibility but also conducted an internal investigation of the event in order to find out the root of the problem. Based on the investigation, Barra decided to dismiss 15 employees and got rid of at least seven high-level executives. Moreover, she stated at an employee town hall meeting that she wants to put this painful experience permanently in GM collective memories.
Despite GM's traditional is to put these kinds of experience behind it quickly, she still remarked at that meeting so as to avoid the recurrence of the similar crisis. The crisis also made Barra decided to change this elusive culture by changing behaviors. Barra shared this responsibility with the executives who around her and then make this change became actionable. Because of Barra believed that cultural change has to start at the top of GM. As long as she does things differently, those around her will start to do the same things. On the other hand, Barra also concerned about whether or not their employees getting things done.
She once stated that if somebody said in a meeting they were going to do something, they need to do it. And if they didn't do it, she'd be at their desk or sending an e-mail. The above shows that Barra's leadership style tends to tasks-oriented rather than people-oriented leadership behavior. During the company in the trouble, Barra focuses on settle down the crisis as well as setting the strategic goal namely changes GM's culture those made GM's business gradually regaining its stability. Moreover, Barra as a role model who does change first and then make others follow.
Hence, employees have a clear and direct instruction to let them know what they have to do. Barra also monitors their behaviors so as to ensure that their behavior actually towards the goals. Question 2 House's Path Goal leadership theory proposed that leaders can help subordinates achieve goals by outlining the paths towards these goals and by removing obstacles in their way. It also assumes that leaders possess the ability to select and perform four different kinds of leadership styles and thus leaders can accommodate different situations. These leadership styles are directive, supportive, participative or achievement-oriented.
In the following paragraph, I will use these four kinds of leadership styles to determine whether or not Barra using the appropriate leadership style for the different situations. Directive leadership style Leaders will provide clarify goals and tell the followers what must be done to achieve them and the outcomes of achieving the goals. It is most effective when people are not sure about the tasks or when there is a lot of uncertainty within the environment. When Barra tried to change the GM's culture, she faced the problem that GM's traditional culture has been deeply affected the employees'.
In addition, employees were also inexperience due to they never changed this culture since they enter in the GM. Therefore, she provided a clear goal that changes the GM's ingrained culture and illustrated exactly to executives that they needed to change behavior to help reach this goal. Moreover, Barra made the change first and then those executives could follow as an example and also know that outcome of achieving the goal. Barra used directive leadership style in this situation which is the appropriate style.
Supportive leadership style Leaders show concern for the needs and the aspirations of followers. Whenever somebody said in the meeting they were going to do something, Barra would expect them can do it. She also supports them with her own experience. She stated that 'in her whole 35 years at GM, she never accepted the GM nod. ' In addition, if they didn't to do it, Barra stays in contact with them in order to help them to fulfill their needs and the aspirations. In this situation that employees lack confidence to do the tasks, therefore, it is appropriate that Barra use the supportive leadership style.
Related Topics